This week was good for markets. There were signals of a possible bottom on market, even if a confirmation needs from leader stocks. Volumes rose in rising days (especially in the first part of the week), therefore we have to consider it. Treausuries and European bunds dropped. Maybe markets are re-princing that Fed will put a lot of liquidity in the system, warranting the growth for a while. Of course there's risk or a double dip, but this action/attitude of Fed could delay this risk about 1 year. In the meantime stocks could rally and would be a pity miss it because one feel "ever-bearish in the long term". Like usual, I let the market tells where it wants to go. It's not easy to follow because of choppiness, but it's a worth trying.
Let's have a look at Dow Jones Average, you can see that before of bounce, volume increased in positive days. The same thing happened for S&P500 and Nyse Composite. This means that a base is building. We had also a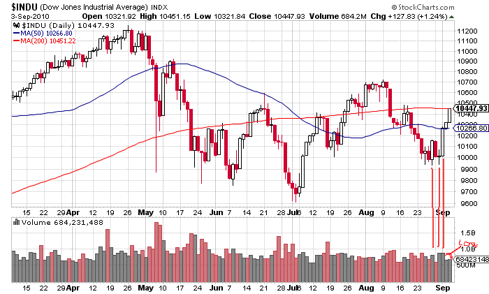 I am monitoring many leader stocks to see if they confirm the break up of highs. Many of them broke this week, even if volumes decreased on Friday. I wait for next week behavior : a little correction with less volume at beginning of week, followed by another rise with volume increase and other stocks breaking up will make me add exposure on the market. I have already some buy order placed on some stocks (such as SRCL, ADTN, BBD, DTV) a lit above the recent highs to catch in automatic the spike up if it happens. They are pilot and small position size. My regret is that I missed CMG break up. I monitored it, but didn't place the limit order…when I checked it, CMG have already broken the high and jumped … I have also a buy order on EBAY at around 23,50. If market rally, it can go to close the gap at about 26 in few days. Other names I have in watch list are CGNX PRGO DTV AFSI. I won't buy all of them, my portfolio will be maximum composed by 4-5 stocks.
Yen (my risk-aversion benchmark) continues to send worrying signals, even if less than in previous weeks. On the Dollar side, JPY is still below 85 level and I guess it could drop towards 80 level. Jap government can't intervene on the market before that level because could cause tension with Us. Euroyen is instead creating a nice cup&handle, and that's a good signal. If cross breaks above 109,50 (at the end of London's session, the most liquid one), it would be a confirm of the rally on stocks. How long rally will last is not known, but I'll try to catch it.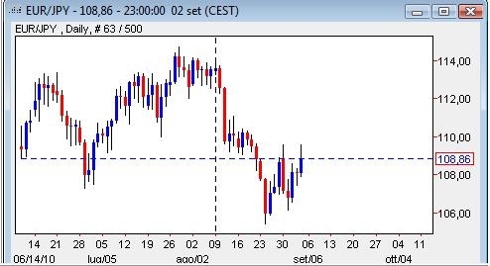 Let's talk about one satisfaction I had this week: 3PAR (NYSE:PAR). As I hoped/thought HP raised again once Dell's counter-offer and this one decided to surrender. I am happy because I was right believing HP would be the final winner and battle would end above 30$level. Am a "bit" disappointed because last offer was 33$/share instead of 35$ hoped, but I bought it below 27$ so I DON'T COMPLAIN AT ALL : - ) I'll delivery my stocks to HP (that I think overpaid for 3Par) and take my 20%+gain.
Summary: this week we had good signals for bulls. Major indexes bounced with rising volumes at the beginning, even if not very high on Tuesday and Friday. Euroyen seems to create a cup&handle that if confirmed above 109,50 should warrant a continuing move-up of stocks. Many leader stocks broke 52-highs even if volume decreased in last days. Treasuries and German Bunds dropped violently. Next week will be very important. After one-three day of consolidation with low volumes, if purchases return with an increase of volumes that's a signal of reversal. My forecast is that after 3 consecutive days of rising prices, we could have a weak Tuesday and/or Wed (don't need a bad drop, just a consolidation around 0% or -0,5%) to take a breath. After the consolidation, we'll see if market is turned bullish. That's would happen with a second waves of break up in many stocks. Keep ready you buying-list and plan enter/stops level over the week end.
Follow-Through Day therefore this is a first signal of an attempt of reversal.
Disclosure:
long Par. buylimit order on EBAY BBD DTV SRCL