I got off to a fantastic start with my trade alert service, The Analytical Trader at Marketfy but hit a rough patch. Glad to have bounced back strongly. Here are all my closed trades since July 4th: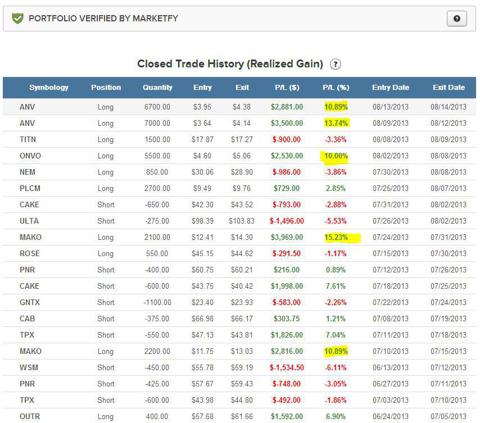 The service is designed to offer 4 trades at a time constructed to achieve 4:1 upside vs. downside over a two week period (typically 10% targeted upside). I tend to close 1/3 of trades profitably, but the recent run has been better. By the way, if every trade takes 2 weeks (so 26 cycles per year) and we get 1 right and 3 wrong (and assuming 10% right and -2.5% wrong), that works out to 17.6% annual return (before commissions and service fees).
Since 1/30 launch, the service is up slightly more than the S&P 500 (>16%), but I am not long only, so that's not really the right benchmark. Anyone who wants to see what it's about, the first month subscription is fully refundable within 30 days of subscribing - no risk.
Here's the write-up for that ANV trade from last week:
http://www.marketfy.com/product/use-both-fundamentals-and-technicals-to-swing-trad/blog/381/view/29220/