Following a sixteen day period from the receipt of her initial letter and my immediate response, I received my second notice earlier today from Plandai Biotechnology's outside counsel, Ms Paula Colbath of Loeb &Loeb. Here it is in its entirety: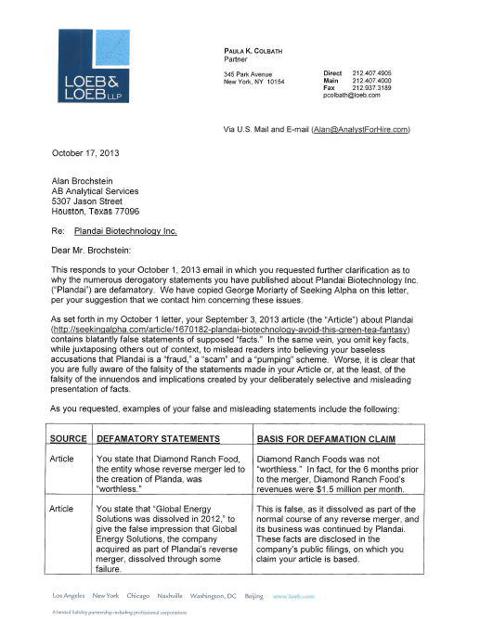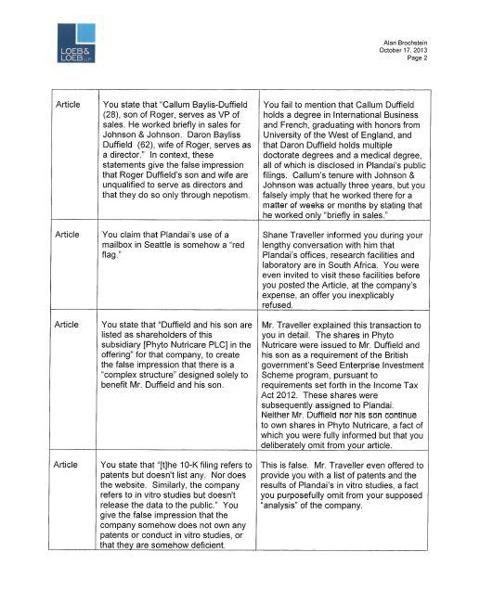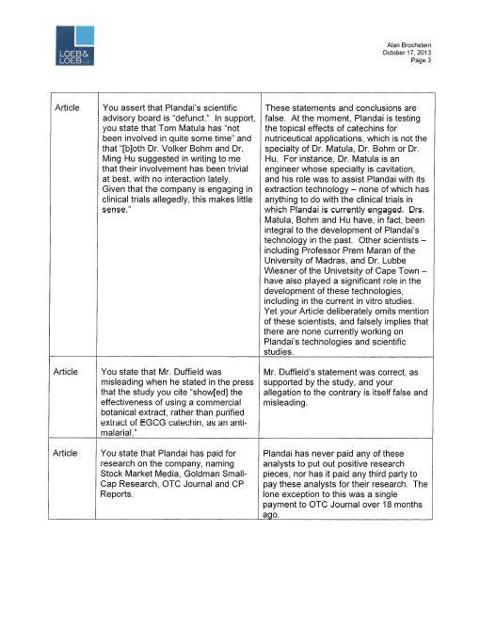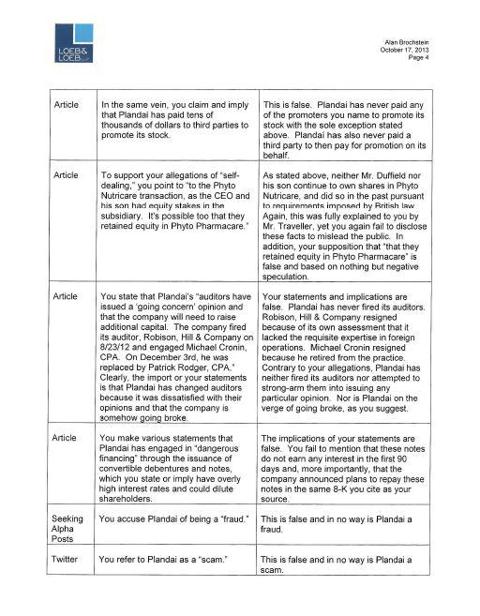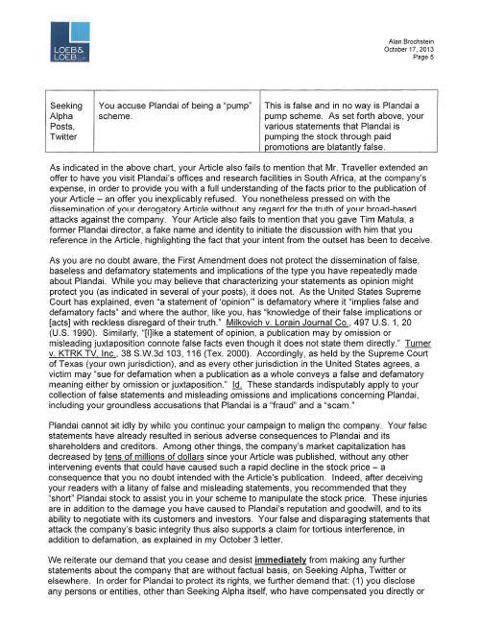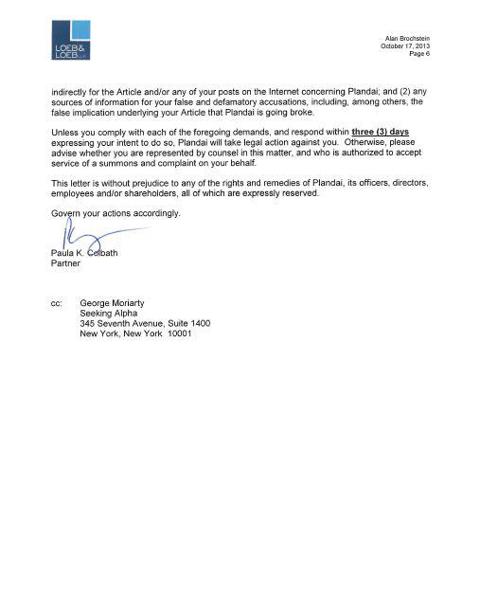 While I am not exactly sure what NYC lawyers earn, I would venture to guess that this company is paying Ms. Colbath more per hour than the $500 I was paid by Seeking Alpha for my contribution to its PRO platform! I probably invested 20 hours of my time - a true labor of love, to be sure.
Now, the company thinks it can intimidate me into removing it or changing my negative view, hoping that I will back down. Unfortunately for the company, I don't intend to do any such thing. Here is how I responded to Ms. Colbath:
Ms. Colbath,

I have reviewed your letter. I don't believe that I have made any materially false statements and that your client is just displeased to see a negative view that is supported by facts derived from its own filings and information that it provides on its own website. I would point out that your argument of my article's impact on the stock is erroneous, as the stock traded to a new high on 9/25/13 on extremely high volume. Further, I have no economic interest or any other interest whatsoever in the price of Plandai's stock. I object to your accusation that I used a name other than my own to speak with Mr. Tim Matula and wasn't even expecting him to answer the phone number that I got off of the Plandai website. The fact that Plandai would have someone who is not an employee or director of the company receiving phone calls is a very poor business practice, by the way.

I will be reviewing each of the alleged "defamatory statements" and making any necessary amendments as I want the article to be accurate, and I will pass these along to Seeking Alpha to make. My initial review leads me to conclude that most of what you say is not correct at all, but I will take into account every single issue you raised. I expect this process to be complete by Monday, October 21st. As far as any statements I have made in social media, you have taken these out of context by quoting a single word. Please send me a link to each objectionable statement with the full wording, and I will respond accordingly. Finally, while Mr.Traveller may have offered to send me information, he didn't send me anything in writing. I based my analysis on publicly-available information. Please provide in writing any information from Mr. Traveller that the company believes is in conflict with my article and I will ask Seeking Alpha to include an addendum to the article that allows me to update with the information you provide.

In response to your questions:

I received a $500 payment from Seeking Alpha only - there were no third-party payments whatsoever. I have never received any such third-party compensation in my career, and this would be a violation of SA rules as well as the CFA charter. The $500 payment is compensation for their PRO platform, as was disclosed.
I don't believe that I said or even implied that "Plandai is going broke" - those are your words. To answer the rest of this question, my sources were company filings and the company website - these were included in the article. I also have emails from several sources - the entire advisory board as well as the doctor who did the first study. Additionally, as noted, the Seattle Times article was a source.

Thank you for providing the alleged false or misleading statements. I trust that my amendments will be to your satisfaction. If not, please feel free to let me know.

Sincerely,

Alan Brochstein
I will be making changes to the article where appropriate and will likely provide Ms. Colbath with a point-by-point response as well. Additionally, I contacted Mr. Tim Matula, the man that she accused me of deceiving by "giving a fake name", and he kindly confirmed that this is a false statement. The truth is that he never asked my name, and I never gave my name. I called from a listed number and had no intent to hide my true identity, and this is just one of many inaccuracies that are in that letter. I believe that the company has attempted to discredit me by telling people that I am involved with a group that is shorting the stock (as the letter from Ms. Colbath insinuates), and I have an eyewitness account in writing of such a defamation by a Director of PLPL that I will certainly probe further should the company persist in its harassment of me. I believe the process of discovery in litigation would not be kind to them.
This really upsets me as a CFA and one who believes that there are many companies, especially on the OTC, that take advantage of investors. Our system provides little if any incentive for someone who sees something negative to investigate it further or to share his or her analysis. I have been accused of violating SA's contract as well as the CFA Charter and of lying in this letter, all attempts to discredit me rather than just address the alleged inaccuracies. I share this because I trust that anyone who knows me or who takes the time to evaluate this situation will quickly learn that I have done nothing but objectively analyze this company and share my views based on their own disclosures in a public forum.
Plandai management's harassment of me is likely not only a big expense to shareholders but also, in my view, says a lot about the character of the people involved. I purposefully withheld a lot of background information on Mr. Traveller and CEO Duffield as well as the paid research analysts in my original article. I urge anyone to investigate these individuals on their own, as I don't need to aggravate my own situation at this point.
ADDENDUM
Here is a follow-up email exchange:
On 10/17/2013 3:49 PM, Paula Colbath wrote:

Mr. Brochstein:

I here respond to your numerous emails and call today.

The statements referenced in your articles and posts clearly do not reflect "errors of omissions." The Company has furnished you with the true facts and expects its demands to be complied with by Monday, October 21st, the date by which you acknowledge you can comply. Absent a satisfactory response by Monday, October 21st, Plandaí Biotechnology will have no choice but to address these matters in a court of law where you will have an opportunity to defend your statements.

Please be reminded that this situation was solely precipitated and initiated by your election to publish an article with slanderous undertones and without substantiated facts.

Govern your actions accordingly.

Paula Colbath
-------- Original Message --------

| | |
| --- | --- |
| Subject: | Re: Plandai Biotechnology Inc. |
| Date: | Thu, 17 Oct 2013 16:44:32 -0500 |
| From: | Alan Brochstein, CFA <ajbcfa@gmail.com> |
| Reply-To: | ajbcfa@gmail.com |
| Organization: | AB Analytical Services |
| To: | Paula Colbath <pcolbath@loeb.com> |

Ms. Colbath, in your letter you either lied to me or have propagated from your client a defamatory accusation regarding my discussion with Mr. Matula. This type of shoddy work is consistent with the rest of your nit-picking assertions and your off-base innuendos about my motivations. I don't appreciate your efforts at intimidation, which included your threat to file a complaint to the CFA Institute and now litigation, nor your misrepresenting my actions.

I suggest that you take this up with Seeking Alpha after I submit any amendments to them, as they own the article and control it. I have provided satisfactory responses to your two questions and have said that I will address your concerns, most of which if not all I find to be trivial. I am trying to comply with your responses and to resolve any differences of opinion in a timely manner and avoid the time and expense of litigation in which I am confident that I would prevail. Recall, that you made your unwarranted and unsubstantiated demands on October 1st and took 16 days to respond to me. Your heavy-handed approach to demand my response in three business days is unreasonable, yet I will do as I said, and I will continue to make every effort to remove any inaccuracies in the article.

Sincerely,

Alan Brochstein
Disclosure: I have no positions in any stocks mentioned, and no plans to initiate any positions within the next 72 hours.