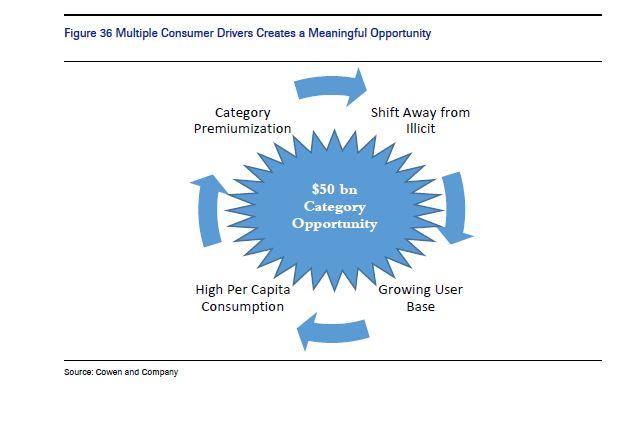 Cowen and Company released an extensive report on the cannabis industry today, suggesting the recreational market could grow to $50 billion by 2026. While this isn't the first time that an investment bank has issued research on the industry (Bank of America Merrill Lynch last December and Ackrell Capital in February), the effort was very broad, with ten different analysts weighing in.
Vivien Azer, the lead analyst on the report "The Cannabis Compendium: Cross-Sector Views on a Budding Industry," joined the company from Citigroup in 2014 as its analyst for Beverages and Tobacco and has now assumed coverage for Cannabis as well. Separate from the sector report, she initiated coverage on Kush Bottles (OTC: OTCQB:KSHB) with an "Outperform" rating and a price target of $3. This is the first time that a leading investment bank has provided coverage on a cannabis stock that trades on the OTC. KSHB is a packaging company based in California with operations in Colorado and the Pacific Northwest as well that generated an estimated approximately $8mm in the year ending 8/31/2016.
Disclosure: I/we have no positions in any stocks mentioned, and no plans to initiate any positions within the next 72 hours.
Additional disclosure: Model portfolios at 420 Investor include GWPH, KSHB and ZYNE