Cannabis stocks rallied during the week as volumes remained robust. The DEA dropped a bomb on the CBD from Industrial Hemp industry, making a rule that makes their product Schedule 1. While a court battle could overturn the ruling on "marihuana extracts", this represents a big challenge. Positively, 10 Senators signed a letter to the Treasury seeking to ease access to banking for the cannabis industry. In Canada, the big news was the release of the Task Force Report, which had a positive surprise regarding the recommended minimum age of 18 but some negatives regarding medical taxation and packaging limitations. Emblem began trading on Monday with more than 100% of the float trading, but volume diminished as did the price throughout the rest of the week, with the stock closing below the low on Monday, at 2.80, on Friday. MariCann is yet another LP that announced plans to go public through reverse merger
Here are some of this week's highlights for Focus List names:
ACBFF announced that its "Aurora Sky" hybrid greenhouse will be built at the Edmonton International Airport, where the company is leasing 30 acres. It also signed a memorandum of understanding with publicly-traded Radient Technologies to develop extraction technologies
AMMJ revealed that it has issued equity through sales below $0.60 to Tangiers (per the investment agreement)
APHQF paid $6.24mm for 200 acres in Leamington but not adjacent to their own property, necessitating an additional license. It also paid $750K for 5 adjacent acres.
GBLX licensed a patent to conduct research on cannabis for cardiac hypertrophy
INQD issued a convertible note totaling $137,500 with no floor and a maximum conversion price of $0.30
MDCL announced that it now has 23 client in 7 states and Puerto Rico
MSRT announced the acquisition of Whaxy, a software company that allows dispensaries to offer customers order-ahead options
OGRMF reported its FY16, which ended in August. Sales were up only marginally from Q3, though margins improved.
SPRWF closed its $55mm convertible note offering
TRTC Director Mike VandeVrede sold 300K shares
TWMJF received its "Dealers License", which will enable it to conduct research
The 420 Investor Cannabis Stock Index rose 2.7% this week to 63.02 and is up 1.1% in December and up 60.6% YTD. The index, which currently includes 31 stocks, ended 2015 at 39.25.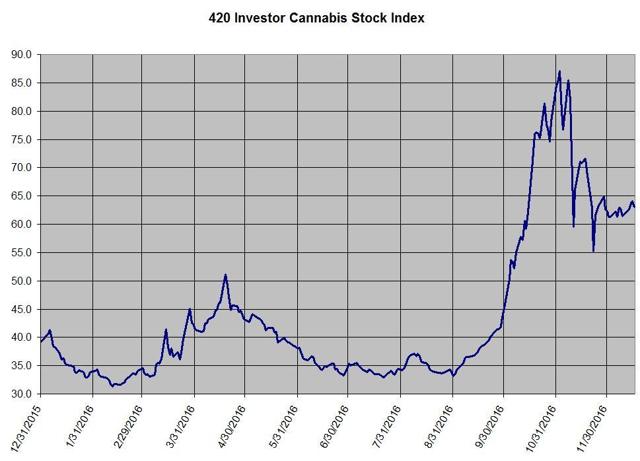 420 Opportunity ended the week valued at $41,931, down 2.1%. YTD, the model portfolio has increased 267.2% compared to the 60.6% increase in the index.
Valuations have increased and remain cautionary, and fundamentals are questionable for most of the >400 companies in the sector. The market rallied on the cannabis legalization efforts as well as the legalization path in Canada. It would be the wrong conclusion, in my view, to believe that the rally in the vast majority of OTC cannabis stocks is sustainable, so we could be in for a period of consolidation. The retention of the Republican Senate majority was a negative for the cannabis industry.
The big themes ahead are likely to be insight into the new President's plans regarding the federal view on state-legal cannabis (especially in light of his nomination of Senator Jeff Sessions as Attorney General), better clarity from the federal government for banks and cannabis research (both part of the proposed CARERS Act and other proposed legislation), the inclusion of a broader range of extracts in Health Canada's ACMPR program and its continued growth in patient enrollment, potential legalization in Canada (task force report due in November, with Spring 2017 introduction of legislation at Parliament), the introduction early next year in Germany of MMJ legislation as well as continued advances in South America, progress with respect to the new legal cannabis implementations in CA, MA, ME, and NV and the new MMJ implementations in Arkansas, Florida, Hawaii, Illinois, Maryland, Minnesota, Montana, Nevada, North Dakota, Ohio, New York, Nevada, Massachusetts, Pennsylvania and Texas, and the implementation of the new medical program in California.
The slide, which began in March of 2014, reversed out the entire gains from early 2014, with the market currently near the summer 2013 lows after the rally since mid-February. Most valuations remain high. Positively, we are seeing some new entrants into the publicly-traded sector of higher quality, and hopefully we see more in 2017, especially with the number of legal states doubling. Please remember that it remains the case that most of the penny stocks will not succeed. I expect that there will be just a few winners among the 400+ companies that are currently on our Broad List.
Here are some of the most interesting stories we published on New Cannabis Ventures this week:
Aurora Cannabis Hybrid Greenhouse to be Strategically Located at Edmonton International Airport
www.newcannabisventures.com/aurora-canna.../
California Cannabis Brands Vie for Market Share Ahead of Legalization​
www.newcannabisventures.com/california-c.../
Canada Moves Closer to Cannabis Legalization with Task Force Report Publication​
www.newcannabisventures.com/canada-moves.../
Cannabis Stock Mutual Fund AMREX Already Failing Fast
www.newcannabisventures.com/cannabis-sto.../
Cannabis Technology Company Eaze Names New CEO as McCarty Eases Out​
www.newcannabisventures.com/cannabis-tec.../
CannaKorp Reveals Pricing on its Single-Use, Pod-Based Medical Cannabis Vaporizer System
www.newcannabisventures.com/cannakorp-re.../
Canna Angels Launches Cannabis Investor Consortium
www.newcannabisventures.com/canna-angels.../
Emblem to Focus on Upper Echelon of Recreational Cannabis Market
www.newcannabisventures.com/emblem-to-fo.../
Florida CBD Producer Surterra Raises $15mm​
www.newcannabisventures.com/florida-cbd-.../
Outco Outs Cannabis Nutrients Companies For Misleading Marketing
www.newcannabisventures.com/outco-outs-c.../
Tweed Dealers License Expands Cannabis Research Capabilities
www.newcannabisventures.com/tweed-dealer.../
Resources:
420 Investor, founded in 2013, is an online due diligence platform that includes a Forum, 10 videos a week, news alerts, blogs, a weekly live chat, model portfolios and a monthly newsletter. The monthly subscription is $42, with a 30-day money-back guarantee, and there is a annual option for $420. The newsletter is also offered as a separate offering for $149 per year. Based on over 1100 reviews, the service has a 4.6 rating on a scale of 1 to 5.
Disclosure: I/we have no positions in any stocks mentioned, and no plans to initiate any positions within the next 72 hours.