Cannabis stocks advanced in the second week of the year as volumes remain very robust. The big news of the week was that the Jeff Sessions Senate Judiciary confirmation hearings didn't really shed a lot of light on how the federal policy towards enforcement of the CSA may change if he becomes Attorney General. The National Academy of Sciences published a book calling for more and better cannabis research. Health Canada issued its 38th license to James E. Wagner Cultivation. Rhode Island may move to legalize through the legislative process.
Here are some of this week's highlights for Focus List names:
APHQF reported its FY17-Q2 results, with sales growing rapidly from the prior quarter and the company producing EBITDA of almost $1mm
GWPH founder revealed a stock sale plan for up to 83K shares from 2/9-5/31
HLSPY announced its recently hired COO will succeed its long-time CEO at the end of the month
INQD partnered with OneWorld Business Finance to extend credit to its customers'
KSHB reported its FY17-Q1 results, which showed modest growth over the prior quarter as the company posted a small operating loss
MQTRF announced the acquisition of 14 clinics in Ontario (Bodystream)
MSRT named a new business development exec and introduced several features to its App. The company reported $2mm in proceeds from recent warrant exercises
OGRMF expanded its recall dramatically, and the pesticide is myclobutanil. The company bought adjacent land and hired someone to lead its extracts business.
TRTC granted its CFO over $1mm in stock compensation
TWMJF received a buy rating with a $13 target (on CGC) from Cowen and Company
The 420 Investor Cannabis Stock Index rose 5.0% this week to 77.74 and is up 4.9% YTD after gaining 18.8% in December and 88.8% in 2016. The index, which currently includes 44 stocks, ended 2016 at 74.10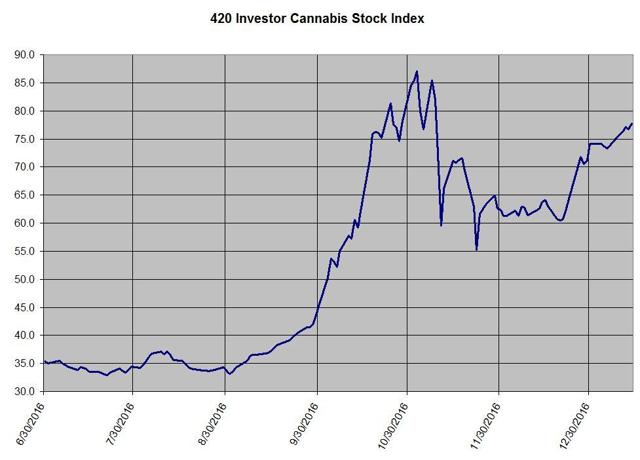 420 Opportunity ended the week valued at $43,557, down 2.6%. In 2016, the model portfolio increased 293.4% compared to the 88.8% increase in the index.
Valuations have increased and remain cautionary, and fundamentals are questionable for most of the >400 companies in the sector. The market rallied on the cannabis legalization efforts as well as the legalization path in Canada. It would be the wrong conclusion, in my view, to believe that the rally in the vast majority of OTC cannabis stocks is sustainable, so we could be in for a period of consolidation. The retention of the Republican Senate majority was a negative for the cannabis industry.
The big themes ahead are likely to be insight into the new President's plans regarding the federal view on state-legal cannabis (especially in light of his nomination of Senator Jeff Sessions as Attorney General), better clarity from the federal government for banks and cannabis research (both part of the proposed CARERS Act and other proposed legislation), DEA pushback towards the CBD from industrial hemp industry, the inclusion of a broader range of extracts in Health Canada's ACMPR program and its continued growth in patient enrollment, potential legalization in Canada (Spring 2017 introduction of legislation at Parliament), the introduction early next year in Germany of MMJ legislation as well as continued advances in South America, progress with respect to the new legal cannabis implementations in CA, MA, ME, and NV and the new MMJ implementations in Arkansas, Florida, Hawaii, Illinois, Maryland, Minnesota, Montana, Nevada, North Dakota, Ohio, New York, Nevada, Massachusetts, Pennsylvania and Texas, and the implementation of the new medical program in California.
The slide, which began in March of 2014, reversed out the entire gains from early 2014, with the market currently near the summer 2013 lows after the rally since mid-February. Most valuations remain high. Positively, we are seeing some new entrants into the publicly-traded sector of higher quality, and hopefully we see more in 2017, especially with the number of legal states doubling. Please remember that it remains the case that most of the penny stocks will not succeed. I expect that there will be just a few winners among the 400+ companies that are currently on our Broad List.
Here are some of the most interesting stories we published on New Cannabis Ventures this week:
Aphria to Invest in New Cannabis Investment Fund
www.newcannabisventures.com/aphria-to-in.../
CannaKorp Raises $4.1 Million in Series A Round
www.newcannabisventures.com/cannakorp-ra.../
Canopy Growth Gets First U.S. Investment Bank Coverage
www.newcannabisventures.com/canopy-growt.../
Heliospectra Names New CEO, Ali Ahmadian
www.newcannabisventures.com/heliospectra.../
Medical Cannabis Home Delivery Coming to New York City
www.newcannabisventures.com/medical-cann.../
MedMen Bails Out Beleaguered Bloomfield Industries, Buys New York Medical Cannabis Company
www.newcannabisventures.com/medmen-bails.../
OrganiGram to Expand Footprint Ahead of Canada's Inclusion of Cannabis Edibles
www.newcannabisventures.com/organigram-t.../
Resources:
420 Investor, founded in 2013, is an online due diligence platform that includes a Forum, 10 videos a week, news alerts, blogs, a weekly live chat, model portfolios and a monthly newsletter. The monthly subscription is $42, with a 30-day money-back guarantee, and there is a annual option for $420. The newsletter is also offered as a separate offering for $149 per year. Based on over 1200 reviews, the service has a 4.6 rating on a scale of 1 to 5.
Disclosure: I/we have no positions in any stocks mentioned, and no plans to initiate any positions within the next 72 hours.
Additional disclosure: At New Cannabis Ventures, we work with several publicly-traded companies, including Aurora Cannabis, Canopy Growth, Emblem, GrowGeneration, and OrganiGram, providing each of them with Investor Dashboards. For more information: www.newcannabisventures.com/...