Cannabis stocks were under pressure again in the U.S. and Canada. Vermont's governor vetoed legalization bill. The SEC suspended two cannabis stocks, ESSI and HGRL. Health Canada issued license #45 to Tantalus Labs. Health Canada announced several changes in its licensing process.
Here are some of this week's highlights for Focus List names:
ACBFF announced the acquisition of German medical cannabis distributor Pedanios
AMMJ reported an operating loss and weakness again in its products segment
APHQF finalized its deal to gain control of Florida MMJ provider Chestnut Hill Tree Farm
GBLX named Leslie Bocskor as Vice Chairman and filed a patent application for chronic pain and heart therapies
GRWG entered Washingtion, its 4th state, with an acquisition
GWPH had a review of its Epidiolex for Dravet syndrome study published in the New England Journal of Medicine
MSRT reported weak sales and a massive operating loss in Q2
TRTC introduced a craft cultivator model in Northern California, gaining access to a metric ton of premium cannabis annually
The 420 Investor Cannabis Stock Index fell for the eighth consecutive week, giving up 1.0% for the week to end at 61.76. The index, which has lost 8.4% in May and lost 14.0% in April, is down 16.7% YTD after gaining 88.8% in 2016. It currently includes 54 stocks and ended 2016 at 74.10.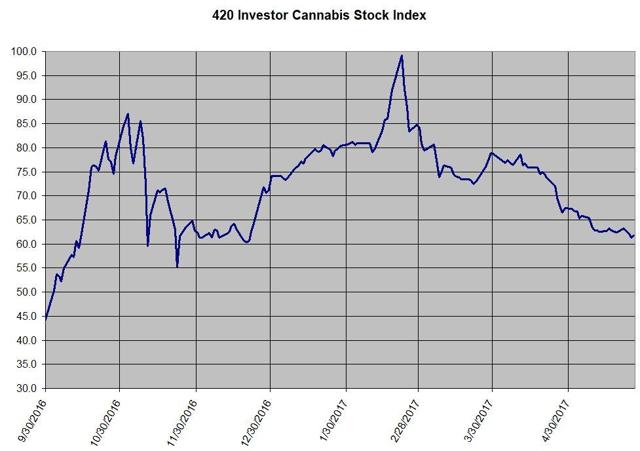 420 Opportunity ended the week valued at $39,024, up 5.7%, and is down 13.1% YTD. In 2016, the model portfolio increased 293.4% compared to the 88.8% increase in the index. 420 Quality ended the week at $49,101, up 5.6%. This model portfolio was launched on March 2nd targeting long-term investors seeking to invest in leading cannabis stocks with minimal portfolio turnover and has lost 1.8% since inception compared to the 23.6% loss in the index.
Outlook
Valuations have increased and remain cautionary, and fundamentals are questionable for most of the >450 companies in the sector. The market rallied on the cannabis legalization efforts as well as the legalization path in Canada, and it continues to attract a lot of interest from traders. It would be the wrong conclusion, in my view, to believe that the rally is sustainable for the vast majority of OTC cannabis stocks, so we could be in for a period of consolidation. The retention of the Republican Senate majority was a negative for the cannabis industry.
The big themes ahead are likely to be insight into the new President's plans regarding the federal view on state-legal cannabis (especially in light of Jeff Sessions serving as Attorney General), hopeful extension of the Rohrabacher-Farr Amendment (which is set to sunset at the end of September) to insulate state-legal medical cannabis businesses from DOJ intervention, better clarity from the federal government for banks and cannabis research (both part of the proposed CARERS Act and other proposed legislation), DEA pushback towards the CBD from industrial hemp industry, the inclusion of a broader range of extracts in Health Canada's ACMPR program and its continued growth in patient enrollment, likely legalization in Canada, the rollout of MMJ in Germany and in Australia as well as continued advances in South America, progress with respect to the new legal cannabis implementations in CA, MA, ME, and NV and the new MMJ implementations in Arkansas, Florida, Hawaii, Illinois, Maryland, Minnesota, Montana, Nevada, North Dakota, Ohio, New York, Nevada, Massachusetts, Pennsylvania and Texas, the implementation of the new medical program in California and the possible legalizations via the legislatures in NM and RI.
The slide, which began in March of 2014, reversed out the entire gains from early 2014, with the market currently near the summer 2013 lows after the rally since February 2016. Most valuations remain high. Positively, we are seeing some new entrants into the publicly-traded sector of higher quality, and hopefully we see more in 2017, especially with the number of legal states doubling. Please remember that it remains the case that most of the penny stocks will not succeed. I expect that there will be just a few winners among the 450+ companies that are currently on our Broad List.
Here are some of the most interesting stories we published on New Cannabis Ventures this week:
Aurora Cannabis Enters German Market with $13.6mm Pedanios Acquisition
www.newcannabisventures.com/aurora-canna.../
Avoid 5 Critical Mistakes that Can Doom Your Cannabis Business​
www.newcannabisventures.com/avoid-5-crit.../
GrowGeneration Expands to Washington
www.newcannabisventures.com/growgenerati.../
Health Canada Streamlines Medical Cannabis Production Licensing Process
www.newcannabisventures.com/health-canad.../
Maricann Group Breaks Ground on 217K Sq. Ft. Greenhouse Expansion
www.newcannabisventures.com/maricann-gro.../
NCIA Board of Directors Includes Three Newcomers
www.newcannabisventures.com/ncia-board-o.../
SEC Suspends Two Cannabis Stocks
www.newcannabisventures.com/sec-suspends.../
Resources:
420 Investor, founded in 2013, is an online due diligence platform that includes a Forum, 10 videos a week, news alerts, blogs, a weekly live chat, model portfolios and a monthly newsletter. The monthly subscription is $42, with a 30-day money-back guarantee, and there is a annual option for $420. The newsletter is also offered as a separate offering for $149 per year. Based on over 1200 reviews, the service has a 4.6 rating on a scale of 1 to 5.
Disclosure: I/we have no positions in any stocks mentioned, and no plans to initiate any positions within the next 72 hours.
Additional disclosure: At New Cannabis Ventures, we work with several publicly-traded companies, including ABcann, Aurora Cannabis, Canopy Growth, Emblem, GrowGeneration, iAnthus Capital, Harvest One, Kush Bottles, MariCann, Solis Tek and Therapix Biosciences, providing each of them with Investor Dashboards. For more information: www.newcannabisventures.com/...