The big cannabis story this week involved the destruction of farms in Northern California. In Canada, the week was short on days but long on action. Health Canada approved three more licensees. Prices continued their recent advance, driven by excitement over legalization.
Here are some of this week's highlights for Focus List names:
ACBFF announced a C$60mm bought deal at C$3.00
APHQF reported higher-than-expected sales (40% annual growth) with a big gain in its investments driving positive net income
CANN pre-announced sales of $980K for Q3 and sold 750K units at $1.00 with $0.50 warrants.
CBICF signed a definitive agreement finally for Nevada's GreenMart, announced a name change and beefed up its Board of Directors
GBLX announced a collaboration in Spain to create a time-released formulation for its THC-Free chronic pain therapy
GRWG uplisted to the OTCQX
IIPR priced its $15mm cumulative Preferred stock to yield 9%
ITHUF acquired a 6% stake for $3mm in Florida MMJ licensee GrowHealthy
NXTTF reported sales of C$1.3mm in September, down from $1.4mm in August. It also announced a pending non-brokered financing at C$0.25 with C$0.35 warrants (up to C$5mm) and announced an exclusive agreement with authenticating.com for identify verification in Canada
OGRMF boosted its annual output production goal to 25mm grams and passed its first step to organic re-certification
TWMJF announced a JV, BC Tweed to develop a 1.3mm sq. ft. greenhouse retrofit in British Columbia
The 420 Investor Cannabis Stock Index pulled back this week, decreasing 1.8% to 62.8163.94. The index is up 1.7% in October and down 15.2% YTD after gaining 88.8% in 2016. It currently includes 54 stocks and ended 2016 at 74.10.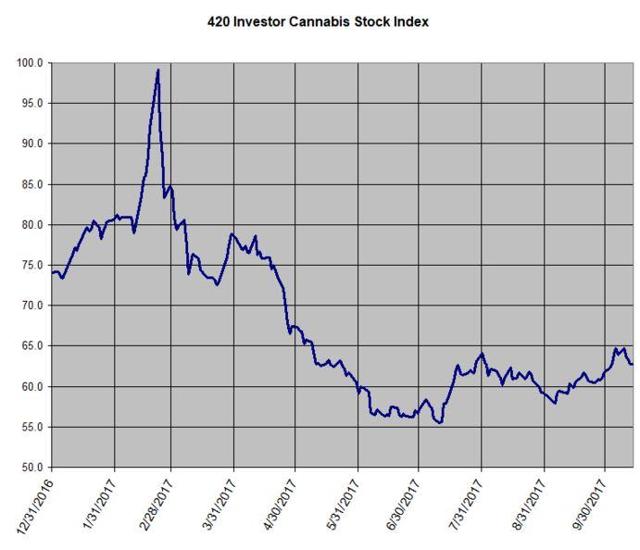 420 Opportunity ended the week valued at $43,026, up 3.2%, and is down 4.2% YTD. In 2016, the model portfolio increased 293.4% compared to the 88.8% increase in the index. 420 Quality ended the week at $54,798, up 3.7%. This model portfolio was launched on March 2nd targeting long-term investors seeking to invest in leading cannabis stocks with minimal portfolio turnover and has gained 9.6% since inception compared to the 22.3% loss in the index.
Outlook
The cannabis sector is seeing improving quality due to new entrants and some of the older names executing. Valuations generally remain cautionary, and fundamentals are questionable for most of the >550 companies in the sector. The market has been consolidating for nine months in the U.S. and since April in Canada after it had rallied on the cannabis legalization votes last year as well as the legalization path in Canada. There are some catalysts ahead, including progress in the Canadian legalization and in German MMJ as well as the California implementation and the debut of High Times as a publicly-traded company, but the consolidation of the gains from last year is likely to persist for another few months.
The big themes ahead are likely to be insight into the President's plans regarding the federal view on state-legal cannabis (especially in light of Jeff Sessions serving as Attorney General), hopeful extension of the Rohrabacher-Farr (now Rohrabacher-Blumenauer) Amendment (which is set to sunset on December 8th) to insulate state-legal medical cannabis businesses from DOJ intervention, better clarity from the federal government for banks and cannabis research (both part of the proposed CARERS Act and other proposed legislation), DEA pushback towards the CBD from industrial hemp industry, the inclusion of a broader range of extracts in Health Canada's ACMPR program and its continued growth in patient enrollment, likely legalization in Canada, the rollout of MMJ in Germany, Mexico and in Australia as well as continued advances in South America, progress with respect to the new legal cannabis implementations in CA, MA, ME, and NV and the new MMJ implementations in Arkansas, Florida, Hawaii, Illinois, Maryland, Minnesota, Montana, Nevada, North Dakota, Ohio, New York, Nevada, Massachusetts, Pennsylvania and Texas, the implementation of the new medical program in California and the possible legalizations via the legislatures in NM and RI.
The slide, which began in March of 2014, reversed out the entire gains from early 2014, with the market currently near the summer 2013 lows after the rally since February 2016. Most valuations remain high. Positively, we are seeing some new entrants into the publicly-traded sector of higher quality, and hopefully we see more in 2017, especially with the number of legal states doubling. Please remember that it remains the case that most of the penny stocks will not succeed. I expect that there will be just a few winners among the 550+ companies that are currently on our Broad List.
Here are some of the most interesting stories we published on New Cannabis Ventures this week:
Resources:
420 Investor, founded in 2013, is an online due diligence platform that includes a Forum, 10 videos a week, news alerts, blogs, a weekly live chat, model portfolios and a monthly newsletter. The monthly subscription is $42, with a 30-day money-back guarantee, and there is a annual option for $420. The newsletter is also offered as a separate offering for $149 per year. Based on over 1300 reviews, the service has a 4.6 rating on a scale of 1 to 5.
Disclosure: I/we have no positions in any stocks mentioned, and no plans to initiate any positions within the next 72 hours.
Additional disclosure: At New Cannabis Ventures, we work with several publicly-traded companies, including ABcann, Aurora Cannabis, Canadian Bioceutical Corp, Canopy Growth, DOJA Cannabis, Emblem, GrowGeneration, Harvest One, iAnthus Capital, Kush Bottles, Liberty Health Sciences, MariCann, Solis Tek and TerrAscend, providing each of them with Investor Dashboards