Review
Thanks for bearing with me while I was in NYC! Here is a link to the video for the panel on which I participated. Thanks too to all the 420iers who were able to join us for the meet-up.
All of the news this week was out of Canada, which became the second country ever and the first G-7 country to legalize adult access. The program now will launch on October 17th, a bit later than had been expected. Health Canada boosted the number of ACMPR licenses by 2 to 111. Horizons ETF unveiled futures and leveraged ETFs based on its Marijuana ETF, HMMJ. Tilray announced that it will be conducting a NASDAQ IPO, with no Canadian listing at all. Molson Coors Brewing was reported to be in discussions to buy a Canadian LP.
Here are some of this week's highlights for Focus List names:
ACBFF announced that it is distributing shares in Australis Capital, its U.S. focused operations, which are quite nascent
APHQF announced that its Malta-based subsidiary received an import license
CGC launched color-coded softgels under its Spectrum Cannabis brand. It closed the upsized offering with the full exercise of the over-allotment option, leaving the deal at $600 million, with Constellation Brands investing $200mm.
CNNRF announced a convertible note offering.
DJACF announced that it has applied for several retail licenses in Alberta
IIPR filed a $300 million shelf-registration
KSHB saw Cowen slash its target price from $9.50 to $7.50
MEDFF posted its Q4 results, which were a bit short of expectations with respect to sales, which came in at $12 million, and were a lot worse on the bottom-line.
NXTTF closed its 10% acquisition of Israeli cannabis producer Cannbit, spening C$908K in cash and stock
SNNVF purchased the land for its Canadian facility
The Global Cannabis Stock Index rallied sharply this week, increasing 3.1% to 108.05.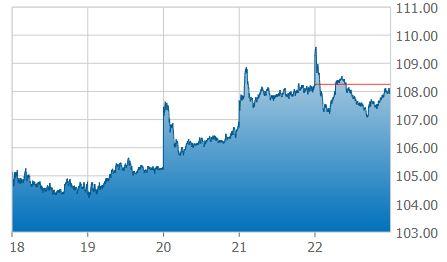 The index, up 0.1% in Q2 but down 24.0% so far in 2018, was up 91.8% in 2017 after gaining 88.8% in 2016. The index currently includes 68 stocks and ended 2017 at 142.10.
420 Opportunity ended the week valued at $119,986, up 3.3%. The model portfolio has gained 31.3% year-to-date after increasing 103.5% compared to the 91.8% increase in the index in 2017. 420 Quality ended the week at $149,819, up 3.5%, and has increased 36.9% year-to-date. This model portfolio was launched in March 2017 targeting long-term investors seeking to invest in leading cannabis stocks with low portfolio turnover and has gained 189.5% since inception compared to the 29.6% increase in the index. Flying High ended the week valued at $165,923, up 5.1%. The year-to-date gain has been 47.0%, while the return since inception in late 2013 has been 1559%.
Outlook
The cannabis sector is seeing improving quality due to new entrants and some of the older names executing. Valuations generally remain cautionary, and fundamentals are questionable for most of the over 600 companies in the sector. The market has been in bull mode since late October and remains healthy despite the "Sessions Storm" that hit on January 4th. There are some catalysts ahead, including progress in the Canadian legalization slated to launch on October 17th and in German MMJ as well as the roll-out of the California implementation and Massachusetts in July. The demise of the Cole Memo had left a big overhang in the U.S. market, but I believe this is now behind us and advocate a more aggressive approach for investors with respect to legitimate U.S. companies.
The big themes ahead are likely to be insight into the President's plans regarding the federal view on state-legal cannabis (especially in light of the apparent deal with Senator Cory Gardner and the introduction in the Senate of Strengthening the Tenth Amendment Entrusting States (STATES) Act ), hopeful approval of the Hemp Farming Act of 2018, introduced by Senate Majority Leader Mitch McConnell with bi-partisan support and intended to legalize industrial hemp, hopeful extension later this year of the Rohrabacher-Blumenauer Amendment in the House and the Leahy Amendment in the Senate (which are now set to sunset on September 30th) to insulate state-legal medical cannabis businesses from DOJ intervention, better clarity from the federal government for banks and cannabis research (both part of the proposed CARERS Act and other proposed legislation), DEA pushback towards the CBD from industrial hemp industry, the inclusion of a broader range of extracts in Health Canada's ACMPR program and its continued growth in patient enrollment, likely legalization in Canada, the rollout of MMJ in Denmark, Germany, Mexico and in Australia as well as continued advances in South America, progress with respect to the new legal cannabis implementations in CA and MA, and the new MMJ implementations in Arkansas, Florida, Maryland, Ohio, Pennsylvania and Texas, the implementation of the new medical program in California and the possible legalization via the legislatures in CT, NH, NJ, NM, and RI and implementation of potential commercial programs in ME and VT. Finally, the November elections will be another potential catalyst, with Michigan voters already set to decide on adult-access in that state.
Here are some of the most interesting stories we published on New Cannabis Ventures this week:  
Resources:
Disclosure: I/we have no positions in any stocks mentioned, and no plans to initiate any positions within the next 72 hours.
Additional disclosure: At New Cannabis Ventures, we work with several publicly-traded companies, including ABcann, Aurora Cannabis, Canopy Growth, Emblem, Harvest One, Hiku Brands, iAnthus Capital, Khiron Life Sciences, Kush Bottles, Liberty Health Sciences, MariCann, MPX Bioceutical, RavenQuest, Supreme Cannabis and TerrAscend, providing each of them with Investor Dashboards. We also provide Organigram with advertising on our Cannabis Careers page.