Review
Hemp was legalized as part of the Farm Act of 2018, with the FDA quickly asserting its regulatory authority over CBD. New Jersey awarded 6 new licenses, and Pennsylvania added 23 new dispensary licenses, with publicly-traded (or soon to be publicly-traded) MSOs doing very well. Canada proposed edibles and extracts regulations and opened a two-month comment period. Canadian LPs Aleafia and Emblem agreed to merge. Tilray extended a pharmaceutical alliance from Canada to the entire world and also entered into a partnership with AB InBev to spend up to $100 million to develop cannabis beverages for the Canadian market.
During the week, I published two articles for the upcoming January issue of the 420 Investor Newsletter
Thinking about the Benzinga Cannabis Capital Conference, which takes place in sunny Miami in mid-January (January 16th)? General admission is discounted to $397.
Here are some of this week's highlights for Focus List names:
APHA entered into an agreement with a province in Argentina to supply medical cannabis
GTBIF won one of six New Jersey medical licenses and also picked up four dispensary licenses in Pennsylvania. Additionally, Essence, its pending acquisition, won licenses in West Hollywood, California
IIPR entered Illinois with a $25 million cultivation project
ITHUF opened its first Florida dispensary in West Palm Beach
LHSIF unveiled its Zentient Labs brand for CBD products derived from industrial hemp
MDCL added a COO, hiring Joe Puglise, who previously was President of iHeartMedia
MPXEF won a New Jersey medical cannabis license, one of six
ORHOF announced that it will not be closing on the sale of its ownership interest and royalty in AltMed
SNNVF partnered with HelloMD to offer telehealth services in its Canadian clinic operations
TLRY signed a deal with Livewell to access CBD from industrial hemp, extended its Sandoz (Novartis) partnership globally and entered a partnership with AB InBev to contribute up to $50 million each to develop cannabis beverages for the Canadian market.
The Global Cannabis Stock Index declined again, setting a new 52-week low, decreasing 15.8% to 60.36.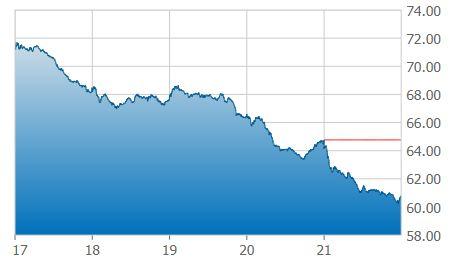 The index, down 24.9% in December, has decreased 57.5% so far in 2018, after gaining 91.8% in 2017 and 88.8% in 2016. The index currently includes 61 stocks and ended 2017 at 142.10.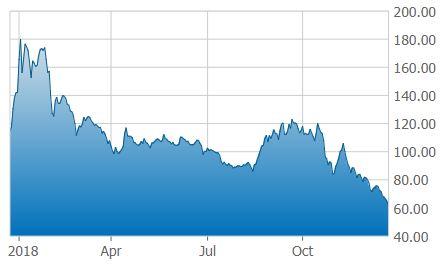 420 Opportunity ended the week valued at $86,319, down 14.6%. The model portfolio has lost 5.6% year-to-date and has increased 73% since April 2014. 420 Quality ended the week at $109,605, down 14.2%, and has increased 0.1% year-to-date. This model portfolio was launched in March 2017 targeting long-term investors seeking to invest in leading cannabis stocks with low portfolio turnover and has gained 119.2% since inception compared to the 25.4% decrease in the index. Flying High ended the week valued at $150,358, down 13.7%. The year-to-date gain has been 33.2%, while the return since inception in late 2013 has been 1404%.
Outlook
The cannabis sector is seeing rapidly improving quality due to new entrants and some of the older names executing. Valuations generally remain cautionary, and fundamentals are questionable for most of the over 750 companies in the sector. The market has almost completely retraced the rally that began in October 2017. There are some catalysts ahead, including the changes ahead due to hemp legalization, progress in the Canadian legalization that commenced October 17th and in German MMJ as well as the continued roll-out of the California implementation and Massachusetts. The demise of the Cole Memo had left a big overhang in the U.S. market, but I believe this is now behind us and advocate a more aggressive approach for investors with respect to legitimate U.S. companies. A major change has been the stepped up pace at which higher quality U.S. operators are going public via the CSE in Canada. Finally, expect to see more of the Canadian LPs list on major U.S. exchanges.
The big themes ahead are likely to be continued cross-industry investment into the sector, insight into the President's plans regarding the federal view on state-legal cannabis (especially in light of the apparent deal with Senator Cory Gardner and the introduction in the Senate of Strengthening the Tenth Amendment Entrusting States (STATES) Act ), better clarity from the federal government for banks and cannabis research, FDA pushback towards the CBD from industrial hemp industry, the GW Pharma launch of Epidiolex, the inclusion of a broader range of extracts in Health Canada's ACMPR program and its continued growth in patient enrollment, the rollout of MMJ in Denmark, Germany, Mexico and in Australia as well as continued advances in South America, progress with respect to the new legal cannabis implementations in CA, MA and soon MI, and the new MMJ implementations in Arkansas, Florida, Maryland, Michigan, Ohio, Oklahoma, Pennsylvania and Texas, possible legalization via the legislatures in CT, IL, NH, NJ, NM, NY and RI and implementation of potential commercial programs in ME and VT.
Here are some of the most interesting stories we published on New Cannabis Ventures this week:
Resources:
Disclosure: I/we have no positions in any stocks mentioned, and no plans to initiate any positions within the next 72 hours.
Additional disclosure: At New Cannabis Ventures, we work with several publicly-traded companies, including Aurora Cannabis, Australis Capital, Canopy Growth, Canopy Rivers, Charlotte's Web, Cresco Labs, Emblem, Green Growth Brands, Harvest One, iAnthus Capital, INDIVA, KushCo Holdings, Liberty Health Sciences, Medicine Man Technologies, MediPharm Labs, MJardin, Group, MPX Bioceutical, Organigram, Plus Products, Supreme Cannabis, TerrAscend, VIVO Cannabis and Wayland, providing each of them with Investor Dashboards.