Review
The big story of the week was the crackdown by city and states on CBD. This remains quite murky on the regulatory front and will take time to resolve. A lot of the confusion is around being a food additive, but some states are requiring that CBD be distributed in accordance with their own medical cannabis laws, like Texas (for epilepsy and only from one of the three licensed companies). The House Committee on Financial Services will discuss Secure and Fair Enforcement Act (H.R. 2215) next week. Senator Ron Wyden of Oregon introduced S 420 to legalize cannabis federally. Maryland could move to legalize through the legislative process.
Corporate governance continues to be a hot topic, with Namaste Technologies firing its CEO and founder, Sean Dollinger, and taking legal action after finding evidence of self-dealing when the company divested its U.S. operations last year. Health Canada suspended all the licenses of Bonify and is close to revoking the licenses of Agrima (owned by Ascent Industries). It added LP #150. Ontario added 5 more LPs as suppliers.
I published an article at Forbes this week:
How To Invest In Cannabis IPOs
Here are some of this week's highlights for Focus List names:
ACB COO Allan Cleiren joined the Board of of Radient Technologies following its receipt of a license from Health Canada, and the company sees the company's technology as an important part of its extraction business.
APHA rejected the Green Growth Brands bid. Its partner Tetra Biopharma ended a clinical trial of PPP001, for which the company supplied the cannabis, due to mycotoxins presence
CGC increased its investment in Canopy Rivers by $30 million and now owns 27% of the company. Canopy disclosed that it expects to invest $500 million into the U.S. hemp industry.
CVSI replaced IRTH with ICR, a potential sign of uplisting to the NASDAQ ahead
ELLXF announced European expansion plans are renamed its Australian medical cannabis company to Nunyara
GRWG announced two acquisitions, assets of BWGS as well as Palm Springs Hydroponics in California, its 22nd location and 7th in California
GTBIF will be buying California luxury brand Beboe
IIPR entered California, its 10th state, with an $11.5 million deal
ITHUF closed the MPX acquisition
MMNFF raised $18 million through the sale of three retail properties to its related -party REIT
ORHOF continued to execute on its distribution model, investing in Humboldt's Finest and adding distribution services.
SPRWF added New Brunswick and Saskatchewan, giving it supply agreements in eight provinces
TCNNF press released its recent court victory that paves the way for the cap on the number of dispensaries for operators in Florida to be lifted.
The Global Cannabis Stock Index pulled back after a strong start to the year, decreasing 4.9% to 90.10, leaving it down 3.2% in February: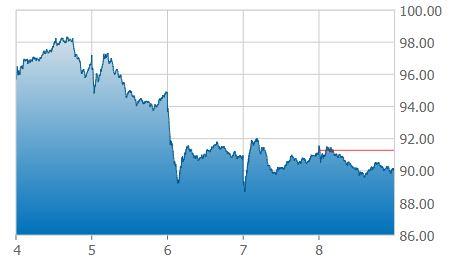 The index, up 40.7% in 2019, lost 54.9% in 2018 after gaining 91.8% in 2017 and 88.8% in 2016. It currently includes 42 stocks and ended 2018 at 64.02.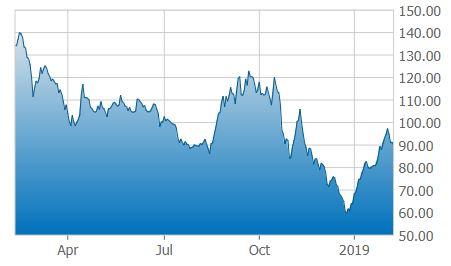 420 Opportunity ended the week valued at $132,661, down 0.8%. The model portfolio has gained 40.2% year-to-date and has increased 165% since April 2014. 420 Quality ended the week at $168,921, up 0.5%, and has increased 42.5% year-to-date. This model portfolio was launched in March 2017 targeting long-term investors seeking to invest in leading cannabis stocks with low portfolio turnover and has gained 239.4% since inception compared to the 16.2% increase in the index. Flying High ended the week valued at $232,940, down 0.8%. The year-to-date gain has been 44.4%, while the return since inception in late 2013 has been 2229%.
Outlook
The cannabis sector is seeing rapidly improving quality due to new entrants and some of the older names executing. Valuations generally remain cautionary, and fundamentals are questionable for most of the over 750 companies in the sector. While the sector has been volatile and has declined since early 2018, the longer-term trend since early 2016 has been bullish. There are some catalysts ahead, including the changes ahead due to hemp legalization, progress in the Canadian legalization that commenced October 17th and in German MMJ as well as the continued roll-out of the implementations in California and Massachusetts for adult-use as well as medical cannabis in several other states. The demise of the Cole Memo had left a big overhang in the U.S. market, but I believe this is now behind us and advocate a more aggressive approach for investors with respect to legitimate U.S. companies. A major change has been the stepped up pace at which higher quality U.S. operators are going public via the CSE in Canada. Finally, expect to see more of the Canadian LPs list on major U.S. exchanges.
The big themes ahead are likely to be continued cross-industry investment into the sector, insight into the President's plans regarding the federal view on state-legal cannabis (especially in light of the apparent deal with Senator Cory Gardner and the introduction in the Senate of Strengthening the Tenth Amendment Entrusting States (STATES) Act ), better clarity from the federal government for banks and cannabis research, FDA pushback towards the CBD from industrial hemp industry, the GW Pharma launch of Epidiolex, the inclusion of a broader range of extracts in Health Canada's ACMPR program and its continued growth in patient enrollment, the rollout of MMJ in Denmark, Germany, Mexico and in Australia as well as continued advances in South America, progress with respect to the new legal cannabis implementations in CA, MA and soon MI, and the new MMJ implementations in Arkansas, Florida, Maryland, Michigan, Ohio, Oklahoma, Pennsylvania and Texas, possible legalization via the legislatures in CT, IL, NH, NJ, NM, NY and RI and implementation of potential commercial programs in ME and VT.
Here are some of the most interesting stories we published on New Cannabis Ventures this week:
Resources:
Disclosure: I/we have no positions in any stocks mentioned, and no plans to initiate any positions within the next 72 hours.
Additional disclosure: At New Cannabis Ventures, we work with several publicly-traded companies, including 48North, Aurora Cannabis, Australis Capital, Canopy Growth, Charlotte's Web, Cresco Labs, Emblem, Green Growth Brands, Harvest One, High Tide, iAnthus Capital, INDIVA, KushCo Holdings, Liberty Health Sciences, Medicine Man Technologies, MediPharm Labs, MJardin, Group, MPX Bioceutical, Organigram, Plus Products, Supreme Cannabis, TerrAscend, VIVO Cannabis and Wayland, providing each of them with Investor Dashboards.