Review
The highlight of the week was the well-attended Canaccord conference in NYC, with almost 100 companies presenting. Health Canada granted its first license to cultivate outdoors to Good Buds in BC, according to the LP, but the website, which now shows 178 licenses, reflected only a new outdoor license for Good & Green (48North).
During the week, I published the second feature article for the June edition of the 420 Investor Newsletter:
I also published this piece at Forbes:
Finally, I was interviewed on TD Ameritrade Network: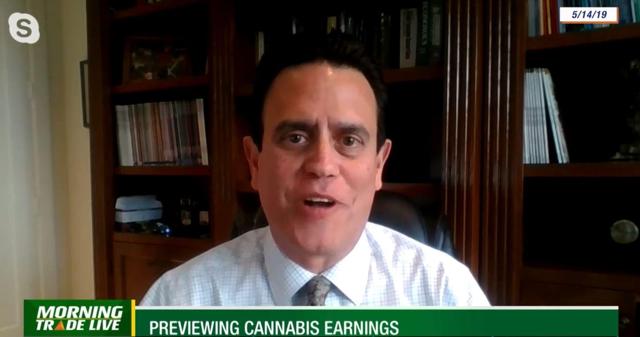 https://tdameritradenetwork.com/video/rB4AoWqwHM-B...
Here are some of this week's highlights for Focus List names:
ACB missed on the top-line but showed improving operating results and reaffirmed that it expects to be break-even this quarter on adjusted EBITDA. The company also reported progress with its extraction partner, Radient Technologies.
ACRGF revealed that it intends to sell assets into an affiliated REIT in which it holds a 20% interest.
APHA hired a COO who used to work at Hain Celestial, with its President leaving.
CTST finalized a supply agreement with Quebec. It's Q1 results showed improvement in its operations as sales of $16.9 million were slightly better than expected
CVSI supplied its CBD for an open-label PTSD clinical trial that was published in a journal
ELLXF was awarded a New York hemp license. It also announced an alliance in the UK with an independent pharmacy group
GRWG announced an acquisition on very favorable terms that will add $7 million in annual revenue and double their business in the Northeast
HRVSF closed the first $100 million of its $500 convertible note financing.
ITHUF unveiled a new corporate brand for its dispensaries, Be.
OGRMF was approved to trade on the NASDAQ and will do so beginning 5/21
ORHOF pre-announced Q1 revenue at $11 million and April at $6.5 million
SPRWF continued to expand its licensed capacity at Kincardine. The company announced that it will be buying LP BlissCo for $48 million in stock. It announced Q3 financials results, with sales just shy of estimates at $10 million and improved margins.
TCNNF announced the entry into its 4th state, Connecticut, through a dispensary acquisition. The company's shelf registration became effective.
TLRY reported a revenue-beat that appeared to be driven by contributions from acquisitions. Margins were weaker, and the cash balance dropped significantly.
The Global Cannabis Stock Index followed the broad market lower, losing 0.8% to 93.96:

The index, up 46.8% so far in 2019 but down 5.3% in May, lost 54.9% in 2018 after gaining 91.8% in 2017 and 88.8% in 2016. It currently includes 64 stocks and ended 2018 at 64.02:

420 Opportunity ended the week valued at $133,879, up 0.5%. The model portfolio has gained 41.5% year-to-date and has increased 168% since April 2014. 420 Quality ended the week at $171,635, up 1.4%, and has increased 44.2% year-to-date. This model portfolio was launched in March 2017 targeting long-term investors seeking to invest in leading cannabis stocks with low portfolio turnover and has gained 243.3% since inception compared to the 16.2% increase in the index. Flying High ended the week valued at $237,272, up 1.4%. The year-to-date gain has been 47.1%, while the return since inception in late 2013 has been 2273%.
Outlook
The cannabis sector is seeing rapidly improving quality due to new entrants and some of the older names executing. Valuations generally remain cautionary, and fundamentals are questionable for most of the over 750 companies in the sector. While the sector has been volatile and has declined since early 2018, the longer-term trend since early 2016 has been bullish. There are some catalysts ahead, including the changes ahead due to hemp legalization, progress in the Canadian legalization that commenced October 17th and in German MMJ as well as the continued roll-out of the implementations in California and Massachusetts for adult-use as well as medical cannabis in several other states. The demise of the Cole Memo had left a big overhang in the U.S. market, but I believe this is now behind us and advocate a more aggressive approach for investors with respect to legitimate U.S. companies. A major change has been the stepped up pace at which higher quality U.S. operators are going public via the CSE in Canada. Consolidation within both Canada and the U.S. will continue, but the Canopy deal with Acreage paves the way for potentially more cross-border consolidation. Finally, expect to see more of the Canadian LPs list on major U.S. exchanges.
The big themes ahead are likely to be continued cross-industry investment into the sector, insight into the President's plans regarding the federal view on state-legal cannabis (especially in light of the apparent deal with Senator Cory Gardner and the introduction in the Senate of Strengthening the Tenth Amendment Entrusting States (STATES) Act ), better clarity from the federal government for banks and cannabis research, FDA pushback towards the CBD from industrial hemp industry, the GW Pharma launch of Epidiolex, the inclusion of a broader range of extracts in Health Canada's ACMPR program and its continued growth in patient enrollment, the rollout of MMJ in Denmark, Germany, Mexico and in Australia as well as continued advances in South America, progress with respect to the new legal cannabis implementations in CA, MA and soon MI, and the new MMJ implementations in Arkansas, Florida, Maryland, Michigan, Ohio, Oklahoma, Pennsylvania and Texas, possible legalization via the legislatures in CT, IL, MD, MN, NH, NJ, NM, NY and RI and implementation of potential commercial programs in ME and VT. The 2020 elections will start to get a lot of attention later this year as well.
Here are some of the most interesting stories we published on New Cannabis Ventures this week:
Resources:
Disclosure: I/we have no positions in any stocks mentioned, and no plans to initiate any positions within the next 72 hours.
Additional disclosure: At New Cannabis Ventures, we work with several publicly-traded companies, including 48North, Aurora Cannabis, Canopy Growth, CB2 Insights, Charlotte's Web, Cresco Labs, Green Growth Brands, Harvest One, iAnthus Capital, INDIVA, KushCo Holdings, Liberty Health Sciences, Medicine Man Technologies, MediPharm Labs, MJardin, Group, Organigram, Plus Products, Supreme Cannabis, TerrAscend, Vireo Health and VIVO Cannabis, providing each of them with Investor Dashboards.