This November, Californians will vote on Proposition 19, a proposition to legalize, regulate, and tax marijuana in the state of California.  The Intrade prediction market has a contract on the event with the current probability of Proposition 19 passing trading at 35%.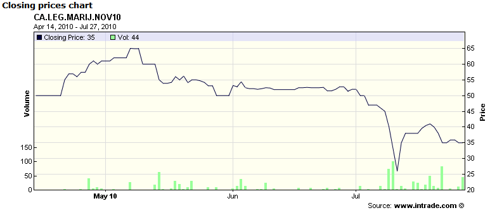 The three most recent and reliable polls on the subject have had very different and mixed results. The two polls that have Prop 19 passing being done by robo-calls where as the one that shows Prop 19 failing being conducted by human callers. 


These three polls do not support the notion that Prop 19 passing is the long shot that Intrade makes it out to be. If anything, I believe it supports the notion that is a much more competitive race. Nate Silver of
fivethirtyeight.com
has
come up with a theory
that might explain the big discrepency between these three very reliable pollsters.
What if voters are more likely to admit their tolerance for marijuana to an automated script, which may create the feeling of greater anonymity?... 

Nevertheless, it's possible that we're seeing some sort of Bradley effect in reverse, which I've reluctantly dubbed the "Broadus Effect" after the given name of the rapper Snoop Dogg, himself a frequent consumer of cannabinoid-rich products.


With the "Snoop Dogg" Effect in mind, a 35% chance (practically 2 to 1 odds) of Proposition 19 passing seems really low and a good opportunity for going long on Intrade. I would personally handicap the probability of  Prop 19 passing to a price around 50%-55%. Which is why I have decided to go long. 

Like all trades though, going long on proposition 19 represents some risks.  Many propositions in California have the propensity of starting out strong, then losing steam and support as election day draws close. With republicans in California running competitive campaigns for both Senator and Governor, and a good chance of taking back the House of Representatives, voter enthusiasm among the strongest group of proposition 19 opponents might kill any chance of marijuana being legalized in California this Novermber.  
Disclosure:
CA.LEG.MARIJ.NOV10