If economists indeed only exist to improve weather forecasters' self esteem, then EM economists will soon be wracked by self-doubt as they digest NOAA's 2014 El Niño forecast. It's looks like it's going to be a "big one", as bad as the 1997-98 episode, which can only mean higher food prices in the year ahead. And higher food prices means one of two EM policy responses: higher spending on food subsidies, or tighter monetary policy. Neither of those responses are equity-friendly.
More than a third of the EM consumption basket comprises food, so EM policymakers have to be concerned with El Niño's impact on inflation (India's RBI devoted a paragraph of its April Monetary Policy Statement to El Niño, because the latter is associated with a poor monsoon season).
The immediate investment implications are in the commodity pits, and in assets directly associated with food exporters and importers. But there is a less immediately obvious call to be made: discretionary spending in EM economies acts as the inverse of food prices. When food costs more, EM households have less to spend on everything else. Investors have been bidding up the price of any asset associated with the trend towards more EM consumption in recent years, with consumer staples and discretionary stocks among the most expensive in the EM universe.
El Niño could be the perfect storm for unwinding some of those excess valuations if earnings growth fail to deliver on stellar expectations this year.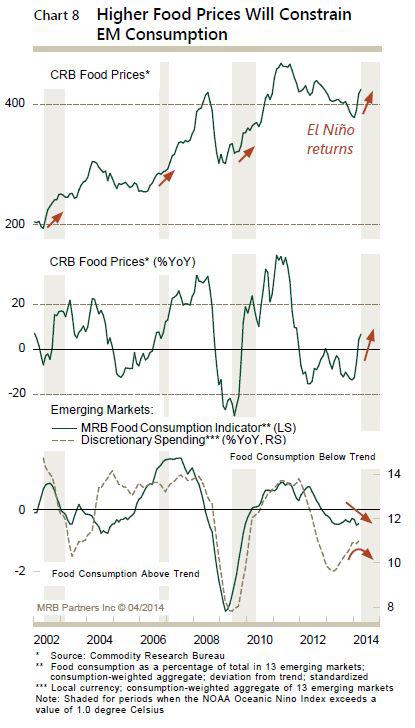 Disclosure: I have no positions in any stocks mentioned, and no plans to initiate any positions within the next 72 hours.