Plentiful oil supply trumps improving demand. That long-standing truth is once again being confirmed by the market. The implication is that the risks to oil prices are skewed to the downside.
There are two sources of demand for crude oil: the bigger portion is from emerging markets, where rapid demand growth is driven by powerful secular and demographic drivers. The smaller portion is from the OECD, where demand is fickle and cyclical. Because it is volatile, it tends to drive oil prices, i.e. rising OECD demand typically drives up prices.
But OECD demand has been rising, and prices have not reacted. Why? Because oil supply is booming, thanks entirely to growing output outside OPEC, in particular in North America.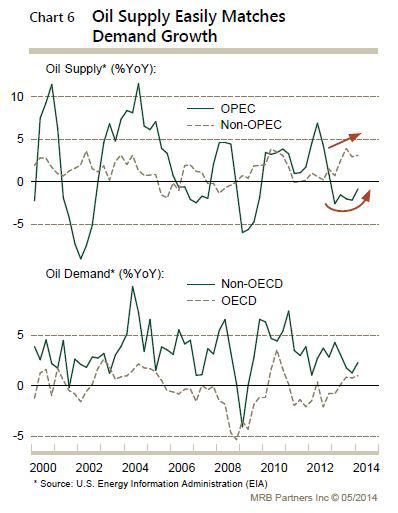 OPEC output didn't decline as a result of a cabal of oil ministers plotting over their Viennese Apfelstrudel. It is the result of the vagaries of domestic politics in Iraq and Libya and of sanctions on Iran. These are not permanent factors, and have a predictable end to them. When that happens, the oil market will be oversupplied.
Why? Because nobody will "make room" for the three OPEC suppliers to get back into the market. The North American shale and tight oil boom will continue (given what we know about capex commitments) and the Saudis and other Gulf Arab producers have their own budgetary requirements to meet.
Disclosure: I have no positions in any stocks mentioned, and no plans to initiate any positions within the next 72 hours.