Summary
Note: A PDF version of this Equity Coverage Initiation report is available for easy viewing at this address.
Shengkai Innovations, Inc. (NASDAQ:VALV), is a company operating in China that designs, manufactures, and distributes ceramic valves for industrial use.
VALV has in the past year suffered immensely with a greater than 50% reduction in revenues over the last 4 quarters due to integrity issues, Chinese market slow down and price pressures. However, in the face of this VALV has managed to stay profitable in the last year. VALV has implemented new strategy to target the higher margin petrochemical and chemical market, who also demand the higher quality ceramic valves over other valves. Of note, is that VALV is one of the only larger manufacturers of ceramic valves on the Chinese market.
VALV has a significant amount of net cash on their balance sheet, totaling to $63.3 million. This is the equivalent of $49.2 million above market cap, or $2.86 per share. This is a significant amount of cash, which makes VALV also a cheap takeover target at their current market cap. This excess cash gives them significant leeway to survive tighter market conditions and be able to grow sales, margins and profits. Also importantly, VALV has not been burning cash under current pressures.
Major risks for VALV involve the additional risks of operating in China and the regulatory and reporting issues associated with it, and the ability to repatriate cash out of China. However, it is expected overtime these issues should improve, as China deregulates. The other major risk is if VALV is unable to regain revenues by penetrating new markets. Although this risk is reduced by the cash on their balance sheet and no debt, giving them significant time and resources to be able to try and achieve this. Investors should also be aware the company is facing delisting from NASDAQ due to not keeping the above $1 a share requirement, which would likely have a discounting effect on the share price due to reduced liquidity.
We initiate our coverage on VALV with a BUY rating and a target price of $1.00 a share. This is a conservative valuation with very low growth and margin expectations, based on last reporting quarter conditions, until we can get a clearer picture of the situation next reporting periods. If this valuation included the net excess cash over market value, it would result in a value of $3.76 a share, which adds additional comfort for investment in VALV.
Company Background
Shengkai Innovations, Inc is a NASDAQ listed ceramic valve manufacturer, based in China. The company is involved in the research and development (R&D), engineering and production of ceramic valves. The company has about 18 years of experience in the ceramic valve business.
VALV believes they are one of the few ceramic valve manufacturers in the world with R&D, engineering, and production capacity for structural ceramics, and able to produce large-sized ceramic valves with calibers of 150mm or more.
VALV's product categories include a broad range of valves in nearly all industries and are sold throughout China, to Europe, North America, Middle East and other countries in the Asia-Pacific region. The company also states having a customer list totaling over 200.
Since September 2001, VALV started phasing out their less profitable domestic market segments including the electric power market and is focusing on expanding their presence in the more profitable domestic and foreign oil and chemical industries where ceramic valve products typically command higher prices than the domestic Chinese market.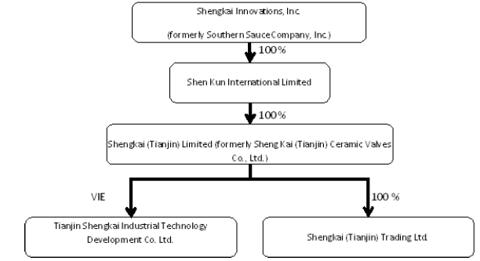 Source: 10-K
Products
VALV's main products are ceramic valves, ranging in caliber of 150mm to 400mm, with the largest being up to 1,000mm. The valves are produced in differing ceramic and metal combinations, depending on their usage purpose.
Ceramic valves are often preferred over metal valves due to having higher wear resistance, corrosion resistance and higher temperature resistance, with an average service life estimated to be 10 times that of metal counterparts. Accordingly, ceramic valves command a higher price in the market place.
Customers and Suppliers
Customers
VALV sells its products to both agents/distributors and end-users. Normally the company requires payment on delivery for agents/distributors. Usual credit terms to end-user customers is about 1 to 3 months after receipt and acceptance of goods by customers.
VALV's sales are not dominated by one particular customer and are split among many, with no one customer representing more than 4.5% of total sales in 2012, as the table of their proportion of total sales to customers below indicates.
VALV customer proportion of total sales as at June 30, 2012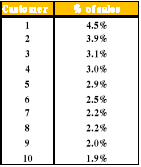 Source: 10-K
A breakdown of sales to industries for the September 2012 quarter is shown in the table below.
VALV sales by industry as at September 30, 2012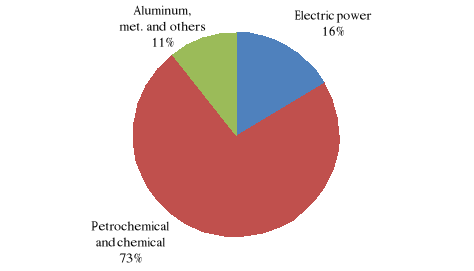 Source: 10-Q
Suppliers
Major raw materials purchased from suppliers used in production include metal materials and ceramic materials like aluminum oxide, zinc oxide steel raw materials and steel die casting components. As such fluctuations in the prices of these raw materials can have a significant impact on gross margins. Furthermore, a large number of spare parts in various specifications are also purchased during production.
VALV's purchases are not dominated by one particular supplier and are split among many, with no one supplier representing more than roughly 7% of total sales in 2012, as the table of their proportion of total purchases from suppliers on the following page indicates.
VALV supplier proportion of total purchases as at June 30, 2012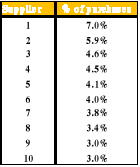 Source: 10-K
Marketing and Sales
VALV's marketing and sales team is split up into two departments targeting either the domestic or international markets.
Domestic Team - The domestic team is responsible for marketing and engaging in sales directly or via agents in China. The sales teams are split up by geographical location, with sales offices in 9 regions and a distribution network covering almost all provinces.
International Team - The international team is responsible for all international sales and utilizes foreign agents to do so.
In response to the current business environment, the company is aiming to phase out its sales to the less profitable market segments including the electric power market and focus on the expanding their presence into the more profitable domestic and international chemical and petrochemical market. Successful penetration into the international oil and chemical markets would require VALV to obtain various certifications pertaining to higher pressure valve products.
Competition
The world ceramic valve industry is still a fairly new industry with ceramic valves represent a very small proportion in the industrial valve industry. The industry has traditionally been covered by metal valve production and therefore these metal valvue producers represent VALV's main competitors, with metal valve prices being typically cheaper than that of ceramic valves.
Primary Chinese metal valve competitors include Henan Kaifeng High Pressure Valve Co., Ltd., CNNC Sufa Technology Industry Co., Ltd, Neway Valve (Suzhou) Co., Ltd. and Lanzhou High-Pressure Valves Co., Ltd.
Primary ceramic valuve competitors include Cera System GmbH, Fujikin of America, Inc., Yentai Kingway Flow Control Co. Ltd. And Xiamen Shengzhong Ceramic Valve Technology Co. Ltd.
Many of VALV's ceramic valve competitors have a longer operating history and therefore more established relationships with customers and end users. However, of note is that in China, besides VALV, there are only a small number of ceramic valve producers, mostly depending on outsourcing for the ceramic process.
Main Competitive advantages
Leading producer in Chinese market of ceramic valves, having head start over competitors.
Able to produce a larger variety of ceramic valve products due to their technology, compared to competitors. Able to make far larger calibers than most competitors.
Research & Development
VALV's R&D is focused on product areas that have the highest demand. Further, VALV has also increased their investment in nano-ceramic. It is hoped that this will result in increased calibers, pressure and temperature handling of their ceramic valves.
VALV has also increased digitalization in their production facility, which improves the quality of the valves and at the same time reduces the required work force for manufacturing.
VALV has 46 patents in China for their products, and a further 1 pending.
Trends/Recent Developments
Due to the suspicion on the integrity placed on Chinese companies in the last 2 years, there has been a significant loss of business and subsequent decline in the sales and subsequent profits of VALV. Because of this customers have used this to demand price cuts from VALV, as well as competitors using this opportunity to take customers away. Further, this has been exacerbated by the slowdown in the Chinese economy and therefore customers businesses.
The below table shows the reduction in revenues and operating profits of VALV over the last four quarters.
VALV revenues and operating profit by quarter to September 30, 2012

Source: 10-Q
Industry Background
The world ceramic valve industry is still a fairly new industry with ceramic valves represent a very small proportion in the industrial valve industry. The industry has traditionally been covered by metal valve production.
Typically as we entered the 21st century, technical wise the valve industry has been changed by the use of digital control systems for the production of valves and by improved fugitive emission control of valves, i.e. the controlling of gas or vapor emissions from valves due to leaks or other irregular releases.
Other technical changes have included the demand for new and improved high temperature alloys and bigger valves becoming more common.
Manufacturing wise, the U.S. was the world leader in valve manufacturing. However, much of this manufacturing has moved to China and the far east. Most commonly, steel valves are now made or cast in China or India. Further to this commodity valves have become significantly cheaper, squeezing margins on such products.
There are several organizations responsible for establishing standards for valve manufacturing including the American Society of Mechanical Engineers, American Petroleum Institute and the International Organization for Standardization (ISO), covering differing industries. For companies to gain certification it can take up to 2 to 3 years in many instances.
Company and Environment Analysis
Business Environment
Currently, VALV is operating in a very tough environment as can be seen by there significant drop in revenues over the last 4 quarters, having declined by more than 50% over the 4 quarters. As explained by VALV management, this has been due to the reputational damage suffered "because of the heightened suspicions on the integrity of PRC companies, enquiries into our business and domestic customers mounted by certain shareholders and interested parties without the Company's approval or endorsement", and by the slowing down of the Chinese market.
This is somewhat worrying, and VALV is now focusing on moving out of the electric power market and into the petrochemical and chemical industry, where customers demand products with higher durability and higher prices can be commanded. VALV also hopes to move into international markets in this segment. To be successful with this, they will need to gain certification, which could take up to 2 to 3 years, so these additional revenues can likely not be counted on for some time.
The interesting news is even with this massive drop in revenues, VALV has still managed to keep profitable in 2 of the last 4 quarters.
As noted, these significant revenue declines are worrying, however, VALV are remaining profitable and when loss making, the amounts were not very significant. Further and more importantly, the company has a huge amount of unused cash on their balance sheet, approximately $66.7 million, this gives them a large cushion to absorb any small losses and work away at penetrating new markets and growing revenues.
The sluggish global economy is also a concern, but focusing on the petrochemical and chemical industries is somewhat comforting, as no matter the economy, there will always be the need to keep installations running, and develop new ones.
China Specific Risks
Operating in China comes with significant risks. Investors should be aware of these. There are significant regulatory risks, with the Government able to make sweeping changes that can affect companies and industries in one fell swoop. VALV could of course be affected by such actions at any time.
Also of important note, is the difficulty in repatriating cash form China abroad. This can be extremely difficult, with tax, foreign exchange restrictions and other approvals required.
Further, there are also questions often over the quality of Chinese reporting, and whether or not financial statements represent what they purport to represent. Auditor of VALV is accounting firm, Albert Wong & Co., a company with offices in Hong Kong and the US. We have no way of verifying their quality, except that they audit many OTC and NASDAQ listed China and Hong Kong businesses.
Other
It is also worth noting that the NASDAQ exchange has issued VALV with a warning that VALV has failed to maintain the listing rule of a share value of at least $1. They have been given until July 1, 2013 to do so. If they fail to do so for 10 consecutive days in this period they will be delisted. It is unknown how VALV will rectify this and if they will be able to. Possibilities include share buy backs or reverse mergers, etc.
As such, investors should note that delisting of the stock onto the Over the Counter (OTC) market will affect liquidity and therefore add to the risk and potentially reduce the value of the company.
SWOT Analysis - Cases for and against VALV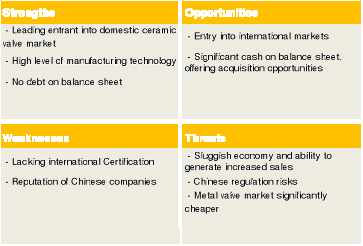 Financial Analysis and Forecasts
For our financial statement analysis we focus on the financials of the latest 4 quarters, since conditions have changed immensely over this period, and information garnered from earlier years would be unhelpful, rather distracting.
Income Statement
Revenues as noted, have declined over 50% over the last year, due to the reasons as discussed earlier in the report.
At the same time gross margins have declined a small amount from 42% to 38%, mostly due to increased raw material costs.
Finally, operating margins have declined from 12.3% to 2.7%. This is due to the decline in revenues and selling and admin costs staying relatively similar in the first 3 quarters. But it is notable that they have stabilized up from negative margins in the middle 2 quarters as management has managed to reduce these fixed costs in selling and admin to result in a positive 2.7% operating margin in the last quarter.
VALV revenues, gross margins and operating margins by quarter to September 30, 2012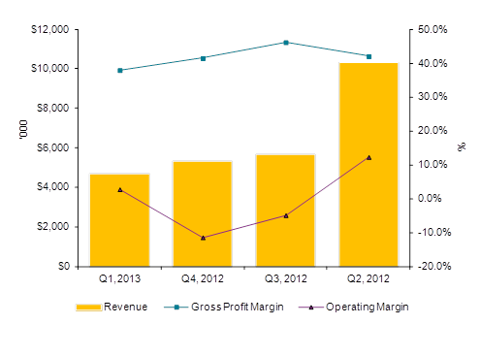 Source: 10-Q
Our expectations are that revenues will likely stay the same for coming quarters, maybe with very low growth. Accordingly, we believe that unnecessary fixed costs have been reduced and operating margins should stay similar to the latest quarter of 2.7%, however over time we expect this to increase as VALV obtains a bigger foothold with more profitable petrochemical and chemical customers.
Looking at VALV's incomes statement, in Q1 2013 they recorded a modest income of $52,777. There is a foreign currency adjustment after this of -$265,316, but this is related to balance sheet translation, so is not of concern and we look above this line at net income before the translation. The above income is the equivalent of roughly 0.03 cents a share.
Net incomes for Q4 and Q3 2012 show losses of $201,000 and $103,000, respectively. This is of concern; however, it will be heartwarming to many to see that they have turned to profit in the latest quarter as noted above. And even so, these losses pale in comparison to their current cash holdings (excess cash $63.3 million). Let's say they lost $200,000 a quarter and therefore $800,000 a year, including 5% inflation on this a year, it would still take them 42 years just to go through their excess cash!
The main thing to note here is that VALV will have to show success in their sales and marketing efforts to grow sales, and with the amount of cash on the balance sheet, it is worth giving them a chance to see if they can achieve this, as they have plenty of time with all that cash, as noted in the paragraph above.
Balance Sheet
We begin by looking at the latest available balance sheet of VALV for the most recent, 1st Quarter of 2013 (September 30, 2012).
VALV balance sheet as at September 30, 2012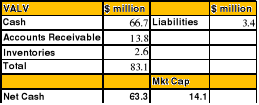 Source: 10-Q
As can be seen, VALV has net cash that is a whopping $49.2 million above market cap. This means if the company shut down today, they would effectively be left with $49.2 million in cash to distribute to shareholders. Based on the shares outstanding, this shows a cash value per share of $2.86. With the current market price per share at $0.82, this is like handing over to someone $100, only to have them instantly return to you $349! However, it should be noted that there are restrictions on repatriating cash from China and therefore it can be extremely difficult for companies to do so. But at the very least, this cash is there available for use in vulnerable times and/or for expansion when need be.
Additionally, cash flows from operating activities were positive, at over $2 million. This indicates to a company that is not going to burn through the cash they are holding very easily.
Further, VALV has no long term debt on their balance sheet, with the bulk of liabilities being accounts payable. This is very encouraging to see for a company in VALV's position wishing to grow and target new markets, as they will not be beholden to repaying debt.
Valuation
We initiate coverage on VALV with a BUY recommendation based on our target share price of $1.00 per share, implying a 22% upside potential to the current price of $0.82 per share. This is not to mention the additional $2.86 in excess cash per share available in the company.
We performed two valuations, using first a Discounted Cash Flow (NYSE:DCF) valuation, and second a relative valuation using the industry average P/E ratio.
DCF Valuation
Our DCF Valuation was performed as demonstrated on the model on the following page, and the assumption data used is explained below.
Our DCF resulted in a valuation of VALV of $1.00 per share. This valuation performed was a base case very low growth environment valuation.
Growth
We assumed that growth in revenues would be at 5.4% per year, until 2015 (Freedonia Study), and then level out at 3% beyond this. This is lower than most companies expecting to target new markets would expect, however, we decided to focus initially on a low level case to perform the DCF valuation until we get a better assessment of market conditions and VALV's marketing and sales strategy success in new segments and markets. Furthermore, as noted, we have also slowly grown the operating margin achieved up to an obtainable level of 6.5%.
Tax Rate
The tax rate is assumed at 15%, as per filed annual and quarterly reports.
Discount Rate
The average discount rate for the industrial equipment industry is around 11%. We additionally added a 2% premium to this due to the added risk of operating in China to use a 13% discount rate.
Working Capital
Industry average working capital is around 15% of revenues. Thus we used this average rate to determine VALV's projected working capital requirements.
Depreciation
Our depreciation figures are based on latest balance sheet depreciable assets, and managements median useful life of each asset, using straight line depreciation, as per filed annual and quarterly reports.
Amortization
Based on management expectations, as per filed annual and quarterly reports.
Capital Expenditures
Based on recent capital expenditures on PP&E and expected useful life of these, averaged out per year until 2016. Beyond this we have equated capital expenditure to depreciation. Of further note is that the company has recently invested in substantial PP&E. In the future, should they need to make large investments, this would come out of the excess cash at bank, that is sitting around doing nothing at present, so in effect, would not affect normal cash flows, as such.
VALV DCF Valuation at January 2013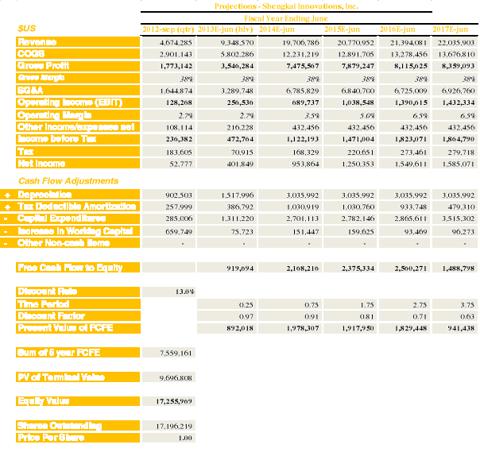 Relative Valuation
As a secondary valuation we also performed a relative valuation using PE Ratio's. The industry average trailing PE ratio is 15.24. VALV's trailing EPS we use for last quarter multiplied by 4 for a full year. Using last years is not useful as VALV's operating conditions have drastically changed. The resulting EPS is 1.2 cents (0.003 cents x 4).
The resulting valuation is 18.29 cents. However, we do not give much weight to this valuation as it is based on trailing EPS and does not take into account the considerable excess cash VALV has sitting on their balance sheet, which comparable companies likely do not have.
VALV Relative Valuation

Source: Yahoo Finance, Competitors
Disclosure: I have no positions in any stocks mentioned, and no plans to initiate any positions within the next 72 hours. I wrote this article myself, and it expresses my own opinions. I am not receiving compensation for it. I have no business relationship with any company whose stock is mentioned in this article.