When there is pessimism in the market, there is an opportunity to find dirt cheap stocks.  Tech sector tends to be one of the sectors that leads in an enonomic recovery (also note recent strong 2Q10 earnings releae from Apple and Intel), so Value Mole went digging for value in tech stocks. 
We looked at the P/E/G multiples of 12 large cap tech companies.  Some people look at P/E multiples, we prefer to look at P/E/G, which adjusts the P/E for expected EPS growth rates.  Basically, it helps you compare P/E multiples for slower growth stocks like Nokia with only 5% EPS growth, to fast growth stocks like Amazon with 20% EPS growth.   The cheapest stock we found?  EBay (Nasdaq: EBAY). 
EBay trades at 0.61x 2010E P/E/G compared to the industry average of 1.17x.  That's nearly a 50% discount to industry average multiples!  Compared to another e-commerce retailer AMZN (P/E/G of 1.64x), EBay is even cheaper.  Furthermore, EBay has a whopping 23% of their equity value in cash!  That is equal to about $4.50 / share of hard cash, compared to their current stock price of around $20.00.  If you take out the cash, EBay trades at 8.5x 2010E P/E, for a stock that analysts' expect ESP to grow 20% in the next five years.   All of these statistics scream dirt cheap to us. 
The stock is trading at low multiples these days due to concerns of losing market share to other e-commerce sites (not just the Amazons of the world, but also brick and mortar companies online sites such as Wal-Mart and Best Buy).  Furthermore, Ebay has nearly 40% of their sales from outside the U.S., therefore the slowdown in Europe has been a concern.   Nevertheless at these prices, we believe too much negativity has been priced in.  
Finally, Ebay still retains 30% of Skype (which was sold to private equity firm Silver Lake Partners and others for $2.75bn in November 2009, originally purchase by Ebay for $2.6bn in 2005), which we believe has potential upside now that Skype is being ran as an independent business. 
2Q10 earnings come out at the end of business on Weds, July 21st.  We like them regardless of whether earnings hit or miss by a few cents.  They just look too cheap.  Remember, 8.5x 2010E P/E when you take out the cash!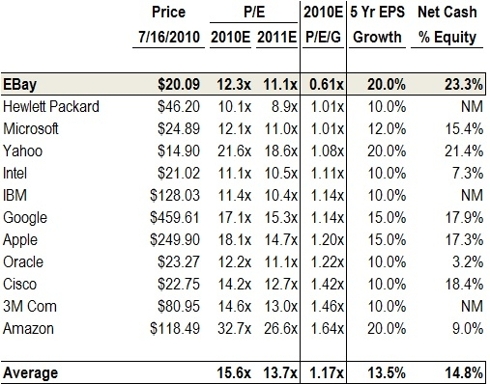 Disclosure:
No positions