DuPont (DD) recently reported 2Q10 earnings that easily exceeds Wall Street expectations by nearly 25%, reporting 2Q10 EPS of $1.17 per share versus Wall Street average of $0.94 her share.  The Company also raised its 2010 full year projections nearly 15% from $2.50 - $2.70 per share to $2.90 - $3.05 per share.  That type of performance is worthy of a deeper dive. 

Overview:
DuPont is one of two specialty materials companies in the Dow, the other being 3M Corp (NYSE:MMM).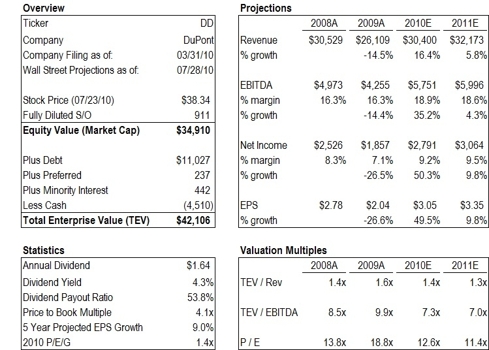 Segments and Geography:
The Company operates in several industries: Agriculture (32% of sales), Specialty Chemicals & Materials (21%), Safety & Protection (11%), and Electronics & Comm (6%).  Geographically, the Company operates in U.S./Canada (40% of sales), EMEA (28%), Asia (20%), and Latin America (12%).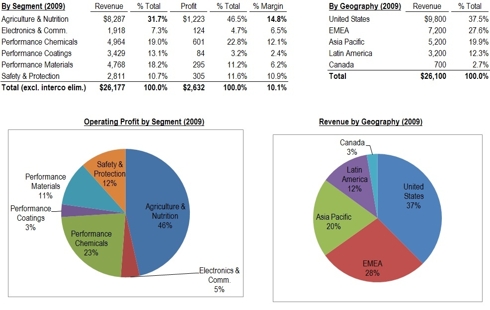 Valuation:
The Company currently trades 12.6x 2010E EPS.  This is a 23% discount to 3M Corp (NYSE:MM), which trades at 15.5x 2010E EPS.  The company's 5 year projected EPS growth is 9%, which implies a 1.4x P/E/G.  Dividend yield is 4.20%, or $1.64 per share.  Dividend payout ratio is only 53.8%.  The company has maintained or increased dividend payments in the past 10 years.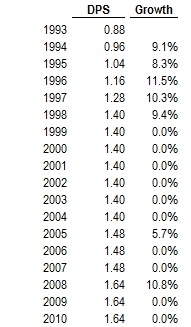 Conclusion:
We typically look for less than 1.0x P/E/G for a screaming bargain (DD trades at 1.4x), however given that DD is trading at 23% discount to MMM and DD is also paying a 4.3% dividend yield (that will either remain as is or increase given the past 10 year dividend payout history), DD is a steady, low-risk long term investment. 

Timing wise, we're waiting for the stock to pull back to around $35 per share.  DD is definitely now on our RADAR though.   

Disclosure: No position