Actually, based on our analysis, BP is worth $39.11 - $44.45 a share. We took the average which is approx $42. Here's how we came to our analysis, based on applying industry average multiples (see www.valuemole.com for explanation of multiples).
BP is a large, cap intetrated oil company, similar to Exxon (NYSE:XOM), Chevron (NYSE:CVX), and Conoco Phillips (NYSE:COP). We took the average of these three for the industry multiple, which came out to 9.3x 2010E P/E.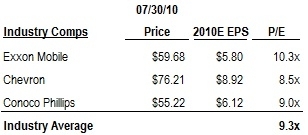 Next, we applied the industry multiple to BP's 2010E EPS to arrive at an implied price. We also applied XOM's multiple of 10.3x, given BP is most similar to XOM in terms of size, growth, oil reserves, future projects, etc.
We then took out the cost of oil spill, which based on recent 2Q10 BP earnings is estimated at $32.2 billion. That then got us to a implied range for BP of $39.11 to $44.45 per share.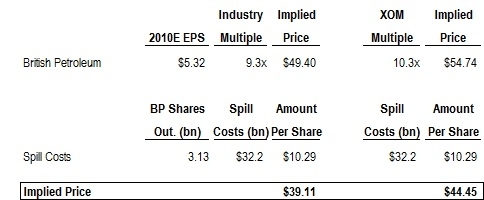 Conclusion:
If you don't own BP, an arbitrage profit of 10% (BP current price and implied price of $42) is probably not worth the risk. If you want to go long oil, just buy one of the other integrated oil companies.
If you currently own BP, it's worth holding on to until prices get closer to $42 per share. Once it does, then there is no longer an arbitrage play between BP versus other integrated oil companies, and we'd recommend you sell BP and just own XOM.
Disclosure: Position in BP