FedEx Corporation (NYSE:FDX) is set to report earnings on June 19, 2013 for the fiscal quarter ending May 2013. The consensus EPS forecast from analysts is coming in around $1.98, compared to $1.99 the year previous.
FedEx, one of the world's largest courier/shipping companies and most well-known name brands, draws annual revenues of $43 billion from numerous services and products under the FedEx name. Aside from shipping, FedEx runs FedEx Office, shipping and copying retail stores that the company acquired when it bought Kinko's in February 2004.
Here's how FedEx has fared in its last four earnings reports:
| | | | | |
| --- | --- | --- | --- | --- |
| Quarter Ending | Date | EPS Actual | EPS Estimate | Difference |
| 2/13 | 3/20/13 | 1.23 | 1.38 | -10.87% |
| 11/12 | 12/19/12 | 1.39 | 1.41 | -1.42% |
| 8/12 | 9/18/12 | 1.45 | 1.40 | 3.57% |
| 5/12 | 6/19/12 | 1.99 | 1.92 | 3.65% |
(table data sourced from NASDAQ.com)
The reason this past data is so important is because it points out that three out of the last four quarters, FedEx has failed to really come anywhere close to reporting within a couple of pennies of estimates. FedEx earnings have traditionally been all over the map this past year, and that's something that we can use to our advantage to place what I see as a safe trade.
FedEx is currently trading around $97. As you can see from the chart below, they were trading above $108 when last quarters earnings were reported and disappointed. The next two days, the stock dropped over 10%. This shows us that there's volatility surrounding FedEx earnings, and also assures us that because last quarter was such a large miss, that there's going to be substantial coverage of this quarter's report.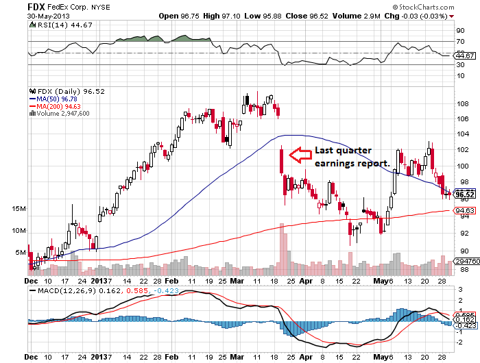 Because we have so much time until earnings, and because earnings are going to be announced just days before June expiration, a safe way to play earnings would be to buy a June 2013 straddle for two reasons:
The implied volatility of earnings isn't completely priced in to options prices just yet; as we move closer to when FedEx reports, the IV will rise up and offset some theta.
You're buying an extra three weeks for price movement, which is important because using an options spread as an investment tool is based on the price moving far enough in one direction away from your strike price to offset the premium price of the other option.
My strategy here is going to be to buy a $97.50 June options straddle. It's cheaper than the $95 spread currently, with puts costing $1.78 and calls costing just $0.80. That puts your breakeven (not counting your commission) at $94.92 or $100.08; a mere 3% move to the downside or about a 4% move to the upside. Our straddle looks like this: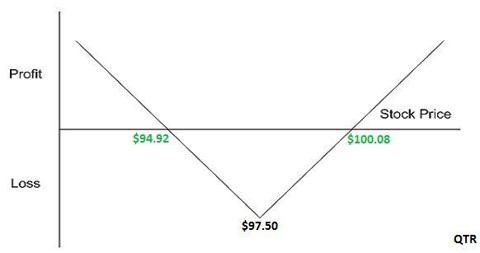 Playing this earnings report from a forward-thinking perspective and doing it weeks in advance could be the ticket to great yields, no matter which way FedEx surprises analysts.
The risk here (and there is substaintial risk to this otherwise seductive scenario) lies in what would happen if FedEx met expectations on the nose, or produced a report and guidance that offset each other and didn't cause the stock to respond. As you can see from the above diagram, the closer the stock is to $97.50 on expiration, the greater the risk of loss. What we're looking for here is a smart move on volatility; the kind that has occurred in 3 of FedEx's last 4 earnings reports.
Again, we're going to be buying the three weeks of added time for the stock to move in advance. This means that in the coming three weeks, any catalyst (not just specifically an FDX catalyst) may be responsible for moving FDX towards one of our breakeven points. A rarity, but certainly a possibility, would be the situation of a macro shift moving FDX to a point where you could seemingly cash one end and leave the other end open for a potential swing on earnings.
I'll be looking forward to seeing how things play out over the coming weeks, and wish everybody that invests in FedEx on either side of the market the best of luck.
Disclosure: I have no positions in any stocks mentioned, and no plans to initiate any positions within the next 72 hours. I wrote this article myself, and it expresses my own opinions. I am not receiving compensation for it (other than from Seeking Alpha). I have no business relationship with any company whose stock is mentioned in this article.