(Contributor's note: This article covers a micro-cap stock, which sometimes moves without rhyme or reason and carries significantly more risk than large-cap stocks. Please be aware of the risks associated with these stocks. Don't be a fool, stay in school.)
Introduction
It was a great May for Celsion (NASDAQ:CLSN) shareholders. The company's stock rose an astronomical 100% on news on their staple technology, ThermoDox, showed a marked improvement on a large subset of individuals through its Phase III trials. Prior to that, the Phase III trials had left company executives and shareholders dumbfounded with results that "weren't close" to where they wanted to be.
As you can see below, the stock started its move on the 24th of May, on no news. After that, I wrote an article speculating as to what the reasoning behind the move could have been.
I've been covering Celsion since the beginning of January 2012, when it was anticipating its Phase III results for ThermoDox with RFA (radio frequency ablation).
ThermoDox is a unique liposomal delivery method of getting doxorubicin to the site of cancer tumors being treated. Preliminary trials looked great and the idea behind ThermoDox was one that made sense: delivering a concentration of an often-used cancer drug to the site of the tumor by its Liposomal transport system, and using heat to activate it en masse.
Recently, I've been laying out my case for remaining long on Celsion post-Phase III data, loading on shares since the post-Phase III crash to $0.75. This article is to point out yet another four more items that I have failed to cover, that could be of significance for Celsion and its shareholders.
1. We Could Still Hear News From, or Related to, ASCO
Celsion announced that they would be participating in the 2013 ASCO national convention in Chicago.
The American Society of Clinical Oncology (OTC:ASCO) is a professional organization representing physicians of all oncology subspecialties who care for people with cancer. Founded in 1964 by Drs. Fred Ansfield, Harry Bisel, Herman Freckman, Arnoldus Goudsmit, Robert Talley, William Wilson, and Jane C. Wright, ASCO's more than 30,000 members from the United States and abroad set the standard for patient care worldwide. ASCO members lead the fight for more effective cancer treatments, increased funding for clinical and translational research, and, ultimately, cures for the many different types of cancer that strike an estimated 10 million people worldwide each year.

With over 30,000 attendees, the ASCO Annual Meeting is one of the largest educational and scientific events in the oncology community. The five-day event provides a venue for physicians and scientists to present research results to a global audience of oncology professionals. Clinical trial results and updates presented at ASCO's Annual Meeting represent the extent of progress made each year in the fight against cancer.
Immediately after ASCO, the stock jumped significantly and Celsion was able to raise finances at a 50% premium to the market price the week prior.
Something happened at ASCO, and although the company didn't immediately offer any editorialization on how it went, it clearly made an impact. I'll be looking for details on the how the ASCO presentation was received from the company in the near future; all signs point to very well.
2. Institutional Holding/Insider Buying/Management Holding
In previous articles, I pointed out insider buying in the $0.90 region that I thought was a telling sign. I was lambasted in the comments to my article, telling me that the size of the open market buys were so small that it didn't mean anything. Clearly, with those insiders up 100% on their open market buys, it meant something.
After looking at the last financing again carefully and noting that it was a fund that took at stake in the company, it prompted me to give a thorough review of both institutional & management holdings, as well as insider buying. I like what I found out.
Management still has an impressive stake in the game:
| | | |
| --- | --- | --- |
| Name | Shares Held | Title |
| Max Link | 380,385 | Board Chairman |
| Michael Tardugno | 213,285 | CEO |
| Alberto Martinez | 175,375 | Board Member |
| Robert Hooper | 90,027 | Board Member |
| Frederick Fritz | 41,000 | Board Member |
(from Yahoo! finance - all figures as of 3/13)
Also, the institutional holding of Celsion is also significant. Institutional investors provide stock liquidity, awareness, analyst coverage and the ability to move the market on a stock when they want to. Between insiders, 5% owners, and institutions, over 15% over the outstanding shares are locked up in good hands.
| | | |
| --- | --- | --- |
| Institution Name | Shares Held | % of Outstanding |
| BlackRock | 1,800,483 | 3.49 |
| Sabby Mgmt, LLC | 1,765,770 | 3.42 |
| Vanguard | 1,380,075 | 2.67 |
| Renaissance Tech | 1,035,500 | 2.01 |
| Barclays PLC | 745,770 | 1.44 |
3. The Technical Bottom Could Be Higher Than Predicted
In my last article, and in conjunction with the recent financing, I predicted that we would be seeing a firm foundation at $1.57 for Celsion, with that being the price of the recent financing offered. This is still about a 60% premium to the price just one month ago. I stated the following:
However, if you put it into perspective with the moves that Celsion made this past week, it has essentially set a bottom price for the stock that's roughly 50% higher than the stock's closing price the previous week. They're offered a major percentage move in just under a week, which can sometimes be an advantage of being a risk-laden micro-cap stock that moves quickly.
From that chart, you can easily see where the new bottom is and how this financing locks Celsion in to the current technical uptrend that the stock has been in for the last few days. If this is simply a market strategy move, it's a good one in my eyes.
However, if we start to look again at recent charts, having a few days to trade on the news after my last article was published, here's what we see: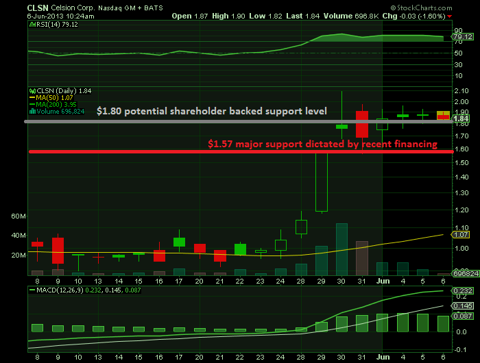 As trading settles down in this area and the MACD and RSI snap back to some normalcy, we could be seeing the "line in the sand" starting to form at $1.80 instead of $1.57, a sign that investors are confident that the financing took place for a reason and that the investors involved are confident they'll find gains.
4. Celsion Had the Leverage in their Last Financing
Mark my words, something's up behind the scenes at Celsion. I thought we were going to be privy to news to start this week and it doesn't look like its coming. However, these two things scream that something positive is developing - read them slow:
Celsion had plenty of money in the bank when they completed last week's raise for $10 million. They absolutely, in no way, needed this money. This leads me to believe that the investors came to them, not the other way around. Stock was issued at the market price, no warrants, no preference. Everything about the way the financing took place screams that Celsion had the leverage.
This financing was issued at a market price directly after the stock had run significantly. The investors were paying more than 50% of what they would have paid just a week prior. They clearly didn't want to wait to see if the price was going to fall back down, they wanted to lock up the financing as quickly as they could. There was a sense of urgency here, and it must have been for a reason.
Conclusion
As I've pointed out in the past, it is perfectly legal for private placement investors to have access to inside information:
It is 100% legal for people investing in private placements to have access to inside information, as long as pertinent disclosure agreements and other documentation is filled out. The parties participating in this could theoretically have access to the same inside information that insider buyers in Celsion have had access to over the past week.
Also, it's a fact that insiders and Board members regularly do have access to inside information.
With the way the stock has been running on little or no news, the way people with insider information have been loading the stock, and strong technical support, doesn't it seem suspiciously like the right time to go long on Celsion? I contend that it is.
I'll be keeping my eyes on the company, holding long, and wishing all Celsion investors the best of luck.
Disclosure: I am long CLSN. I wrote this article myself, and it expresses my own opinions. I am not receiving compensation for it (other than from Seeking Alpha). I have no business relationship with any company whose stock is mentioned in this article.