1. This picture of the company's balance sheet, with added picture of Billy Madison and quotation added by QTR for emphasis. Note the $400 MM in negative shareholder's equity.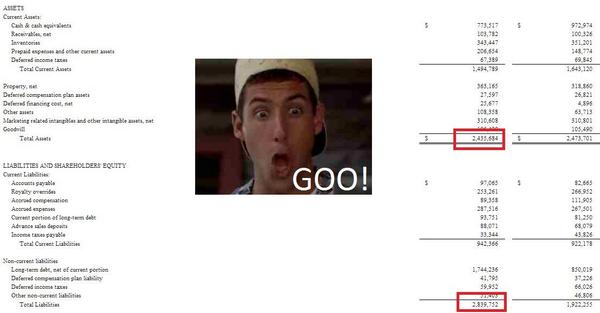 2. This internal strategy document, that shows pictures of people in extreme poverty as Herbalife's "target audience" because, after all, the "poor themselves are willing to experiment".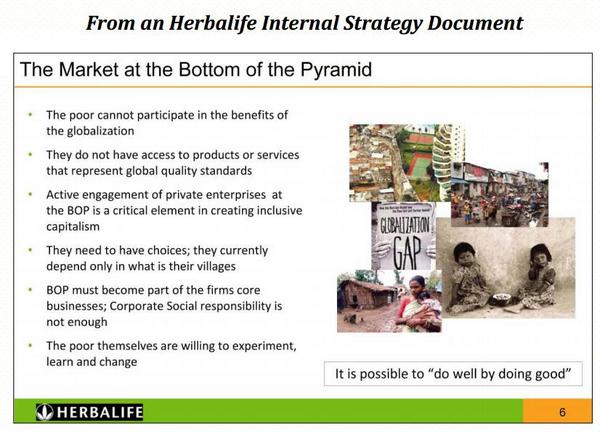 3. This Tweet, from Herbalife's boner PR firm, that confirms that Bill Ackman's documents used to expose Club 100 force feeding potential nutrition club owners were, in fact, company documents. Even funnier is that it claims the Club 100 documents shown at one point were "not real" despite being plastered all over Herbalife company events. More on this in a minute.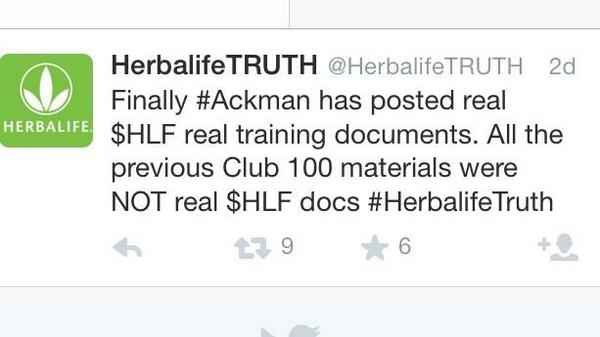 4. This mugshot, which appears to be of the company's CFO John DeSimone, for God knows what.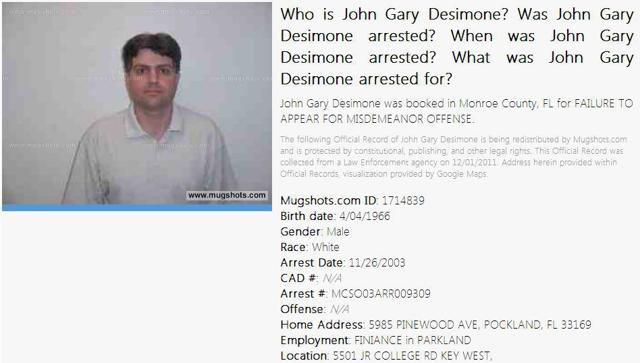 5. This claim by President's team member Rene Porcile, that Herbalife products can help with "lupus, mono, post-chemotherapy, menopause, and migraines."

6. These Tweets by Jim Cramer, who has made his fortune openly admitting to manipulating the markets, acting like Bill Ackman is the bad guy for exposing this massive fraud.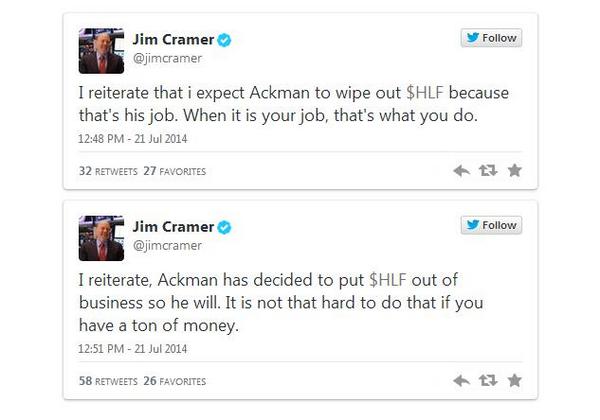 7. President's Team member Steve Combs, who appears to be shooting his Herbalife inventory with a rifle.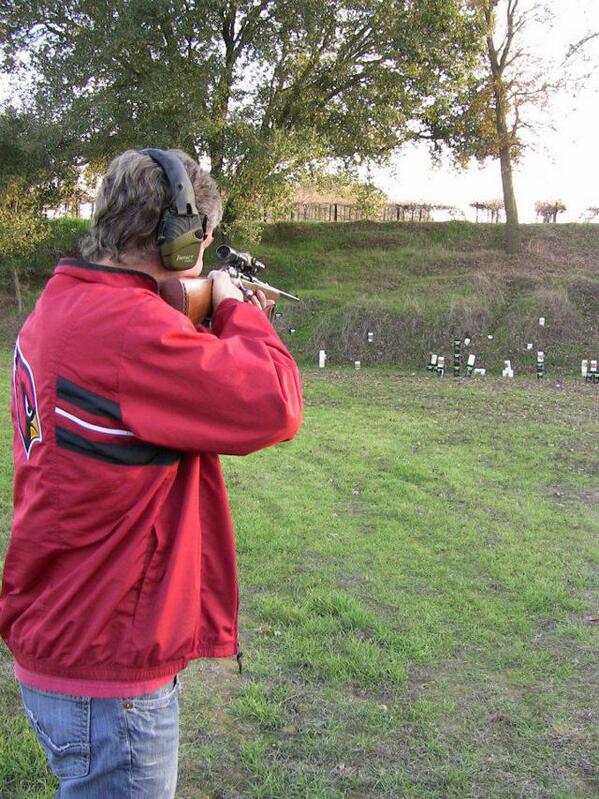 8. This headline from Bloomberg last month on a story of yet another distributor who spent $30,000 on Herbalife shakes and has absolutely nothing to show for it. Company execs and distributors will just tell you he "wasn't a good enough salesman".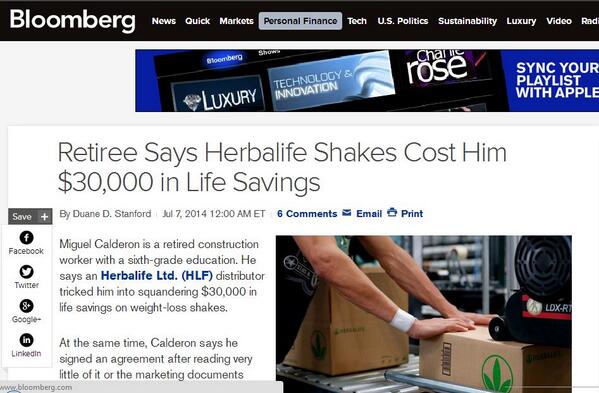 9. Whatever the hell John Tartol, who is on Herbalife's Board and has made promises of $100k/month from being a distributor, thinks he's doing here in this picture. Trying to look like the Godfather? Of what, pyramid schemes?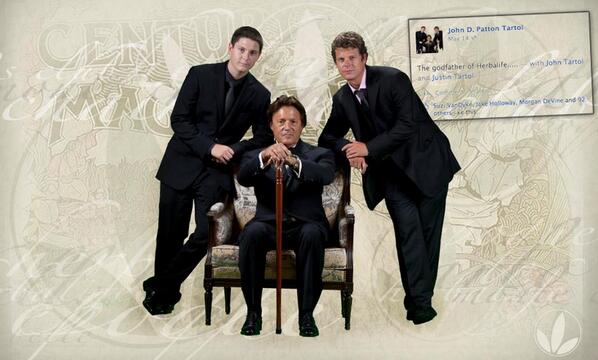 10. This picture I posted on Twitter, of John Tartol actually making claims that you can make $100k/month being a distributor.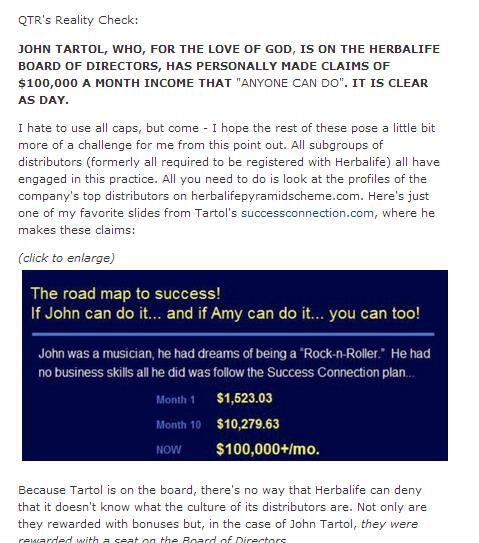 11. These rules from the Herbalife business pamplet, where they show they're clearly nervous about government intervention. I wonder why?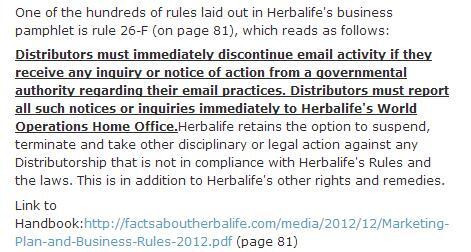 12. This response on Twitter from a self-proclaimed ex-corporate employee who seems to think the company is a scam that "prey[s] on the little guys".

13. This consumer complaint by someone who was "with Herbalife International" for 12 years and thinks that he/she has evidence that "substantiates Bill Ackman's claim that Herbalife is an illegal pyramid scheme".

14. The area on Herbalife's website that actually feels the need to answer if the copmany is a "pyramid scheme" or if it's a "cult". Not many companies have these in the FAQ, I assure you.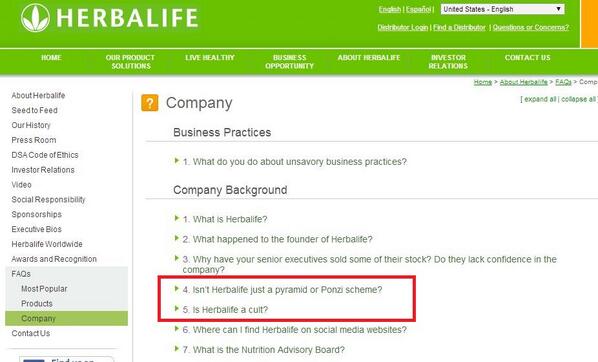 15. These haircuts, found at one of Herbalife's cult-like extravaganzas.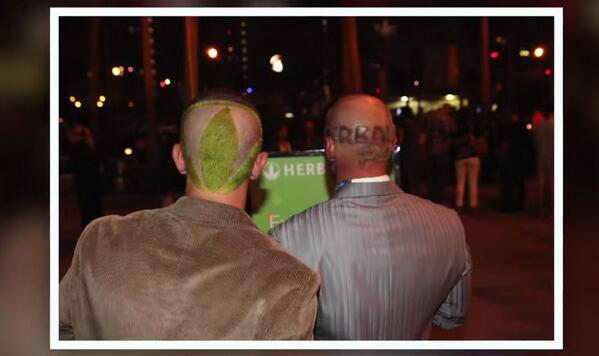 16. This ad, which claims that you can make "executive level" income!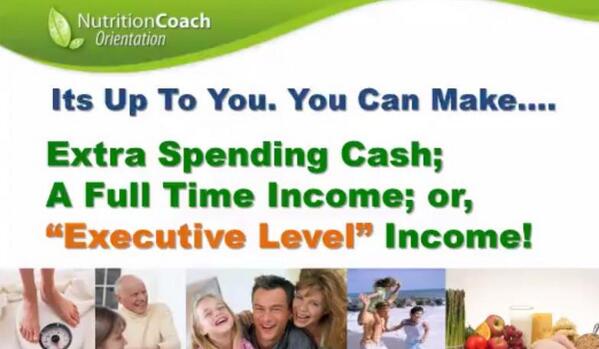 17. This ad, that aired during Sean Hannity's program and duped the people in Ackman's distributor documentary - that actually says "WE ARE NOT HERE TO FOOL YOU" as part of the disclaimer. Hilarious.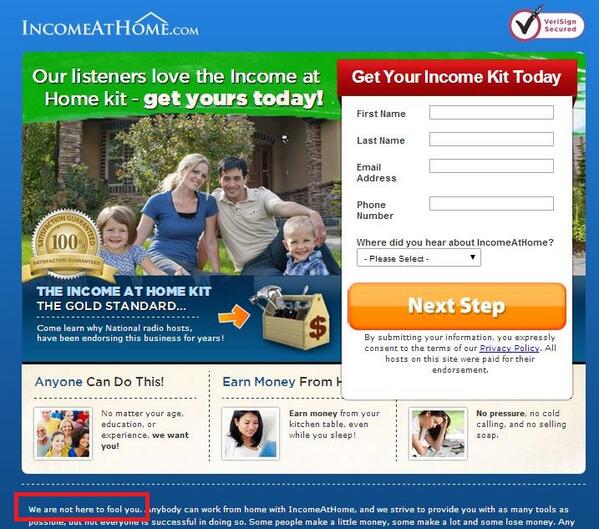 18. The way that Herbalife wants you to take your before an after photos, as grabbed from the ABC report on the company. BEFORE: Keep your hairstyle plain, don't try to minimize any flaws. AFTER: Have a big smile, wear figure flattering clothing.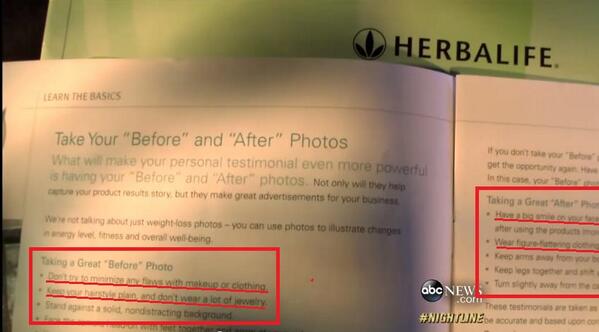 19. This guy, who pointed out all of the crap that's actually in Herbalife's commodity product, Formula 1.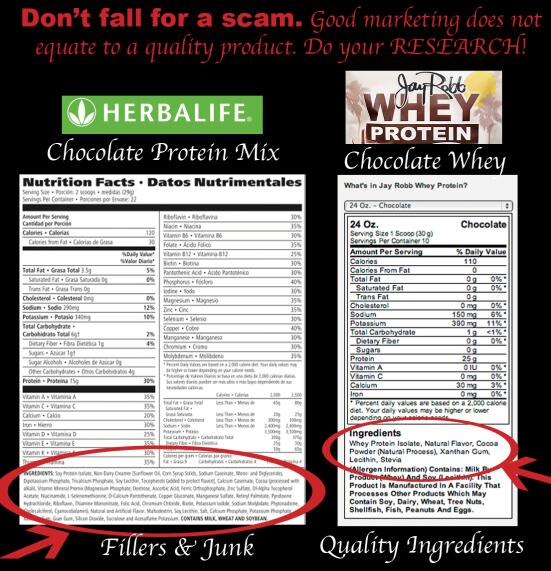 20. This "testimonial" and hundreds others on Herbalife's new PR site, iamherbalife.com, that openly admit to being the product of a "competition that awarded prizes for the most compelling story of personal product success."

21. Matt Stewart's chart showing C-level pay, compared to distributor pay.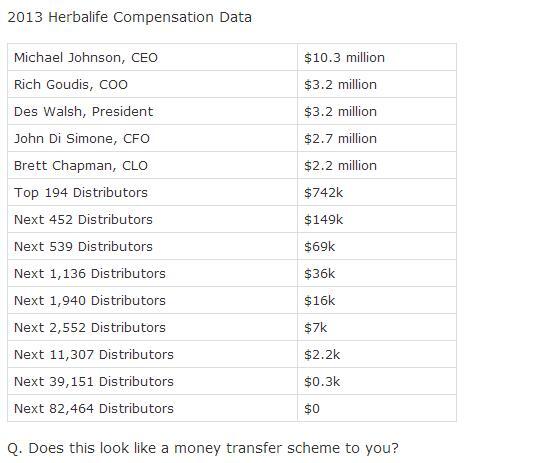 22. This picture from somewhere, where someone appears to be feeding their baby Herbalife Formula 1 shake. Disgusting.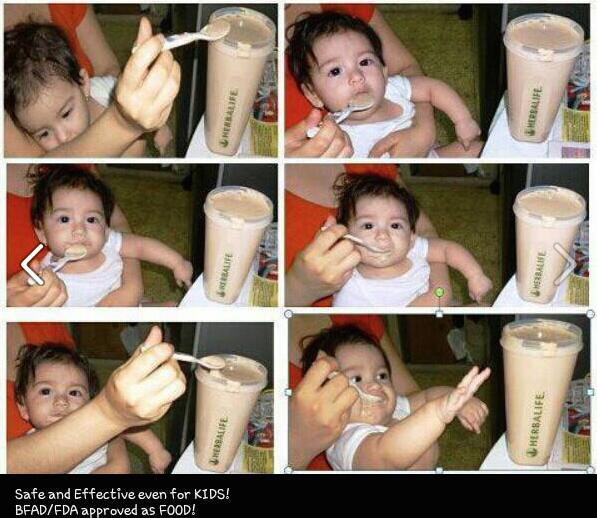 23. This picture from Columbia, showing what appears to be a seizure of Herbalife product either leaving or entering the company at one point. This is definitely not a weight loss testimonial or Club 100 "showoff of inventory".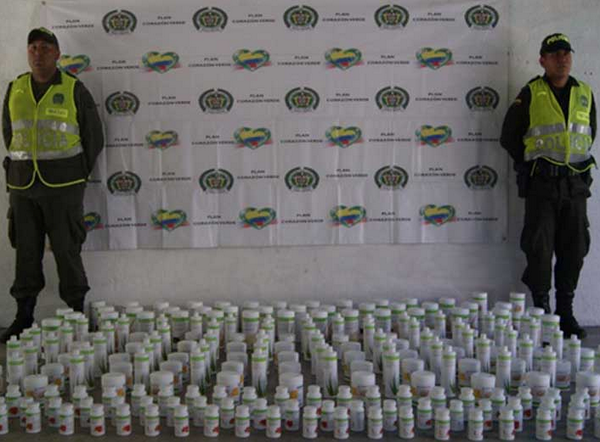 24. This Club 100 document, which shows clearly how you're expected to consume as part of the training to open a nutrition club.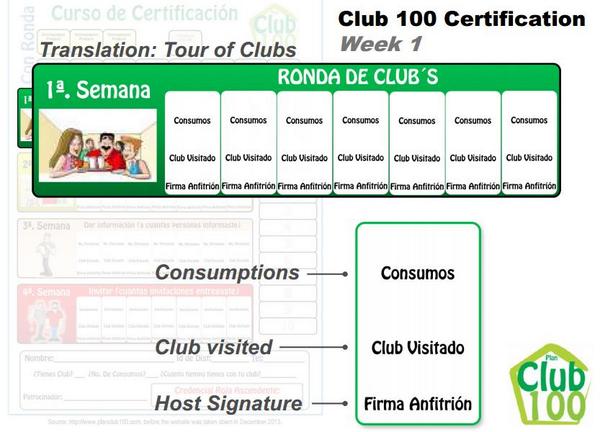 25. Noted Herbalife bull John Hempton calling me a "racist" for some reason. I have no idea what being short Herbalife has to do with being a racist, which I assure you, I'm not. Your guess is as good as mine on this one.
26. This picture - again of small children who appear to possibly be drinking Herbalife Formula 1 shake. Gross.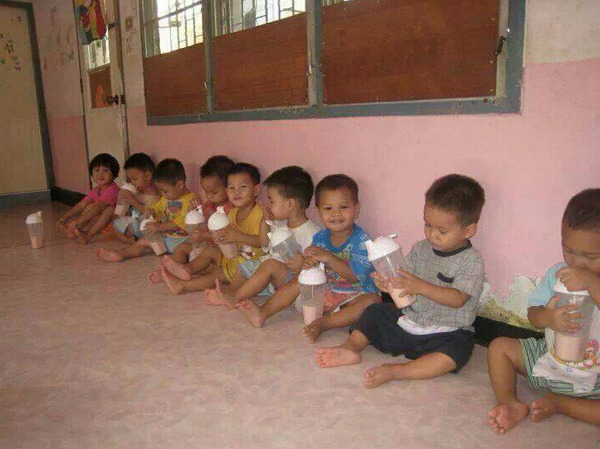 27. This picture someone posted on Facebook with the caption that "in Herbalife you don't need all these degrees to get to the top! All you got to do is DRINK LOTS OF PRODUCT! WEAR YOUR BUTTON & TALK TO PEOPLE."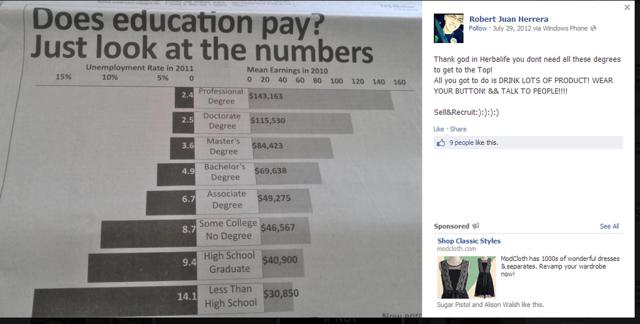 28. This picture, which CLEARLY shows that Herbalife is on board with Club 100 and its practices. There's the big Club 100 statue right on stage - next to the massive Herbalife banner. Almost too easy.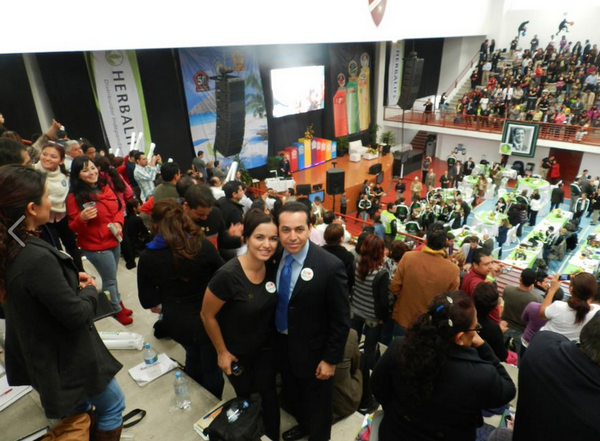 29. This Herbalife ad which is telling people they may not need their insulin! Appalling! (notice the HLF logo on the vials on the table).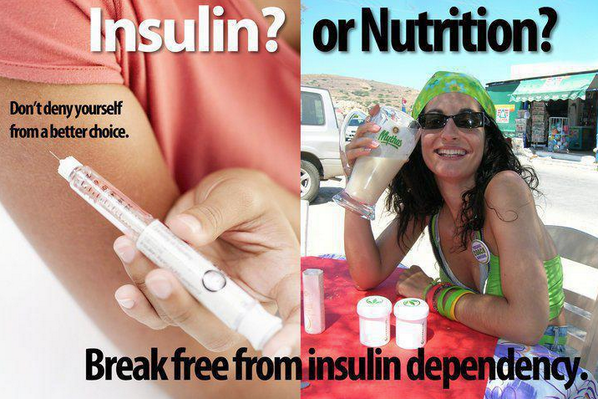 30. Again. Baby. Herbalife. Appalling and outrageous behavior.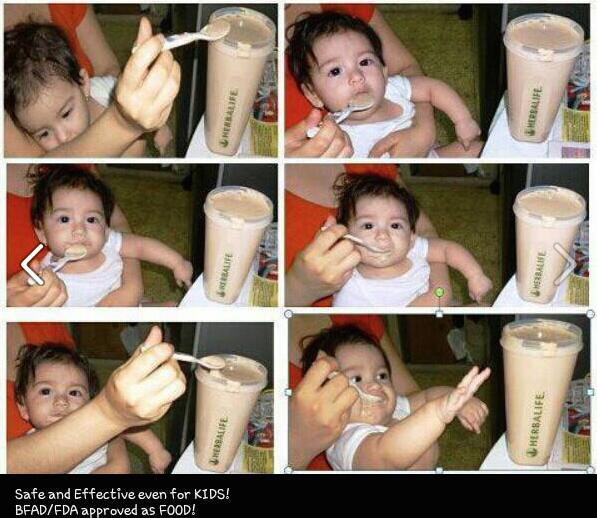 31. This sign, which tells you how to "package your story".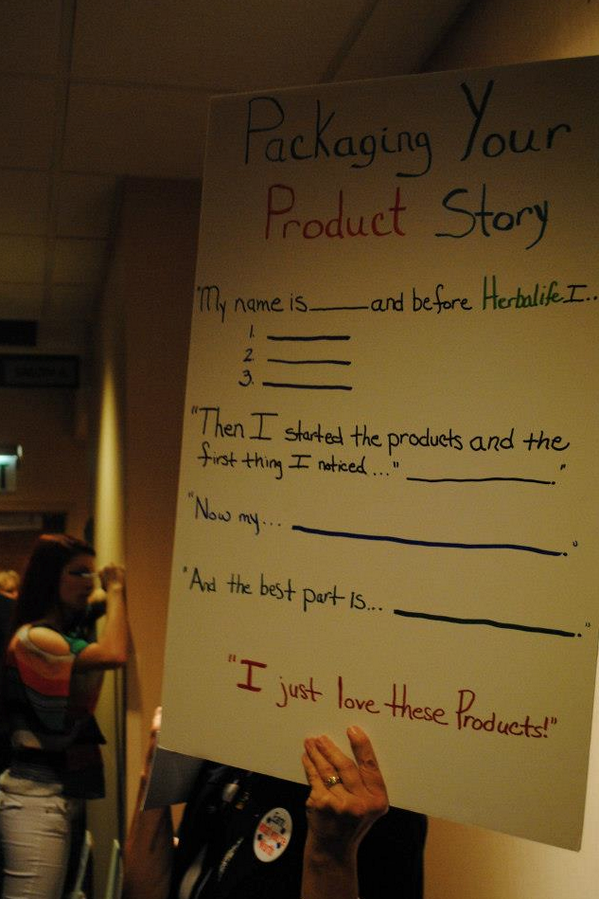 32. This picture, again showing that Club 100 and Herbalife work hand-in-hand. No denying this one, guys.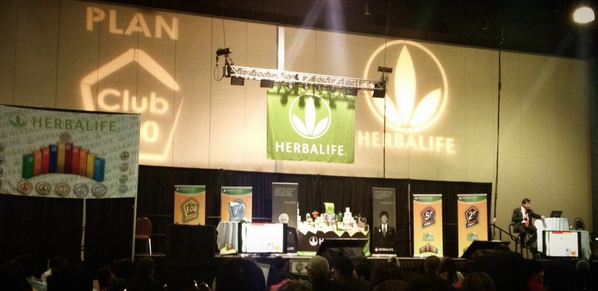 33. This Tweet, again from Herbalife's boner PR team, which confirms the company has 1 compliance member for every 13,000 distributors.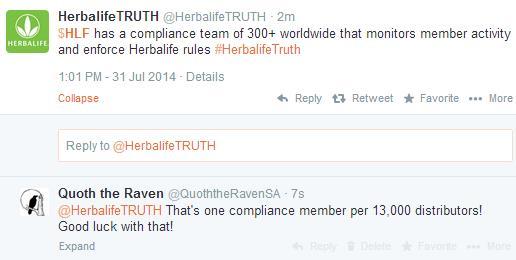 ----
h/t to Salty Droid for some of these
@CultHLF on Twitter
Disclosure: The author is short HLF.