Auto/Mobility Investors
The Consumer Electronics Show was born in the 1960s as an exhibition of stereos, color TVs and kitchen appliances such as coffeemakers and blenders. In the digital age the show has morphed into CES, a must-attend global high-tech fest.
Future of mobility and automotive constitute major categories at CES, displacing global auto shows as a key venue to scout cutting-edge innovation. Startups from Silicon Valley, Israel, China and elsewhere journey to Las Vegas to parade their ideas in front of top automakers and automotive supply companies. Financiers, technologists, journalists and inventors exchanged ideas and business cards in the crowd of two hundred thousand.
Artificial intelligence is a technology of particular interest to automakers and was much in evidence at CES. AI is essential to developing software and sensing systems that one day will enable fully driverless vehicles. Such vehicles are decades away, say the experts -- due to the unexpected difficulties inventing reliable artificially intelligent systems. In the meantime, automobiles can be made incrementally smarter by their ability to recognize objects and to respond automatically to driving scenarios such as a stopped vehicle, merging traffic or an errant bicyclist. Automakers will be able build highly automated vehicles in a year or two that can operate on their own -- although only within specific geographic areas and according to favorable lighting, weather and other limitations.
Electrification is another hot automotive topic. Mandates for electric vehicles (EVs) by the Chinese government and CO2 limits in Europe are forcing the industry to curtail internal combustion engines and offer more battery-powered models.
The following are a few highlights from several days spent listening to presentations, roaming the floor of the convention center and discussing developments with executives, designers, engineers and scientists.
Chinese automotive manufacturer Byton said it will bring its first model, the battery-powered M-Byte, to market in 2020 and has begun pilot production at its factory in Nanjing. M-Byte crossover, the company's first model, will be introduced first in Europe and China, and later in the U.S. Byton is privately owned by a variety of mostly Chinese investors including First Auto Works, the province of Jiangsu and Tencent Holdings.
M-Byte's striking 48-inch video display stretches across the entire front of the vehicle's cabin, from pillar to pillar, and will be capable of screening video entertainment, though not while the vehicle is moving. Daniel Kirchert, CEO, announced a partnership with ViacomCBS and others to provide movies and other content that can be shown on the screen.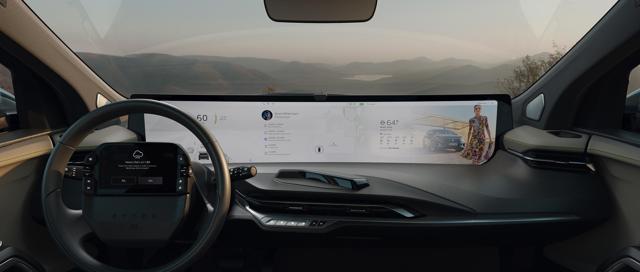 M-Byte 48-inch audio screen Source: Byton
Hyundai Motor Corp. and Uber announced an aerial ride-sharing partnership designed to relieve urban traffic congestion and provide an affordable, speedy means of travel. Hyundai displayed drawings and a full-scale model of an electric vertical take-off and landing aircraft resembling a helicopter and powered by battery. The partnership envisions Hyundai building and deploying the S-A1 aircraft while Uber would provide "airspace support services, connections to ground transportation, and customer interfaces through an aerial ride share network," according to company's press release.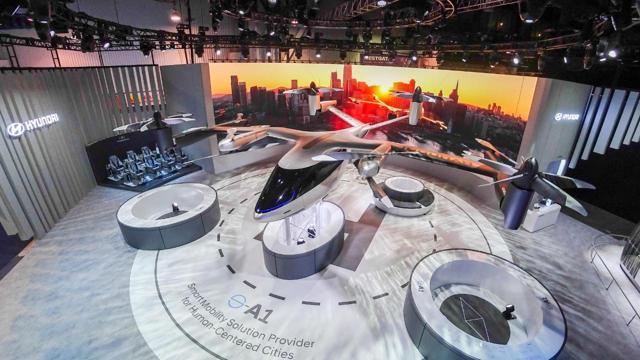 Hyundai Uber urban ridesharing Source: Hyundai
Though such a vehicle and system aren't inconceivable, they appear years away realization, if ever. Uber has partnered with a number of different potential manufacturers of flying vehicles as the ride-sharing company has struggled to develop new business lines and to achieve profitability.
Foretellix is an Israel-based startup whose self-described mission is "to enable 'measurable safety' of autonomous vehicles via a transition from 'quantity of miles' to 'quality of coverage.'"
Ziv Binyamin, CEO, explains that companies attempting to create human-like intelligent driving systems by exposing them to -- and teaching them to respond to -- countless situations over millions of miles of streets and highway in real-world situations ultimately will fall short. Instead, he argues, the self-driving industry should deploy specialized simulation software that automates the process. Foretellix is developing a language for creating driving scenarios in massively large number and variety that it hopes can be used for validating safety and become an industry standard. As an open language, other companies could also create driving scenarios to share with one another toward greater self-driving safety.
Binyamin earlier in his career helped to develop simulation software that identified weaknesses and bugs in semiconductor chips after they became too large and complex to de-bug manually. That experience inspired his founding of Foretellix.
DRIVE is a Tel Aviv-based innovation laboratory designed to mentor startups in the Future of Mobility space. At DRIVE startups are made aware of market opportunities. Partners, including Honda, Volvo, Aptiv, Hertz, gain early insights into the start-ups' technology and value propositions.
​Among the competencies of startups associated with Drive: sensors, computer vision, cyber, market place and shared economy, smart city solutions, predictive analytics and business intelligence, machine learning, autonomous vehicles, urbanization applications, fleet management, mapping, parking.
Cartica.ai This Israeli artificial intelligence startup -- the collaboration of Israel-based Cortica funded by capital from automotive companies, including Continental, Toyota and BMW -- seeks to create a platform for so-called "unsupervised learning" as an alternative to the deep neural network approach to machine learning. Cartica.ai describes its methodology as a "paradigm-shift to the conventional AI approach of supervised deep learning, which is heavily based on massive amounts of human-labeled data. This labeling process is time-consuming, expensive, and unreliable for edge-case scenarios, i.e. rare or unusual occurences. In contrast to deep learning, Cartica AI enables unsupervised learning from real-world data, resulting in unprecedented accuracy in edge cases and challenging scenarios."
BMW The maker of the gasoline-powered "Ultimate Driving Machine" is coming to terms with a brave new automotive world shaped by digital, self-driving and electrification. The new leader of autonomous driving at the German automaker is Alejandro Vukotich, who held court at CES to discuss a new model, the BMW iNext, which will debut in 2021. Vukotich, barely a year on the job after leaving Audi, says iNext will feature 5G connectivity, allowing it to function as a "partially" driverless vehicle. "You will be able to take your eyes off the road and your hands off the wheel while driving on the highway -- you can watch a movie if you like," he said.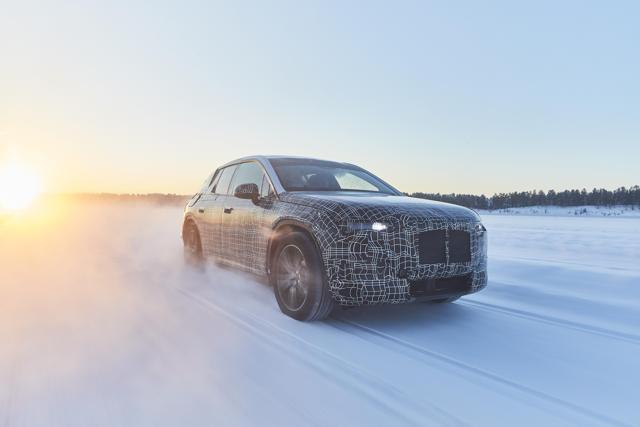 BMW iNext cold weather testing Source: BMW
Alex Thibault, the North American vice president of Vulog, discussed the mobility operator's venture in Vancouver B.C.: managing the Evo car sharing venture on behalf of the province's automotive club, BCAA. Evo offers the club's members, for a fee, short-term use of any of 1,500 Toyota Priuses that are parked around the city. It's an example of Vulog's management services for a variety of ventures and vehicles around the world on behalf of automotive manufacturers, fleets and others. In many cases, says Thibault, relying on Vulog's technology, based on smart phones and apps, is cheaper, simpler and more practical than to create a new system. Started in 2006, Vulog's digital platform supports thirty cities on five continents. By the end of this year, the number of cities will grow to sixty. Stringent emission controls in Europe are motivating automakers to consider electrified rental fleets to help achieve targets and avoid fines. Thibault points out that while many citydwellers use public transportation, some need or prefer the additional convenience of personal transportation without the cost, inconvenience or additional congestion created by personal ownership.
Adasky is an Israeli startup whose hardware product is its Viper camera that relies on thermal rather than visual images, which allows detection of objects otherwise obscured by darkness, snow, fog, smoke or in situations like blinding sunlight. The images, paired with the company's proprietary algorithms, add an additional dimension to the cameras, radars and other sensors that today constitute a vehicle's machine-generated vision.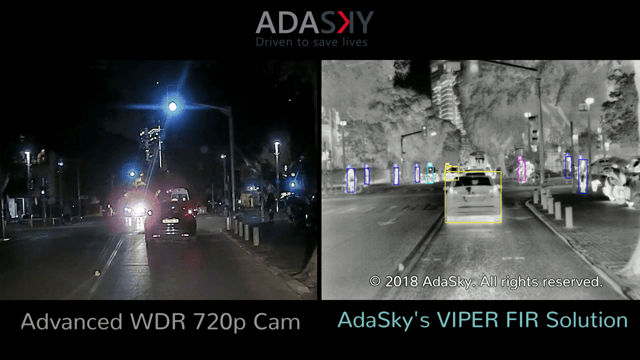 Conventional camera image, left; Adasky, right Source: Adasky
"I think it's an important technology that should probably be part of ADAS (advanced driver and assistance) systems and automated driving systems going forward. It provides a different view of the world from what you can get from traditional imaging cameras," said Sam Abuelsamid, principal analyst for Navigant Research to the Detroit Free Press, noting that he has seen similar technology from FLIR Systems, an Oregon-based thermal sensing company.
The growth of automotive connected services, as well as computerization of vehicles and their reliance on data from the cloud have increased worries about hacking -- which have been ratified by a documented spike in the number of intrusions and foiled attempts. IHS Markit estimates that the market for automotive cybersecurity services was about $16 million in 2017 and will grow to $2.3 billion in 2025. Israel-based Upstream is one of several startups dedicated to providing cybersecurity to automakers. To dramatize how a hacking operation might look, Upstream demonstrated on a video screen in Las Vegas how a hacker in Chicago could disable a car in Tel Aviv. The company disclosed in October that it had raised $30 million in funding from investors, including Nissan, Renault, Volvo, Hyundai and others.