The minutes of the Reserve Bank of Australia July board meeting have indicated that there is further room for interest rate reduction. This normally causes the Aussie currency to fall but on this occasion there was a counterintuitive firming of the AUDUSD pair.
This is probably due to the fact that that particular piece of news was already in the public domain and in the absence of new news traders simply breathed a sigh of relief.
To get some idea of what might happen next it is necessary to take a closer look at a Technical Analysis of the situation.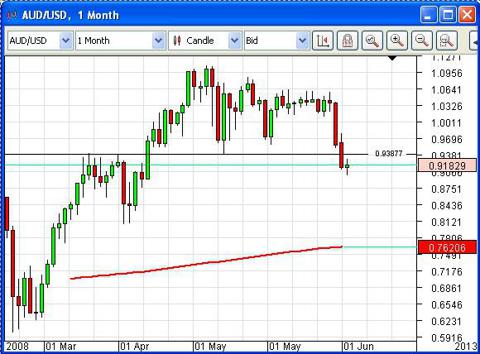 On the chart above we can see a clear zone of resistance around the 0.938 level. In addition, the recent fall in the pair has been strong. It is reasonable to suggest that there would be a retrace under these conditions. In this context the obvious price level to watch is that resistance level.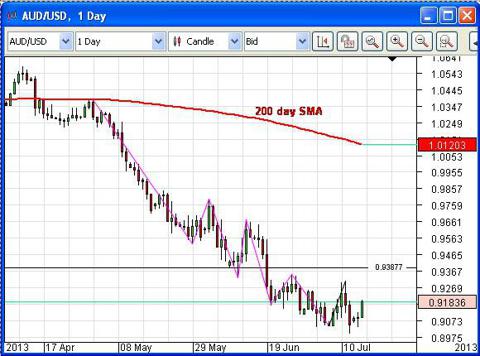 This can be more clearly seen on the daily chart (above). The fall from the 200 day Simple Moving Average (SMA) has been steep and there does seem to be a bottom forming at present. As usual, we would not take a position against the trend, which is still down, but in light of the above there is every expectation that there will be a countertrend move at least back to the resistance level. If this is breached decisively, for any reason, the rise could be strong and sustained. There are other resistance levels above the one shown, but the ultimate resistance is the 200 day SMA itself.
For all those reasons we would not be in the market at present. We would be watching developments to decide the best place to take a short position once again, in the light of what is written here.
Disclosure: I have no positions in any stocks mentioned, and no plans to initiate any positions within the next 72 hours.