TARSALA: Options Players Place Bullish Bets on Retail
There are huge doubts about U.S. consumer spending for the rest of the year.
But amid this market swoon, option players are placing bullish bets on retail.
We just found new buying of ANN Taylor's August $17.50 calls. That looks like a bet that this week's big decline is a washout, and the stock will rebound on upcoming earnings. Keep in mind, those options expire on August 20th, the same day the company reports for Q2.
Click here for details: 
http://link.reuters.com/buc74n
And a longer-term trade was just placed on Liz Claiborne, with the selling of about 5500 January $5 dollar puts, at 77 cents. That's a bullish bet that the stock could start to complete a rounding bottom, and end the year higher.
Ahead of a slew of retail earnings upcoming, the glass is a quarter-full.
Macy's had strong results this week, and a decent sales and profit forecast driven by less discounting and tighter inventories.
Overall, July comps for apparel stores were better-than-expected, according to our own Same Store Sales estimates. They rose 3.1 percent in the aggregate, versus a 2.2 percent consensus expectation.
And the Fed signaled this week it would keep rates near zero, a good sign for retail and other cyclical sectors.
But would you really think about going long a retail stock – any retail stock -- after Wednesday's big selloff, and just ahead of a usually volatile September?
Well, the options players did.
Ann Taylor isn't a looker. Shares are down 40 percent from the April highs, versus 17 percent for the retail ETF, the RTH.
The knock on this stock is two-fold. A lot of women are dressing casually, and more cheaply for work, hurting the company's namesake stores. And when times get tough, working women with families will spend on themselves last.
But this options trade looks to take advantage of two things:
First, this stock is oversold in the near-term, on both stochastics and relative momentum, which you can see by the bottom two lines of this chart are at extremes.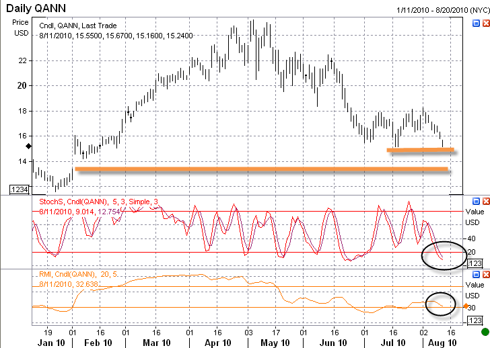 And downside looks limited by the July lows here, as well as a gap support going back to February.
The second reason is sentiment. StarMine projects just a 1-cent miss for Q2. And the stock already is down about 17 percent this month. If the miss isn't all that bad, look for a potential squeeze higher, given the 22 percent short interest.
Let's also look at Liz Claiborne, the longer-term bet.
Sales in Q2 fell 16 percent from a year ago. And same-store sales continue to decline.
Its Lucky Jeans brand had just-plain awful negative comps of 21 percent. And the turnaround there is taking forever.
But the tone on the company's conference call last week was bullish – at least relative to expectations.
Liz gave positive EBIT guidance for the second-half. And analysts now expect positive earnings in Q4 – something the company hasn't pulled off since Q3 of 2008. On the call, the company said women are being very choosey, but they're still buying.
The balance sheet is stronger: Total debt was down 18% from a year ago.
And perhaps the best news is that the company is exiting its Liz Outlet business, a long-time drag on earnings.
Oh, and it just started selling on QVC this week for the first time, where it's likely to hawk its strong-selling Kate Spade products.
Now if you're looking at LIZ as a long, here are the peer comparisons to check out.
It's the cheapest by far of all its peers on price to sales. And by the way, it's also cheap on EV to revs and cash flow to revs.
And LIZ scores a 95 on our Val-Mo Region rank. U.S. stocks with a score of 90 or above rose 21 percent in a 30-day test period, according to a10-year backtest.
You'll get some perspective on LIZ from this monthly chart.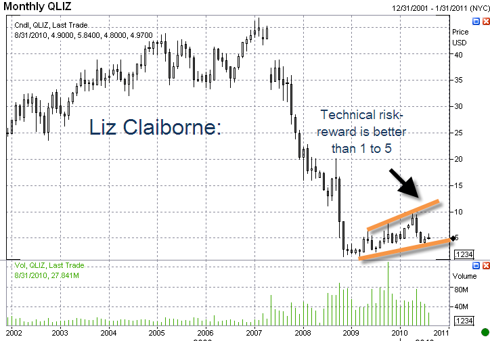 It's a bear flag, but one that can continue for a while.Within the pattern in orange, a long bet on this stock offers technical risk-reward of more than 1-to-5.

Based on that, it has perhaps the biggest potential gain of any stock in the sector.
Disclosure:
none