Finally. Now we can get serious about finding a bottom in the housing market. The news this morning was worse than awful. July existing home sales was down a whopping 27%. The bigger issue is the monthly supply total which sits at just over 12 months. Kudos to fellow Seeking Alpha blogger Erik McCurdy who was spot on with his call last week.

We have been saying for a year that the real estate market is a sham due to the bank shadow inventory level and government tax credit. It was an artificial support level that could not hold forever. Until we work thru the past and future foreclosure inventory we have no were to go but down. What will follow is another down draft of housing prices. Something that has to happen so that we can hit a bottom and begin turning this mess around. New homes will not be built as long as a buyer can purchase a 3 year old house for half the cost of a new house.

You will see house prices drop over the next few months because the inventory level is staggering. This will push more people into foreclosure as they walk away from their houses to go along with the homeowners that can't afford their payments anymore due to the job market. It will get ugly before it gets better.

But that is also good news. Part of fixing any problem is to actually deal with the problem head on. No more tax credits please. Let balance work its way thru the system and inventory will work its way down. Then new housing can begin to be rebuilt as housing prices stabilize. New houses create jobs. The economy will begin to heal itself.

Lower house prices is of course great news for those in the market who want to buy. Low interest rates and drastically reduced prices will drive both the retail buyer as well as the rental investor. Cheap prices mean cash flowing rental properties and low mortgage payments. How low will prices go?

Lets look at the Case-Shiller Home Price Indice: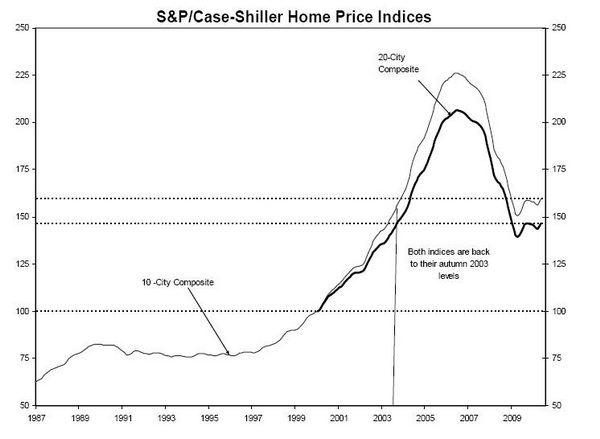 You can see where the stimulus kicked in last year. This chart reminds me a lot of the 2000 tech bubble. The average sale price sits just under $150,000 on the 20-city composite. We will start to see that number drift down again toward that $125,000 range, which we think will be the bottom, assuming doomsday does not hit Main and Wall Street. I do not believe we will see the $100,000 level again unless Armageddon takes hold with the rest of the economy.

What does that mean? I think it will be a great time to buy a house again as soon as this winter if we see housing re-price due to the current inventory level. We are already seeing some very good investment opportunities for investors who are buying at bargain prices and offering owner financing to buyers with reasonable down payments.

Recent activity suggests that annual returns of 15+% can be earned by those willing to pay cash for a property. For those who can get record low interest rates we are seeing cash on cash returns approaching 25%. The wildcard of course is the mortgage market. These buyers eventually need to get long term financing in order to cash out the investor. That remains a challenge but these returns start to make up for the risk of carrying the mortgage for a longer period.

As a buyer with less than perfect credit, you still have an opportunity to own a house even though you can't get a traditional mortgage due to the housing inventory. Some sellers and especially investors do not want to sell their houses are rock bottom prices. You aren't buying at REO price points but then again, you can't anyway. You are securing a house for your family at very reasonable prices. If you can get a mortgage then you are in the driver seat. You have the leverage to buy a house at very good price points right now due to your negotiating ability.

The next few months may be a challenge, especially with the elections coming up in November. But finally the bad news in housing is out in the open and we can begin to deal with it head on. Nobody can time the stock market or real estate market for that matter. 20+ years of investing in both has taught me that. We don't know for sure where the bottom will be. We can only guess based on previous data. In the short term the trend for both is down. But longer term, especially in an asset purchase like a house, it may be time to begin dipping our toe back in. The risk reward level has now come back into balance. 
 
Disclosure:
SPXU
Disclosure:
SPXU