While the effects of the credit crisis were felt most immediately by mortgage and corporate borrowers, currency trading volume also shrank last year as a result of an overall liquidity shortfall. But currency volume is now on the move again, and it's actually benefiting from some of the global mini-crises that have battered investors in other asset classes.
Recently released figures indicate substantial volume growth globally and in the the U.K., long to the world's most robust FOREX markets. The Wall Street Journal reports that global volume is likely to hit $4 trillion in average daily trading this year as volatility from Euro and sovereign debt fears drives liquidity.
The Journal also cites data indicating that U.K. currency volume increased 15% in the months leading to April.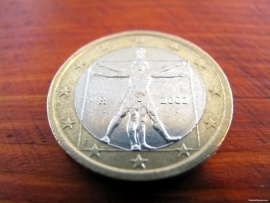 "If you have a big piece of news, such as the Greek debt crisis, there's more incentive to change your position," Barclays currency strategist Paul Robinson told Bloomberg Businessweek. "Global growth is continuing and global trade is picking up significantly, which is obviously good for foreign exchange."
The Tokyo Foreign Exchange Market Committee also recently published dollar volume figures indicating an increase in Japanese venues including spot, swap, forward, and option markets.
Daily dollar volume figures averaged for annual periods ending in April showed a drop from $300 billion in 2008 to $254 billion last year. But the number for the period ending this April was $294 billion.
While the depegging of China's Yuan left some market placers skeptical about how sincere China's government is adopting a hands-off policy, Guangdong Development Bank Co. is moving bond and currency traders into new digs in Shanghai, according to Bloomberg.
Meanwhile, many currency trading platforms continue to entice individual investors with limited means. Such firms offer mini-margin accounts that allow trading with an initial minimum deposit as low as $250 and leverage of up to 1:500.
Currency trading markets are not made universally on a single exchange. Instead, small traders trust their trading company to provide fair markets with small spreads.
The value of such trust is uncertain in a market dominated by well-capitalized financial behemoths including financial institutions, government treasuries, and very wealthy individuals.
Disclosure:
no positions