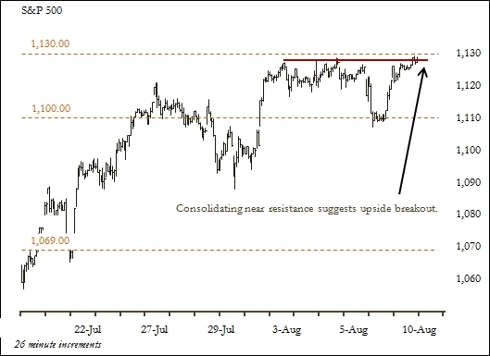 The US Equities Market continues to trade up against resistance, which is a pattern that sets up a high probability that resistance will break and the market will trade higher.  All of this should be taken in context of a light-volume summer market with few clean moves and little follow-through, but it pays to remain alert for the possibility of a breakout and a significant move.  Industrials, Basic Materials and Energy stocks have shown relative strength through this consolidation; we could reasonably expect leaders to emerge from these sectors on a continued rally.  It is also important to be on guard for the potential "fakeout breakout", which would see the market lifting resistance at 1,130 (S&P Cash), and then very quickly failing back below that level.  In this case, realize that Financials have been laggards over the past two weeks and good shorts will likely be found in that sector.
Short-term traders should be prepared for the possibility of a significant move following today's Fed announcement, especially if there is any change in the language.  Do not press, and do not force trades, because there is also possibility of a non-event and continued consolidation.  Today, however, is the best setup we have had for a directional move in the past two weeks.
We tend to focus on short term (days to weeks) patterns in the Equities Markets, but it is important for all market participants to make decisions in the context of the bigger picture.  Longer-term investors, in particular, must realize that the technical pattern does not scream "smooth sailing ahead."  The recent upswing, as strong as it has been, is potentially a pullback in a downtrend and so, a shorting opportunity.  Our intermediate term tactical bias on this market remains bullish—we believe the highest probable future course of prices is to lift resistance (1,130 S&P Cash, 665 Russell 2000 Cash) and to trade higher.  However, we are conscious of the potentially bearish tone of the higher timeframes and will be quick to shift our bias if serious weakness emerges.  There is no perfect answer to these questions, but we can make educated guesses and manage the risk in our plays.  This is why we are currently advocating only small "pilot-buy" allocations to broad equity indexes for most longer-term investors.  When the tactical situation clarifies itself, we will update our allocation recommendations accordingly.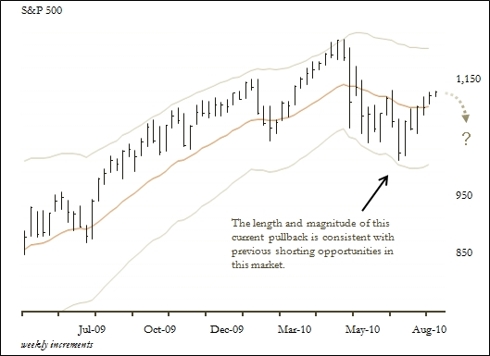 Disclosure:
"no positions"