I just wait until there is money lying in the corner, and all I have to do is go over there andpick it up. I do nothing in the meantime.– Jim Rogers
It appears there is a big pile of money lying in a corner in regards to the Phunware, PHUNW, warrants.  These warrants, which expire December 2023, are 1 for 1 with a strike price of $11.50.  This means each warrant entitles the owner to exercise it for one share of common stock.
Phunware is a software company which went public via a business combination with the Special Purpose Acquisition Company (SPAC)  Stellar Acquisition III Inc.
Normally companies that go public this way are not well publicized and known.  Typically the warrants are out of the money for a long time.  This is not the case with Phunware.
In the four trading days since they began trading, the common stock has increased from $10.84 to over $64 at the time of this writing.  I have no idea what is driving this huge increase in the common share price.  I emailed Phunware's Investor Relations and have not received a response.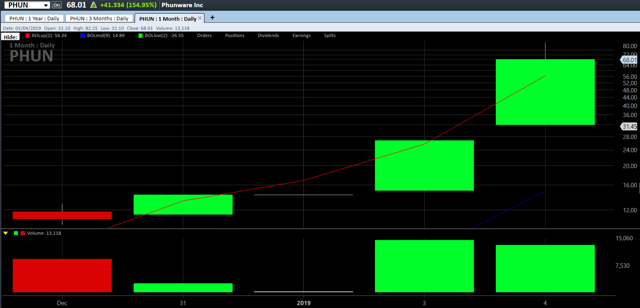 It's possible that it moved on a rumor that will later proved to be false and the common shares may fall back to $10.  
The warrants have not seen much of an increase in price.  They are trading at $0.38 at the time of this writing.  Given the warrants are 1 to 1 with a strike of $11.50, they have intrinsic value of PHUN-$11.50 = $64-$11.50=$52.50
So there appears to be an opportunity here.  Again, this may be fools gold if a false rumor is the cause of the common stock's meteoric rise.  However, one could argue that the warrants should be worth $.38 even if the common was trading at $10.
Also, the company has not yet registered the common shares to be used for exercising the warrants and so exercising now is not possible.  According to the prospectus, the company intends to do so within 90 days from the date of the business combination, which was December 26, 2018.
Perform your own due diligence.  I am not making any recommendation or providing investment advice.  I am simply bringing to light a potential opportunity based on the current intrinsic value of the warrants.
Investing is risky and investing in warrants is more risky and volatile than stocks in general.  If you don't know what a warrant is, then you should not invest in them.
You can find the prospectus here:  https://www.sec.gov/Archives/edgar/data/1665300/000121390018015809/f424b3111318_stellar.htm
I am long PHUNW.
Good luck!
Disclosure: I am/we are long PHUNW.