General stock markets in 2013
2013 was a spectacular year for many investors who were invested in the U.S. stock market. I consider 2013 to be an outlier and don't expect a 30% return for the broad U.S. S&P 500 stock index in 2014 but rather a +10% to -10% return, with +5% being the most probable outcome. However, a black-swan event is not out of question, so buying a partial cheap tail-risk protection is prudent this year.
My Growth portfolio performance in 2013
My growth portfolio returned roughly 113% in 2013 including all trading fees and costs, but before taxes. My actual money-weighted return including fees but before taxes was "just" 88% due to cash deposits and withdrawals. I didn't try to time the deposits/withdrawals, I just moved the cash according to my personal needs. However, this just proves the obvious, that trying to time the market - whether intentionally or not - can hurt your performance. But it can improve your returns, too.
Important word of caution
Please note that although this Growth portfolio represents all my investment funds, they represent a relatively small portion of my total net worth. Hence, the high risk and volatility of this portfolio is balanced by significant low-beta, income-oriented assets in my other holdings, such as savings accounts, certificates of deposits and real estate. Investors need to carefully consider, whether a high-beta investment portfolio should be a suitable part of their net worth, and investors should certainly carefully consider the total size of such portfolio in relation to all their net worth to make sure they are not exposing themselves to excessive risk.
2014 outlook
For my personal portfolio, I expect much lower returns in 2014 and my strategy for this year includes protecting some of the spectacular percentage gains that I achieved in 2013.
I also intend to position my 2014 investments more conservatively due to generally prevalent high market valuations that present a risk of multiple market-wide pullbacks affecting majority of asset classes.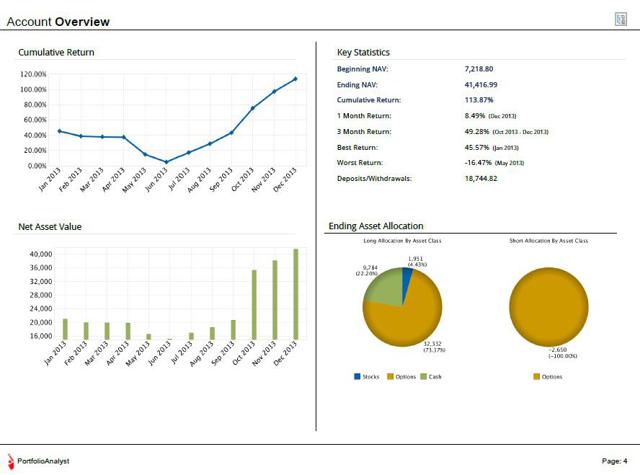 My portfolio performance in 2014
January 2014 started off with a sharp fall in my portfolio towards the end of the month. As of February 20, most of the January losses were recouped but I am still roughly 15% below the peak 2013 levels.
May 2014 update
The Growth portfolio is still down roughly 10% from its 2013 peak, which is an improvement from February 20, but still gives a negative YTD return of almost minus 10%.
My strategy for 2014 hasn't changed; I am still protecting the impressive 2013 gains and waiting for favorable opportunities, which have been rare for my investment taste so far this year.