It's been a long time since I updated the portfolio performance for you - the portfolio was up ~5% since inception in late January - so today I am happy to report that the $1,000,000 model portfolio as of today has a profit of $92,997, or 9.30% on a $1,000,000 initial cash amount since the inception on Sept 15, 2015.
I've revamped the tracking tool to hopefully make it easier to read for you and update for me, and I re-checked all trades since inception.
Below are all the transactions since inception, both still open and already closed. The green transactions are still open and I used today's intraday prices. instead of the closing price.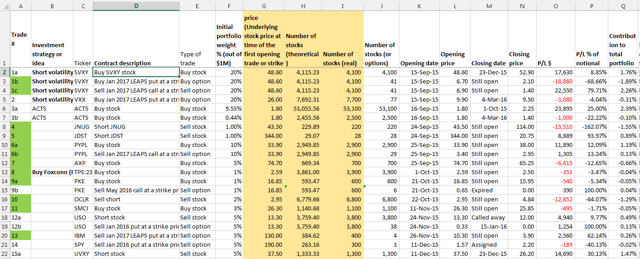 Please note that the most recent transactions are provided to the subscription members and will be made publically available after several months to protect the value of the service.
The portfolio is ~43% long, with AAPL and PYPL being the largest positions, about 14% short stocks, with USO (not really a stock) accounting for the lion's share
The rest is in various long and short options, mostly covered calls, which don't add much bullish or bearish exposure, and short Chinese equities and selling very far out of money calls on SVXY, which is mildly bullish on volatility, providing a nice hedge to the overall portfolio.
40% of the portfolio is in generatin options time value from long-term Treasuries via TLT, and the rest is cash.
Overall, I try to keep the total net exposure in any direction or factor well below 100%. I try to keep dry powder and I consider the 40% TLT position also as quasi-dry powder that can be used opportunistically if we see overall market prices fall. Overall, I try to be hedged in as many factors as possible and not have a large exposure to any one of them.
If you are interested in becoming a subscriber, please feel free to click on the orange "Free trial" button on my profile page: seekingalpha.com/author/martin-vlcek/articles
Disclosure: I/we have no positions in any stocks mentioned, and no plans to initiate any positions within the next 72 hours.