S&P 500 (SPX) Daily Chart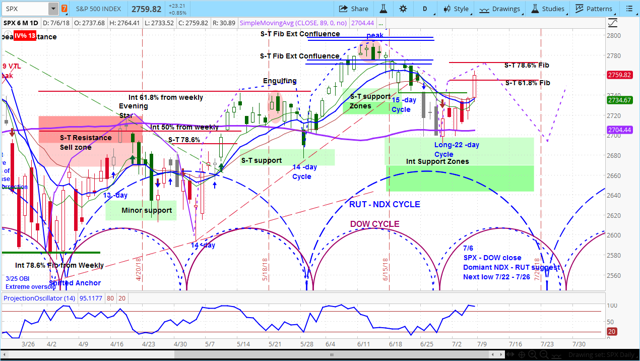 The US markets were shortened last week by the Independence Day holiday, and the most important action took place towards the end of the week. On Thursday, news surfaced that a US official had informed German auto executives that the US would set aside its threat of a 20% import tax on European autos if the EU reduces its tariffs on US autos to zero.
However, Angela Merkel pointed out that any reduction on auto tariffs would apply to all imports, according to the rules set forth by the World Trade Organization. Further, the EU may in exchange request that the US reduce its own tariffs on the profitable market for sports utility vehicles. In any case, European autos account for only 7% of the US auto market.
With regard to China, the Trump administration had set a deadline of July 6 to impose $34 billion worth of tariffs on Chinese imports bound for the United States. In response, the Chinese government planned to immediately implement retaliatory tariffs for the same volume of US imports.
"The U.S. is firing shots to the world, including to itself," exclaimed Gao Feng, of the Chinese Commerce Ministry. He was perhaps referring to the difficulty in determining the "country of origin" for many products because the value chains that produce them are now global. This could make it difficult to determine the precise impact of the proposed tariffs.
However, stocks were up 0.8% on Friday, after the Bureau of Labor Statistics (BLS) announced the creation of 213,000 jobs in June, compared to the consensus of 195,000. Also, the BLS revised its April figure from 159,000 to 175,000 and the May figure from 223,000 to 244,000. The unemployment rate came in at 4%, compared to estimates of 3.8%, due in part to a rise in the participation rate.
With equities up last week, gold was up 0.1%, and oil was down -0.3%, the euro was up 0.5%, and bonds were down 0.6%.
Our approach to technical analysis uses market cycles to project price action. Our analysis of the S&P 500 is for stocks to rise as high as the 78% Fibonacci extension at 2772. We then expect it to fail as the declining phase of the market cycle begins to exert its influence over the next week and a half.
For more from Slim, or to learn about cycle analysis, check out the askSlim Market Week show every Friday on our YouTube channel.