Tesla (TSLA) popped +10% higher on Thursday morning, after missing Wall Street's expectations for earnings and revenue - while doubling down on previous guidance.
The company reported earnings per share of -$3.06 and total revenue of $4 billion, below analyst estimates of -$2.78 and $4.03 billion. Even after the miss, CEO Elon Musk reaffirmed his guidance for Q3 and Q4, namely that the company will be profitable and cash flow positive during these quarters.
Musk also apologized for his remarks during the previous earnings call, during which he called analysts "boring" and "boneheaded" which was perceived as unprofessional. One analyst noted that Musk had generated, "maybe the most valuable apology of all time."
In analyzing the TSLA market cycles, we can see that the stock is likely in the declining phase of its current minor and intermediate cycles. As such, on a day when the company missed, today's pop could very well be an opportunity to sell the stock. As it approaches a resistance zone between $330-340, we see it falling to $285-272 by October.
Tesla (TSLA) Stock Chart with Weekly Bars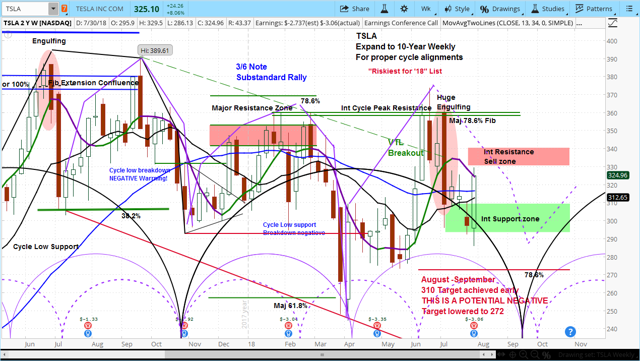 For more from Slim, or to learn about cycle analysis, check out the askSlim Market Week show every Friday on our YouTube channel.