Lululemon Athletica (LULU) stretched 15% higher on Friday morning, after posting earnings that left analysts bowing to the results.
The apparel retailer, known for yoga clothing, reported earnings per share of $0.71 and revenue of $724 million, above Wall Street expectations of $0.49 and $668 million. Also, the company projects earnings for the current fiscal year at $3.45-3.53, above the average estimate of $3.25.
Overall digital sales were up 47%, and according to COO Stuart Haselden, "Our combined comps in Asia increased 50% this quarter, and in China, our e-commerce business continues to lead the way with a 200% comp increase."
With regard to the market cycles for LULU, we can see that the stock continues to trade in the rising phase of its current cycle. Our work had this as a positive pattern, and with this move our target is now $165. As its price to earnings ratio is now 45, this may be the final surge for the midterm future.
Lululemon Athletica (LULU) Stock Chart with Weekly Bars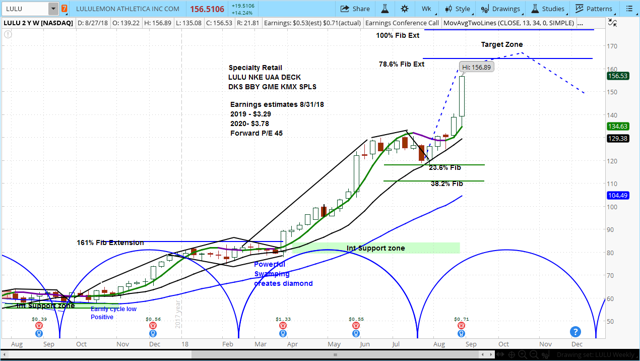 For more from Slim, or to learn about cycle analysis, check out the askSlim Market Week show every Friday on our YouTube channel.