There are many discussions now in Internet, TV and mass media about possible armed conflict between Iran and Israel. I suggest you to take a look at it from economic perspective, how it can impact current condition of US economics.
Postulate #1. In my calculations I used minimum/maximum correlations and worst-case scenarios for selected time periods (see below) because it looks as the most probable opportunity.
War scenario: Israel attacks Iran's nuclear facilitiesand missile plants with massive air strikes. In response Iran blockades oil lanes in Persian Gulf and Strait of Hormuz, as they promised.
There is no doubt that oil price will skyrocket. Let's try to estimate how much it could be. This is a graph which shows history of crude oil price and its relationship with some historic events: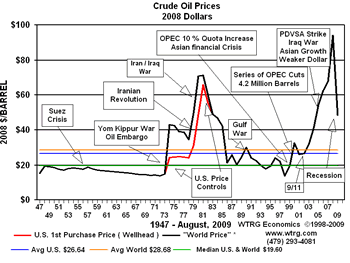 www.wtrg.com/prices.htm
We can definitely see several critical periods of change:
1973 - 1974/75 - oil embargo;
1978 - 1980/81 - Iranian revolution and Iran/Iraq war;
1988 - 1990 - the first Gulf war;
1998 - 2000 - OPEC cuts;
2003 - 2007 - Iraq war and oil bubble.
Oil price jumped more than 2 times during these critical periods except the first Gulf war. So it looks that is case of above war scenario we should expect at least $160 per barrel. It can be even much more if we take into account speculative capital that will be involved. 
What should US economics expect with such prices? I consider 3 the most important sphere of influence – U.S. Treasury Rate, Consumer Price Index (
CPI
) and Federal Reserve Funds Rate.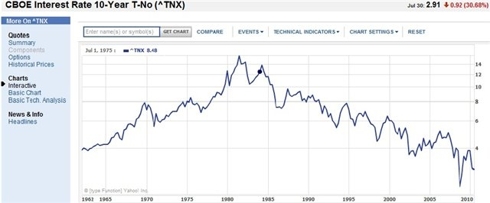 If we look at the above time periods we can easy see that crude oil price had some influence on bond's rate.
1973 - 1974/75 - rate changed from 6% to 8%, diff - 33%;
1978 - 1980/81 - rate changed from 8% to 15.8, diff -98%;
1988 - 1990 - no increasing, whole world believed in a small victorious war;
1998 - 2000 - rate changed from 5.4% to 5.4, diff - 37%;
2003 - 2007 - rate changed from 3.5% to 5.1, diff - 46%.
Using postulate #1 we could expect that bond's rate will jump at least twice, from current 3% up to 6%.
Consumer Price Index.
There is some difference in inflation calculation between official and non-official statistics. For my calculation I used a graph from
shadowstats.com: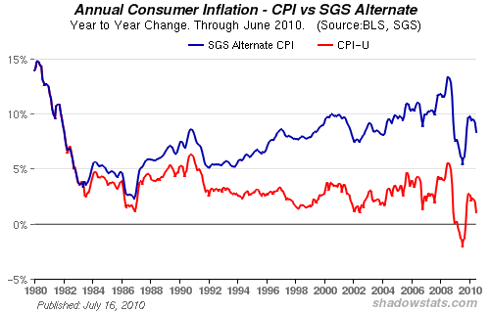 There is no data on the graph before 1980 and till 1983 there is no difference in inflation calculation. So for earlier periods I used official statistics from
http://www.bls.gov/cpi/
1973 – 1974/75 – CPI changed from 6.2% to 11%, diff – 77%;
1978 – 1980/81 – CPI changed from 7.6% to 13.5, diff -77%.
For following periods I used a happy medium between two statistics data.
1988 – 1990 – CPI changed from 5% to 8%, diff – 60%;
1998 – 2000 – CPI changed from 4.8% to 7.6%, diff – 60%;
2003 – 2007 – CPI changed from 5% to 8%, diff – 60%.
Based on current CPI medium value 5% we can expect its increasing up to 8.85%
Federal Funds Rate.
The historic graph from wikipedia: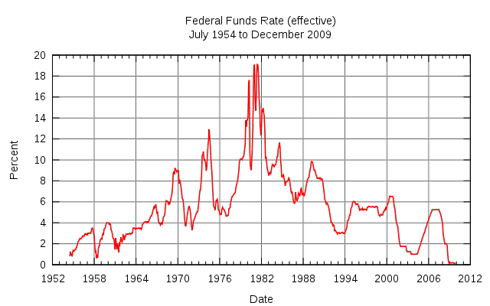 Again we can see relationship between oil price and funds rate increasing for selected time periods. For 1988 – 1990 rate was increased by only 60%, for 1973/75 it raised more than twice, for 1978-80/81 it jumped 3.5 times, and for the latest period 2003-2007 it skyrocketed 5 times!
In reality federal funds rate directly depends on CPI and it is more correct to predict its value comparing these two graphs. As we can see for our time periods, it matches or it is close to "happy medium". Have taken predicted CPI value we can suggest that federal funds rate can easy be more than 8%.
So, what US will get in result of this war conflict?
It will get problems in lending money to finance national debt - only interest rate charges for that will increase from current 19% till 38%.
Consumer credit will decline even more than now.
House prices will continue to fall because of changes in federal rate and U.S. treasury.
Inflation will jump on new level
And so on. You can continue this list.