For my taste, the valuation looks very solid and a lot of in-depth research has flown into this. Comparing this with my own valuation, resulting in a price target of 21-28 USD, we are in the same ballpark, with the following notable differences:
comparable revenue trajectory until 2021, then Sphene Capital assumes continued growth from EPP (non-US, non-Europe)
No valuation of Vitiligo potential (8-18 USD/share in my valuation)
more accurate representation of tax shield from historic losses
more accurate modeling of WACC (varying assumptions over time, taking cumulating cash pile and maturing company into account
Read the full study here: http://www.more-ir.de/d/16065.pdf
The company will publish figures for the quarter ending Dec 31, 2017 tonight (Feb 1, 2018). The historic KPIs look as following: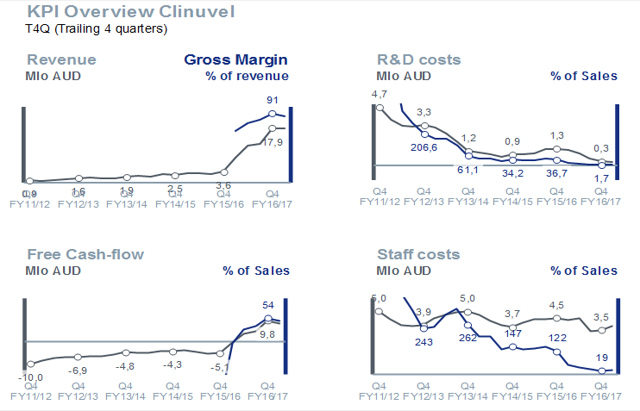 Disclosure: I am/we are long CLVLY.