According to FICO, as of April, 25.5% of consumers - nearly 43.4 million people - now have a credit score of 599 or below. A score under 620 makes it very difficult to secure a home mortgage, not to mention a car loan or even a credit card.

watch the CNBC video regarding this  click here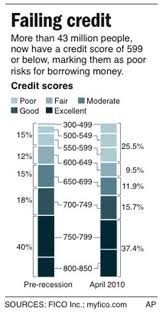 Do credit scores tell the whole story? Absolutely not. Credit scores are developed by statisticians based on formulas, assumptions and scenarios even the statisticians themselves hardly understand. Many times I have reviewed a credit report with no lates ever yet because of the number of accounts open and the balances carried on those accounts, the consumer had a low credit score. 
Have you reviewed your credit report yet this year? Many credit reports have trade lines that have not been updated or simply don't belong to the consumer. Scores can be impacted in a such a way you could be turned down for a loan. 
Don't be fooled by those catchy jingles offering FREE credit reports - Many want to sell you online credit monitoring for a monthly fee. Credit report monitoring is BIG BUSINESS.
Consumers are entitled to a FREE copy of their credit reports from each bureau once a year - This site is sponsored by the three major credit reporting bureaus - click here  Do not sign up for any monthly plan (even the big credit bureaus want in your back pocket)
Send me your credit report and I will review it for free -  
MORTGAGE ADVICE - PROBLEM SOLVER 
High Quality Advice - Proven Results
Disclosure:
no positions