[ForexChaser.com] Some of you might have notice but lately, things started to look less rosy. The European economy is in a very weak period (even though it is worth noting that Greece/Europe is not heading any more into a bankruptcy), the U.S. economy is showing signs of fatigue, and growth in China is starting to fade away together with the contraction of the Chinese banks' balance sheets.

Housing Starts, Consumer Confidence, Durable Goods Orders –just to name a few of the macroeconomic reports that failed to reach the market's expectations over the last two weeks. For most of us, this data alone would not justify a rally in equities since the latest information show that the business cycle of the global economy remains fragile.

But yet, the S&P gained approximately 9.5% since the beginning of July, which in annualized terms, is quite allot.

As we speak the S&P futures are trading in the 1100-1150 area, the same place where the market made two important swing points, one in January and one in June this year. Furthermore, looking at the attached chart, one can see that these two swing points are actually part of a bearish Head and Shoulder pattern.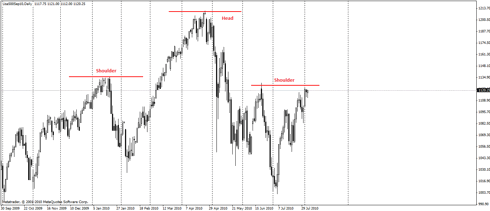 In other words, a failure to break above the 1150.00 area this time could lead the S&P 500 down towards the 1100.00 area in first stage, and then, depending on how things look, the market could fall as low as 1050.00.

A bounce off the 1150.00 area would be a very interesting move for the currency market, due to the inverse correlation between the Usd and the equity market. Bearish equities will give an excellent opportunity to Usd bulls to take over the market, and help the Dollar Index to retrace some of the weakness seen recently. From a technical perspective, the daily charts of the Eur/Usd, Gbp/Usd and Aud/Usd suggest that some Usd strength is very welcome ahead.

But this entire outlook depends on whether the market fails to push above the 1150.00 area over the next few sessions. One has to remember that on Thursday the market is preparing for the European Central Bank press conference and for the Bank of England meeting, while on Friday the NFP numbers will hit the newswires. A break or bounce of the 1150.00 will depend on how these three events play out eventually. 

Disclosure: No positions