Travelers (NYSE:TRV), insurers have had a nice run in the past 12 months, and travelers is no different trading up from 60 to 89, and currently at 84.13. Fundamentally I feel TRV is a strong company, 2.3% div that is likely to keep growing long term, however technically it looks to me that the shares are about to take a breather.
Attached are 2 very basic charts, the first is a longer term daily with a basic Fibonacci pattern overlay that shows the stock topping out at 89. See below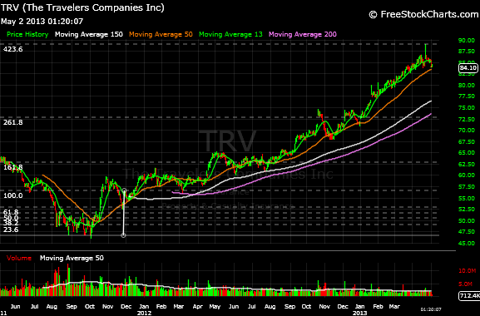 And the second, is a shorter term daily chart that is showing a break of the more aggressive short term channel that moved the shares from 77 to 89. See below.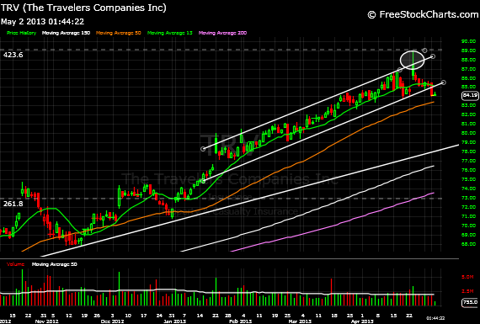 Also, please note that the shares have moved roughly 50% higher in 12mo, while the volume has decreased (negative divergence), also the large wick on the day the shares hit 89. (sellers came in)
The stock is not broken by any means, and it could be building a base for a move higher in the future, but I would take a shot shorting here, with buy stop at 87 or just above 89 where the sellers came in, and one the downside I would think that stock breaks the 50day MA, and in drawn to the 80 uptrend line drawn in chart 2.
Disclosure: I have no positions in any stocks mentioned, and no plans to initiate any positions within the next 72 hours.