My last post was on May 2, 2013 when I talked about TRV looking like it was setting up for a pullback after a nice move to the upside. Investors have had all month to slowly build a short position in TRV and if you have taken my advice should/could have a cost basis around $86/$87 per share.
Currently the stock is trading $83.25, has broken through the 50 day MA last week, and I would expect to see the shares move lower.
I have attached a chart showing where the shares found a minor support level yesterday (uptrend line roughly 82.5) where they have bounced, but as this is a minor level, I would expect the bounce to be short lived and the shares to move lower.
Also, please note the short term moving average (green line) is trending down and I would expect it to cut through to the downside of the 50day MA.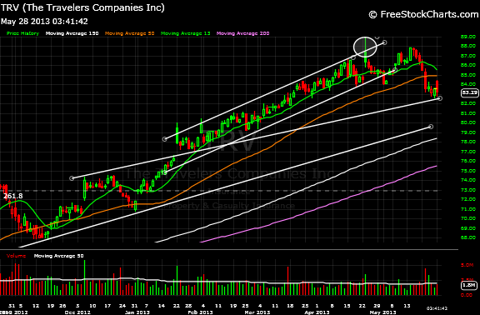 Disclosure: I have no positions in any stocks mentioned, and no plans to initiate any positions within the next 72 hours.