Quick update on the insurance short positions, ALL has pulled back significantly, and should find support at the longer term uptrend. See below.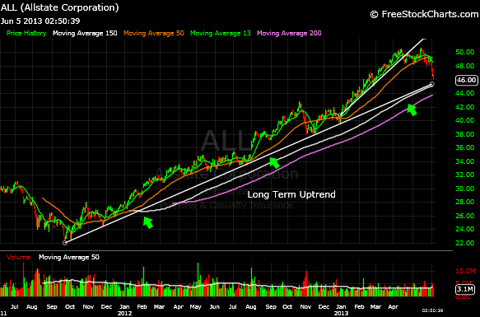 How the stock reacts to the uptrend will determine the future of the shares. It could bounce and continue higher as it did in later Nov 2012 and Jan 2013, or if it breaks I see support at 44, 38/39ish and then ultimately the gap fill at about 35.
As for TRV, the stock has been trying to hold up as best in breed amongst the insurance names, and that is a key point to note that if you see the "best of breed" names in a sector starting to get "toppy" or looking to roll over, you can find the weaker names and play the more aggressively to the short side.
So TRV is peaking down through the line drawn from Dec 2012 and making a low from the cluster of trading days for the past week and a half. To me this shows weakness, and I expect the shares to continue to trade lower and to trade to the 150 day MA.
Keep in mind, there is an intermediate term uptrend that depending on time, could meet the stock around 80/81 and if that is the case we shall watch to see how the shares react.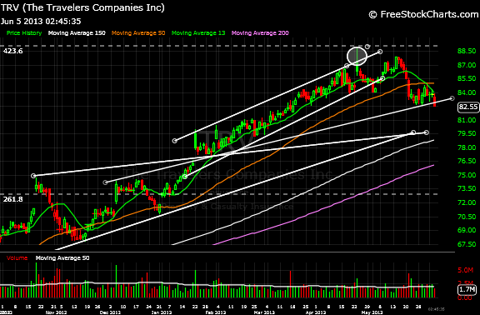 At $82, investors that have taken a short position should have a profit of roughly 5%, which isn't going to send you off to early retirement but not bad inside 30 days especially when you consider the minimal risk that comes with shorting a large cap.
Disclosure: I have no positions in any stocks mentioned, and no plans to initiate any positions within the next 72 hours.