The precious metals have been lousy investments for over a year. Silver (NYSEARCA:SLV) has lost 50% from its early 2011 peak, while gold (NYSEARCA:GLD) has fallen about 20%. The mining stocks have performed equally poorly.
This has led some observers to declare that the bull market in gold and silver is over. Something that shouldn't go unnoticed to contrarian investors.
But bull markets are not over, until they are over. And not rarely they continue much longer than most people consider possible. A long term trend is only over when it is clearly broken in a longer term chart. Is that the case for gold and silver? The answer is: NO. Let's have a look at the weekly chart for gold: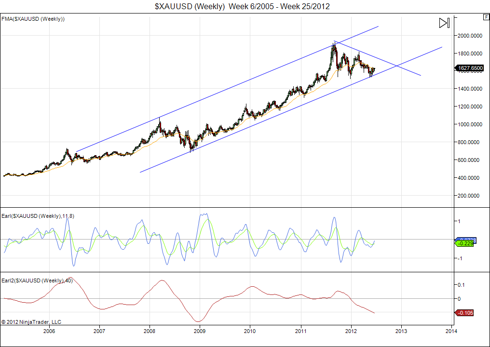 As we can see here, the multi-year uptrend in gold prices has not been broken yet. Actually, based on my Earl (proprietary) indicators, a great buying opportunity has been set up. The Earl2 (which reflects the big swings) is the most oversold since the late 2008 bottom, and could turn up any moment. Meanwhile my Earl indicator (based on shorter term swings) is showing a triple divergence with the prices, just like it did in 2008. This is a long term buying opportunity. This bullish scenario would only be invalidated if gold drops below $1450, so that's where I would keep my stops for the moment.
Silver is showing a similar picture: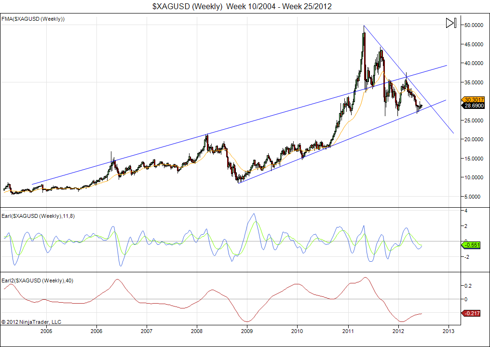 Silver went up very sharply in early 2011 and has now fallen back to a more sustainable uptrend line. Here the Earl2 indicator has bottomed out already, while the shorter term Earl is also turning up. This kind of buying opportunities do not happen every year. A drop below $25 (on a closing basis) would indicate that we have entered an ongoing bear market, so that's where stops can be kept.
Disclosure: I have no positions in any stocks mentioned, and no plans to initiate any positions within the next 72 hours.
Additional disclosure: I own physical silver since 2006