Amid growing tensions with North Korea's nuclear and intercontinental ballistic missile activity, the UN Security Council imposed sanctions against the country that are essentially watered down versions of those proposed by the Trump administration. In effect, China and Russia forced the UN to agree to less demanding restrictions.
The dilemma is that the U.S. and its allies, particularly Japan and South Korea, recognize that China is the key to getting the North Korea regime to back down on its aggressive nuclear strategy, but it was China, along with Russia, that outmaneuvered the UN General Assembly.
CONCOM and Wassenaar Worked Before – Can They Work Again?
Something needs to be done. I'm suggesting that the U.S. and its allies should re-establish a "watered down" COCOM and Wassenaar Arrangement (WA). For those of you not familiar with these terms, for simplicity sake, COCOM worked against Russia during and after the Cold War(1949-1993), and WA worked against China from 1996-2010 to keep the country from making advanced weapons. If re-established, or at least the threat of it being re-established, it could force China to convince North Korea to de-escalate its nuclear aggression.
The Coordinating Committee for Multilateral Export Controls (COCOM) was established by Western bloc powers in the first five year after the end of World War II and during the Cold War, to put an arms embargo on Russia and its satellites. Besides blocking actual armaments and weapons of mass destruction, COCOM also blocked the sale of dual-use equipment or materials that could be used to make weaponry.
There were several violations. One example came in 1988 when district court convicted Toshiba Machine Co. and two of its executives Tuesday on criminal charges relating to the company's export of advanced milling machines to the Soviet Union in 1983 and 1984.
Toshiba Machine Company of Japan and Kongsberg Group of Norway supplied eight computer-guided propeller milling machines to the Soviet Union between 1982 and 1984, an action that violated the COCOM regulations. The United States' position was that this greatly improved the ability of Soviet submarines to evade detection. Congress moved to sanction Toshiba, and ban imports of its products into the United States.
In another example in 1988, Police investigators entered the main headquarters of Daikin Industries Ltd., a major air conditioner manufacturer, and Tokyo Boeki Ltd., a medium- size trading house, both suspected of exporting restricted chemical products to the Soviet Union.
COCOM ceased to function on March 31, 1994, and the control list of embargoed goods was retained by the member nations until the successor, the Wassenaar Arrangement, was established. The Wassenaar Arrangement is an agreement between 33 member countries that attempts to prevent the proliferation of weapons and dual-use goods and services that could have potential military use.
WA was directed largely at the semiconductor industry, an attempt to deny China access to leading edge semiconductor manufacturing technology. Until 2010, controls prevented the export of <90nm manufacturing technology to China and Taiwan restricted the export of <180nm manufacturing technology to China. In 2010, the WA was updated: controls now prevent <65nm manufacturing technology from being exported to China and Taiwan signed an agreement with China that allowed the export of manufacturing technology that is 2 generations behind leading edge
The WA focusing on China's semiconductor industry was revised in 2010 for a number of reasons:
U.S. suppliers of chip-production equipment were losing out in China to overseas rivals because the US government took longer than the EU and Japan to approve equipment exports to China.
China was developing its own export-control regulations and was becoming a more responsible stakeholder is not only in the interests of the international community, but is equally or even more so in China's interests.
Tools capable of processing 0.25-micron wafers had been the perceived limit under U.S. controls, but a number of semiconductor manufacturers in China had already announced plans for 0.18-micron and below processes. In 2004 SMIC took the bar to the 90-nanometer manufacturing node, and later it was announced that Texas Instruments was helping SMIC develop a 90-nanometer manufacturing process for logic circuits.
In fact, in 2004, Craig Barrett, president and chief executive officer of Intel Corp. said:
"If I wanted to build a 90-nm, 300-mm fab in China, the U.S. government would say, 'Absolutely not'. U.S. export controls and regulations do not help U.S. companies compete in China relative to our competition. I don't like fighting with one hand tied behind my back."
What's the Trump Administration to do?
First, we can go to the UN. However, that's been tried with no success. The UN General Assembly sanctions against North Korea were watered down by China and Russia. This doesn't bode well for the Trump administration to expect much from China in deterring North Korea
Second, we can go to war.  How will that affect the stock market? The chart below, which comes from a Seeking Alpha article, shows what to expect. You can read it here so I won't repeat it. Bottom line, we can expect a stall in growth followed by a rise in the market once volatility stops
Third, President Trump could levy the 45% tariff on Chinese imports he announced when he was candidate Trump. However, that idea is off the table, particularly after August 1 when China's Foxconn announced it would invest $30 billion to build a plant in Wisconsin.
Fourth, the Trump administration could block any M&A activity by the Chinese. China's aggressive policy to expand its semiconductor industry, amid increasing attention from foreign regulators, had a setback in mid-September 2017 when President Trump blocked a China-backed fund from acquiring US semiconductor business Lattice Semiconductor.  In fact, back in December 2016, more than 20 U.S. Congress members wrote to then U.S. Treasury Secretary Jack Lew under President Obama asking the acquisition be blocked over security concerns.
The table below shows proposed acquisitions by Chinese companies in 2016 alone. In addition to the blocked Lattice Semiconductor acquisition by Canyon Bridge Capital Partners, Fujian Grand Chip Investment Fund last year dropped its proposed 700-million takeover of German semiconductor equipment supplier Aixtron after being blocked by regulators in both the US and Germany over national security concerns.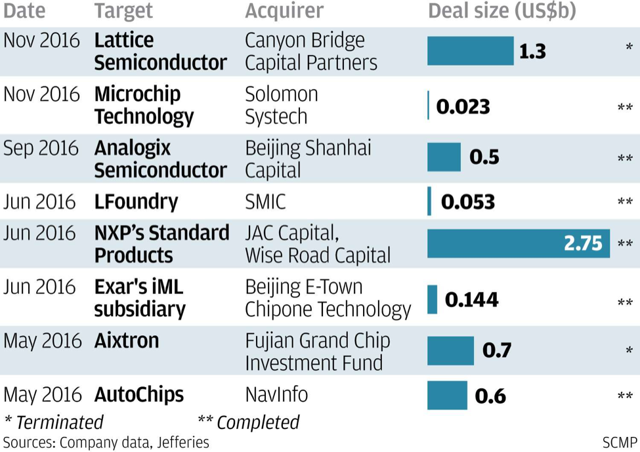 Finally, the U.S. and other countries could modify current WA controls to include semiconductor equipment. In other words, slow the supply of leading edge equipment into China, thereby putting a crimp on China's aggressive posture to becoming a leading supplier of semiconductor chips.
The table below shows that China has a large share of connectivity ICs, but zero domestic production of a large number of chips. I discussed these issues in a February 21, 2017 Seeking Alpha article entitled "China's Semiconductor Surge: What Investors Need To Know." Data for this article was extracted from The Information Network's report "Mainland China's Semiconductor and Equipment Markets: A Complete Analysis of the Technical, Economic, and Political Issues."
China Domestic Production % Of Global Market

Chips

China % of global market

Chips

China % of global market

Connectivity IC

22%

FPGA/EPLD

0%

Application processor

18%

DSP

0%

NPU

15%

Embedded MPU

0%

NOR Flash

5%

Embedded DSP

0%

Image processor

5%

DRAM

0%

MCU - Industrial

2%

NAND Flash

0%

MPU - server

0%

MPU - PC

0%

Source: CSIA, The Information Network
Memory is another sector where China has zero percent domestic production.  However, that is changing, which I discussed in a November 18, 2016 Seeking Alpha article entitled "Tsinghua Unigroup And Micron Technology (MU): If At First You Don't Succeed..."
What's different about it this time?
Ten years ago U.S. semiconductor equipment manufacturers were complaining that they were being treated unfairly because the U.S. had tighter enforcement of its WA controls than other countries. What is different this time is the geography of equipment suppliers, and their stake in the resolution of the North Korea missile and nuclear aggression.
There are four countries/regions that make semiconductor equipment: The U.S., South Korea, Japan, and Europe (which includes Israel). The first three countries are all within the range of North Korea's intercontinental ballistic missiles that could have a nuclear warhead attached.
As for Europe, while they are too far from North Korea's ICBM range, there is the concern that North Korea could sell nuclear weapons to terrorist countries. This is a tremendous fear from Israel in case Iran gets one. The European Union Chamber of Commerce in China recently released a report, "China Manufacturing 2025: Putting Industrial Policy Ahead of Market Forces," criticizing the government subsidies that are provided to high tech industries in China, noting that these firms will be able to compete unfairly with foreign firms that have no government funding.
If the EU doesn't go along with the program (Israel surely will), there are limited European equipment manufacturers that could make an impact.
According to my March 8, 2017 Seeking Alpha article entitled "Top 10 Semiconductor Equipment Companies Grew 14.1% In 2016 - Will They Repeat In 2017?." Only ASML (ASML), which makes lithography equipment, and ASM International, which makes primarily ALD equipment, are among the top 10 equipment manufacturers (revenue based) for 2016. U.S. equipment suppliers in the top 10 are Applied Materials (AMAT), Lam Research (LRCX), and KLA-Tencor (KLAC).
South Korea represents a large number of small equipment manufacturers, which are detailed in The Information Network's report "Global Semiconductor Equipment: Markets, Market Shares, Market Forecasts."
So, this time around, the threat is real for the U.S., Japan, and South Korea, not just the hyperbole of fear of Russia or China. Negatively coming from the European Union Chamber of Commerce should also draw the region into the new WA.
Investor Takeaway
The U.S. and its allies have several alternatives. So far none are working. United Nations Nikki Haley said on Sunday the U.N. Security Council has run out of options on containing North Korea's nuclear program and the United States may have to turn the matter over to the Pentagon.
White House national security adviser H.R. McMaster said on Fox News Sunday:
"This regime is so close now to threatening the United States and others with a nuclear weapon, that we really have to move with a great sense of urgency on sanctions, on diplomacy and preparing, if necessary, a military option."
Here's the problem with sanctions. Following the UN Security Council resolution on September 11, China's official Xinhua news agency released a commentary stating that the Trump administration was making a mistake by pursuing deeper sanctions rather than seeking diplomatic engagement with North Korea. What, the official news agency doesn't think sanctions against North Korea will work!
That's why my proposal is that the U.S. put sanctions on China, and hone in on a strategy that will force China to stop the North Koreans. To avoid a trade war by putting tariffs on China goods, the Trump administration needs to hit China at its most crucial point – its semiconductor industry. A blockade on equipment shipments to China would curtail the countries ambitious plans to become self-sufficient in domestic chip production.
I've been analyzing the semiconductor equipment market since before I started The Information Network in 1985. You can read my analysis of China's semiconductor market in The Information Network's report "Mainland China's Semiconductor and Equipment Markets: A Complete Analysis of the Technical, Economic, and Political Issues," to learn more about China's strategy.
One comment that I echo in my Seeking Alpha articles and elsewhere, is that China is a "substitute" country. In other words, every semiconductor fab built in China is a fab that is not built elsewhere. China has the money and an established infrastructure to make it attractive for foreign companies to build a fab there. But TSMC could have readily built its China fab in Taiwan instead of China. Same, for example, for Intel, which has plants all over the world.
Thus, the impact on semiconductor equipment companies in the U.S., Japan, South Korea, and Europe could be minimized if the Trump administration thinks "outside the box" and provides incentives for non-China semiconductor manufacturers to start building in the U.S. If Foxconn could do it, TSMC could do it.
Clearly my proposal needs to be worked out, and I don't think semiconductor equipment companies will leap for joy at the thought, but this strategy is also thinking "outside the box," and it's better than a war, which would impact the entire technology infrastructure, not to mention loss of lives. I'm sure investors in these equipment stocks would also balk.
But I consider the alternatives. If we look back at the sacrifices made during WWII, when manufacturers started converting their plants into much needed war equipment, then today we can do the same, stop thinking about stock valuations (maybe now is the time to short semiconductor equipment stocks) and start thinking about patriotism.
I know I'm going to get inundated with negative comments from readers. It happens from the longs any time I write something negative about a stock. I am willing to do my part during these crucial times and offer my services and analytical skills to the Trump folks.
Disclosure: I/we have no positions in any stocks mentioned, and no plans to initiate any positions within the next 72 hours.