Utica Shale Introduction

The Utica is one of the newest shale plays with relatively few players. Utica ShaleTrend extends from Quebec into New York State, Ohio and Kentucky.
On April 1, 2008, Forest Oil announced it had successfully fracture stimulated and tested twovertical wells drilled in the Utica Shale formation in the St. Lawrence Lowlands between Quebec City and Montreal. The St. Francois-du-Lac well tested at a flow rate of up to 1 mmcf/day. 

Players in Quebec include Talisman, Molopo, Questerre, Gastem, Altai, Junex and Petrolympic. Utica gas play in Quebec covers around 5000 square kilometres.
Some estimates of recovery from these players
·

         
Molopo estimate 5.5 Tscf recovery from 375,000 net acres
·

         
Forest estimate 4.1 Tscf recovery from 276,000 net acres
·

         
Questerre estimate 4.3 Tscf recovery from 305,000 net acres
·

         
Junex estimate 3.691 Tscf recovery from  450,000 net acres
Players in New York State include Exxon, Chesapeake, Gastem, Cabot, Fortuna, Epsilon and Norse. 
Utica Shale's rock properties are comparable to Barnett but with expected premium gas pricing.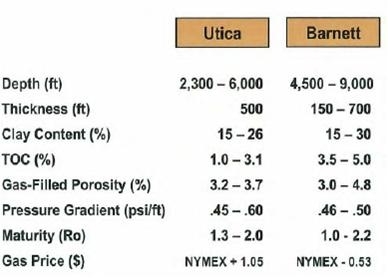 Utica Shale has an advantage of high quality natural gas (88% to 97% of methane) and infrastructure is in place with nearby access to major pipelines. Major players like are committing huge capital to Utica. Market confidence in commercial viability of this play should increase dramatically in coming months.

 
How to play it?


The best leveraged plays would be junior companies with relatively large acreage in Utica. Gastem and Altai Resources fit the bill. Gastem with net 173,530 acres in Utica has a market capitalization of CAD 16.7 million. Altai with more than net 282,500 acres has a market cap of CAD 12.5 million. Both have zero debt.

 
Current valuation means one is paying USD 97.00 per acre in case of Gastem and USD 45.00 per acre in case of Altai. This is way too cheap and doesn't make sense.

 
Gastem Inc.


Gastem was one of the first movers on the Utica in Quebec, first to drill, core and test in 2007.Gastem has gross interest in 521,110 acres in various parts of Utica Shale and net interest in 173,530 acres.  GMR also holds 28,000 net acres in NY State.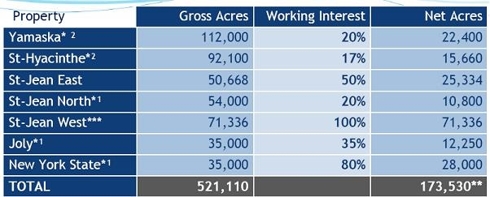 Gastem's assets in NY State are close to Chesapeake's assets. This should come into focus when CHK enters in to a joint venture for their Utica Shale assets.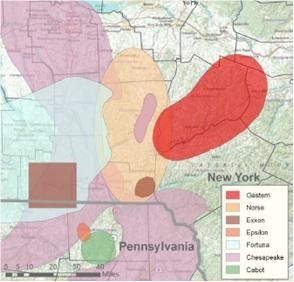 Gastem's expects around 1.77 TCF recoverable in Quebec alone. This excludes their NY State assets.

Gastem also has some assets in magdalen islands which is not discussed here.

Altai Resources Inc.


Altai is 100% owner of the Sorel-Trois Rivieres natural gas property (282,544 acres). Altai also retains a 15% gross royalty in the adjoining permit held by Talisman Energy Canada.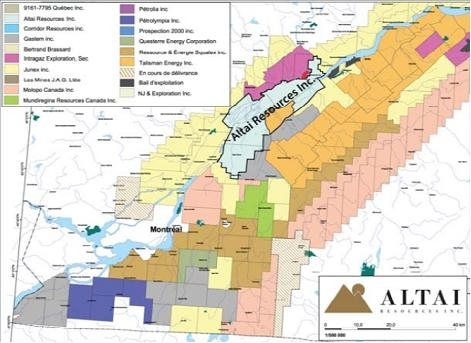 Altai estimates 3.073 TCF of recoverable gas from Quebec assets excluding Talisman royalty.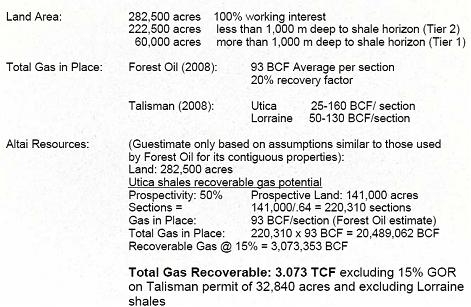 Altai also has some gold assets in Canada and Philipines which is not discussed here. 
Near Term Catalyst


Chesapeake has been striking joint ventures aggressively (as per their 25/25 plan) recovering almost their entire investment for the land grab while holding on to a majority stake on various plays. Chesapeake has been hinting about a JV this year on an undisclosed play with over 1 million acres. This is expected to be the Utica Shale.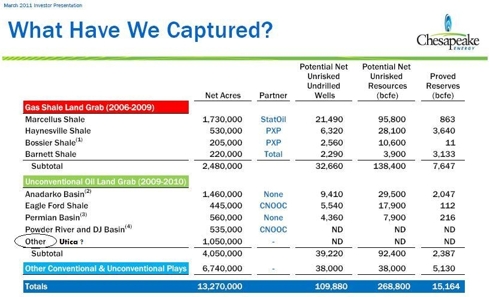 The Joint venture would come at price which is much higher than Chesapeake's acquisition cost similar to all of their other joint ventures.

 
What this JV announcement would do is
Bring Utica Shale in focus. Currently this is a fairly new play with minimal interest
Confirm the commercial viability of Utica
Give a benchmark for pricing of acreage
Lead to more deals in Utica Shale as other players rush to grab land
Rerating for stocks like Gastem and Altai by the market
 
Conclusion


Utica is relative a new play in unconventional oil and gas sector. Current valuation going by Chesapeake's land acquisitions in Utica is around USD 1000 per acre. Valuation should increase going forward as the Utica play matures. Stocks like Gastem and Altia are trading at valuation less than USD 100 per acre held which looks extremely cheap.

Buying Gastem and Altai here is like buying a very cheap infinite tenor option with limited downside and more than 10X possible upside.

 
Sources
Disclosure:
I am long
OTC:ARSEF
,
OTC:GTMIF
.