Coffee is the third best performing commodity by returns in last 12 months. Coffee has returned just under 100% in the last 12 months. It stands just above silver which has returned 79.34% post crash.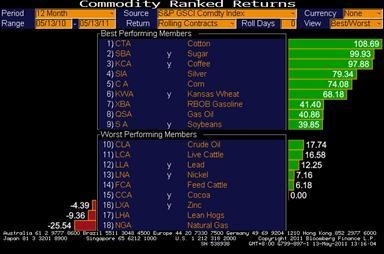 Though I still think silver is the best short in the commodity complex, Coffee looks interesting after Howard Schultz's (CEO/Founder of Starbucks) comments couple of days back.
I don't think anyone knows coffee market better globally than Startbucks.
Key quotes from Howard's Interview
"the current spike in the cost of commodities such as coffee and other foodstuffs is "not based on supply and demand" but based on market speculation"
"the farmers who actually produce the commodities are receiving a "de minimus" proportion of the price rises"
"Right now we are experiencing a very strange and almost inexplicable phenomenon in the commodities market. Without any real supply or demand issues we are witness to the fact that most agricultural food commodities are at record highs at once, and coffee is at a 34-year high"
"Through financial speculation – hedge funds, index funds and other ways to manipulate the market – the commodities market is in a very unfortunate position. This has resulted in every coffee company having to pay extraordinarily high prices for coffee"
"I don't think, by the way, that this is sustainable, however it is not a good situation for the consumer and I am not convinced that the farmers benefit from this"
With commodities starting to give away their speculative premium, Coffee could be an interesting short. The chart is breaking as well. Find below chart of Arabica near month future price.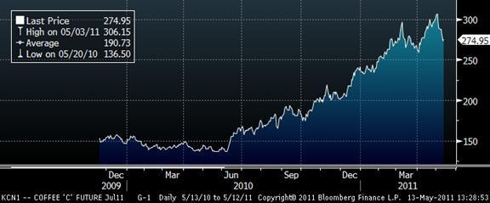 Disclosure:
I have no positions in any stocks mentioned, but may initiate a short position in
JO
over the next 72 hours.