It's said that chartist are guilty of seeing continuation or reversal patterns in almost any chart. A formed pattern isn't reason enough for trading a stock but it can give you a perspective of the future move of the stock.

ACLS went from 0.80 on November 4/09 to 2.50 on April 26/10 for an impressive triple in six months. Of course that uptrend wasn't sustainable forever and the stock gave back part of its gains trading lower until the 1.40 level reached on July 6.

Since then ACLS started trending higher forming what may be a bullish symmetrical triangle, which most of the times is a continuation pattern. The symmetrical triangle constitutes a pause of the original trend after which the prior trend is resumed.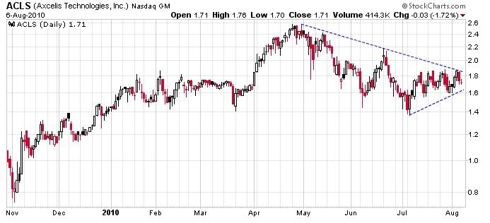 A valid triangle needs at least four reversal points, meaning each converging line must be touched  two times minimum.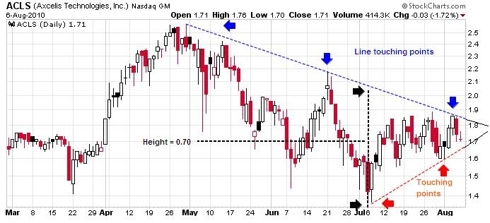 If ACLS closes decisively over the upper converging line (blue) the bullish continuation pattern is confirmed, that line will be support for that moment on. The target would be the height of the triangle plus the price at breakout.

This triangle is coming to and end in one or two weeks, if the bullish pattern is going to work the price must close over in the following days, if not, there is a high possibility that prices will continue to drift out to the apex and beyond or start a new downtrend.




Disclosure: long acls