Stevia has attracted attention both by investors and consumers. While Stevia First (OTCQB:STVF) , and Evolva SA (SIX: EVE) are working on fermentation based extraction, much of investors's attention has been focused on Malaysian-based PureCircle (OTCPK:PCRTF), the dominant publicly-listed player since the beginning of 2011. Sunwin Stevia (OTCPK:SUWN) is a smaller producer. The prize? Potentially a billion dollar market, as pressure from both consumers and governments to reduce calories continues. Returning recently from a lengthy regulatory review is GLG Life Tech (GLG.TSX) and (OTC:GLGLF) that until 2011 shared the stevia spotlight with PureCircle.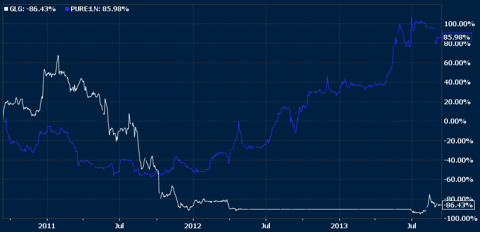 In their 2010 fiscal years, GLG sold about $58 million of stevia, compared with $60 million for PureCircle. 2011 was by any measure a poor year. Food and beverage manufacturers had loaded up with stevia in anticipation of the EU's approval. Manufacturers were having blending issues. Small competitors flooded the market with low quality product. PC's sales declined to $53 million for fiscal 2011 and $45 million for fiscal 2012.
For GLG, the year was a perfect storm. Not only was it faced with the same market challenges as PC, its foray into the consumer products market was less than stellar and expected sales to the China Sugar Reserve failed to occur. Sales declined to $25 million in fiscal 2011 and $22 million in fiscal 2012. Most troublesome was that the company was late in making its annual filings.
So, while PC, having successfully diversified its customer base as the markets improved in late 2012, saw a rebound in the share price, GLG was stuck on the sidelines in the midst of a regulatory review that lasted over a year. Its sales faltered, as Food and Beverage customers (who don't mind taking on the risk of a product introduction but don't like to take a perceived risk on a supplier) withheld orders, and lower value extracts were sold to clean up the balance sheet.
But now the long regulatory review for GLG is over and its shares are trading again. Its balance sheet has been cleaned up, inventories reduced, and customers are again realizing that the company is a viable competitor to PureCircle. GLG's international sales customers are diversifying, and it has a growing relationship with COFCO, China's largest food company, which could be a game-changer as it covers development and distribution of products throughout China. COFCO is also in JV's with Coca-Cola (NYSE:KO) and Danone (OTCQX:DANOY) both big users of stevia in existing brands.
The stevia market shakeout is over - as evidenced by PC's announcement of $71 million in sales. They are not profitable yet - both PC and GLG are built for bigger sales, with each company having production capacity in excess of 2,500 tonnes (around $250 million in sales.) Investors have taken note - PC's market cap, roughly the same as GLG's in the beginning of 2011 at $300 million has tripled to around $900 million at GBP3.50 per share. Forgotten GLG's is down to about $35 million, at $1.00 per share. So while PC is the early leader in the market as stevia becomes a mainstream ingredient, keep an eye on GLG - stumbled out of the gate, but looking like it is now on track.
Disclosure: I am long OTC:GLGLF.
Business relationship disclosure: IR Consultant to GLG Life Tech