As seen in http://www.bloodhoundsystem.com/blog/index.php/2013/02/january-affect/
Forget the Santa Claus rally, the January effect may be one of the most talked about calendar anomalies out there. Between that and "sell in May, and stay away," the two anti-efficient market claims make regular headlines, but they don't really hold much statistical water. The reality is that January has no more power than any other individual month. Since 1926, January has been an up month 62% of the time - not much different than any average month. Although the likelihood that January's movement as a stock market anomaly has been mostly disproved, the results of the month clearly affect the results of the year as a whole. If January is up, the market for the year is up 85% of the time. However, to be fair, that's like giving a runner a 2-mile lead on a marathon and attributing his skills to the fact that he wins more regularly. But even that has mixed results. The defining truth comes from when January is down. In such cases, the market has ended the year up and down in equal numbers.

As an example, looking at our Tech Stocks strategy in the last four years, January's performance has dictated the results of the full year only once (2012). In each other case, January's performance was the opposite of how those stocks performed the rest of the year.
Nevertheless, this year's January has been quite good to the market. U.S. stocks ended January up 5.2%-their best start since 1997. The first five trading days in 2013 produced a 2.2% gain the the S&P500 index - much in response to the avoidance of the Fiscal Cliff. Gains were widespread. Each of the sectors we follow had notably strong months - and the results were better the wider the net you cast.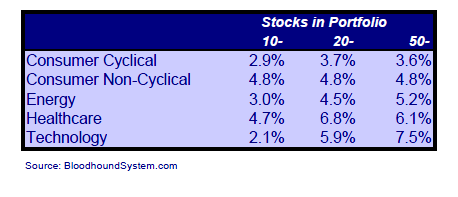 Our industry strategies look at an equal-weighted portfolios of the largest capitalization names in portfolios of either 10-, 20-, or 50- stocks. As seen above, a portfolio of ten of the largest capitalization names under-performing portfolios with 20- and 50-names. In Consumer Staples, Tyson (TSN), Avon (AVP) and Tupperware (TUP) have led returns. In Energy, the largest capitalization names have actually given back their entire January gains in the beginning of February. International Oil companies, Petrobras (PBR), Shell (RDS.A) and Total (TOT) are now down for the year. However, smaller cap companies such as Valero (VLO), Hess (HES) and Aubrey McCutchen-less Chesapeake (CHK) have logged strong gains. Apple (AAPL) punished the largest capped Tech group, but Netflix (NFLX) and Dell (DELL) have risen sharply. In Healthcare, the three large international drug companies, Sanofi (SNY), Merck (MRK) and AstraZeneca (AZN) held the group back, but otherwise there were gains across the board.
Disclosure: I have no positions in any stocks mentioned, and no plans to initiate any positions within the next 72 hours.