As seen: http://www.bloodhoundsystem.com/blog/index.php/2013/03/db-pension-gaps-revisited/
Last month, we wrote about the poor nominal returns experienced by the market over the last 12 years. We noted that some of the countries largest pension funds had expected returns on asset well in excess of their actual returns. JP Morgan recently highlighted in a graph the gap that is growing in plans assets and pension obligations. They note the decline in discount rates among major providers, which is another major contributing factor.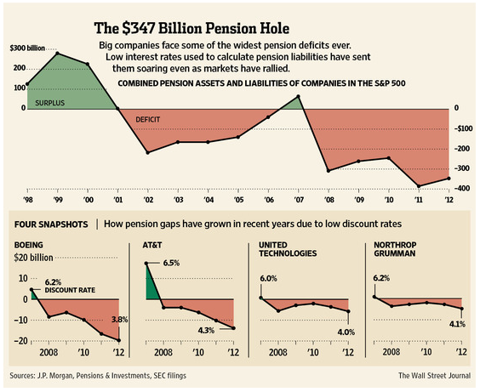 Unless the major defined benefit (NYSE:DB) plans can quickly recoup the gap through incredible returns on plan assets (which is not likely given the market's expected real return on a blended portfolio of 60/40 equities/bonds, combined with the fact that those plans are only invested 30% in equities), the sponsoring corporations will need to make some additional contributions. That affects cash balances, and earnings as it relates to pension expense.