The PatternDNA application offers three main avenues to find Patterns. The first is the default five most recent days for a stock, the second is to select for your own Pattern - up to ten days in length - from the chart, and the third is to create your own sequence - also supporting up to ten characters.

In this case we are going for a sequence of five wide bearish candlesticks and seeing how the pattern evolves over time. The pattern sequence we are using is FFFFF and this can be entered from the [Open] menu, and saved so it's available from a store of preset Patterns. The Match Level is also important in this regard. Because of the rigid format of the Pattern I am using the 'Weakest' Match level to ensure a decent return in Patterns

Using AAPL as an example, there were four matches over the past year, all profitable, returning a cumulative 52.1% over the year using the default target&stop setting (initial stop of 10% with a profit target of 25%).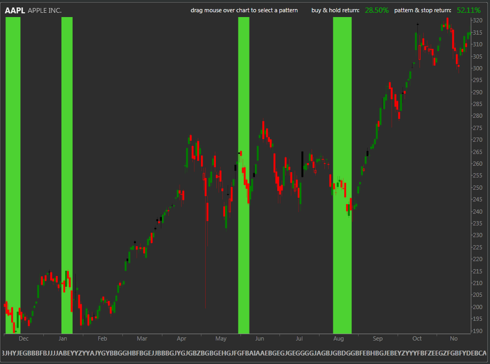 For the test-bed of 18 US stocks the average Annualized Cumulative Return was 17.4% on 77% winning trades off 35 returned Pattern matches. The Average Loss (for losing signals) was 7.0% for an Average Gain (from winning signals) of 13.0%.

Running a Market Scan (Premium PatternDNA) returned 16 matches. One match was found for the Pattern based on Friday's close, but there four other matches; two which completed on November 19th, one for November 23rd and one for November 24th which pushed lower after completion of the Pattern and may be ripe for a bounce. To see these, scroll to the bottom of the Market Scan results.

Happy Hunting!